Labor Organizing in San Francisco is a consistent fabric of our life and history. Workers! Blue collar, service, hospitality, tech. Workers still make this town work, no matter who the bosses are, have been, will be—and we need to keep it that way.
My life has been dedicated to organizing, and one of the goofy things about that is many of us write and judge and gloat and criticize our fights and campaigns, big or small, the fights that have defined our city. And region. Debriefs are a virtue.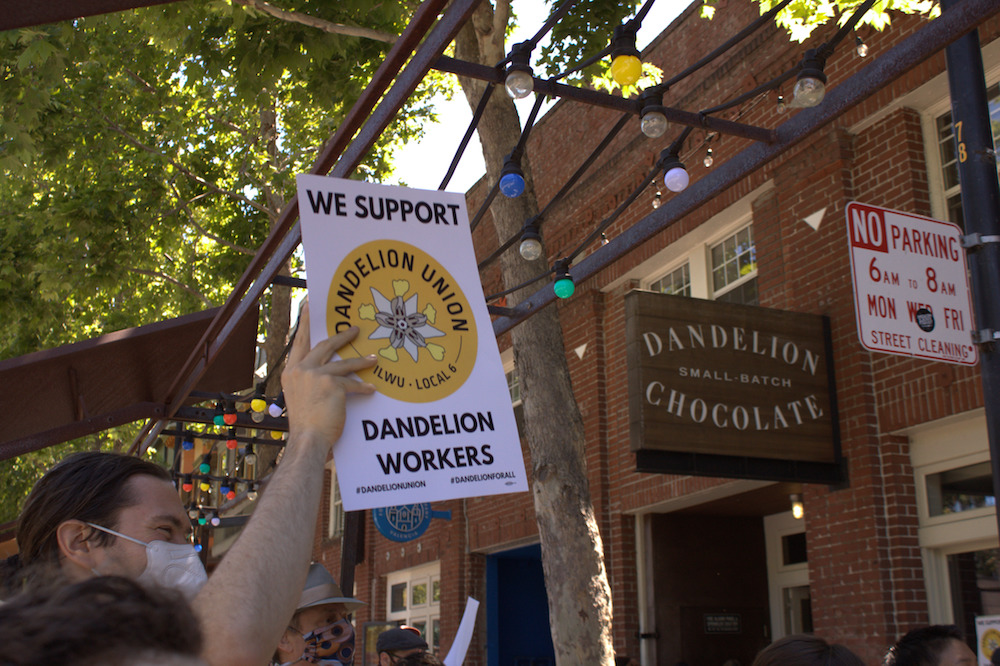 As a union organizer I have watched, lead, participated and presided over many failures to help workers find a voice at work. Ass kicking, devastating failures to help vulnerable workers try to form a union.
Scribbles (and debriefs) like this are for the Monday morning quarterbacks who analyze and point fingers at the reasons for our failures. I am sick of it but can't stop being one of those who can't stop.
Historic examples:
"Bad timing. Not enough resources invested. Wrong message. Failure to understand what the boss was doing. Labor law is fucked. Chart was wrong."
Not unlike last night's baseball game at the coffee truck:
"Bullpen let us down. Other team's bats were on fire. Manager should've bunted with no outs and runner on second. Blah, blah, blah."
We still got our asses kicked.
(And this little missive is not to diminish any of the historical Bay Area successes accomplished by legendary unions like SEIU 250 in health care (who were "trustee-ed" for getting "too big for their britches.") or the California Nurses, or HERE Local 2 in the hotel and food service industries. My colleagues and partners!)
But overall union membership keeps shrinking and most of the big and high profile national organizing campaigns of the last decades ended up in colossal defeat.
I have watched the UFCW invest millions in big plans to flip WalMart – who they basically ignored while short-sleeved pencil-licking salesmen in Arkansas launched thousands of low wage stores that destroyed middle class retail communities throughout the county without any fight from labor.
Decades later, I've watched fancy overhead projector PowerPoints from very smart people at the major union who illustrated how their newest WalMart campaign would shake this country to the bone like the CIO shook Detroit and Ohio and the auto industry in the 30's.
Yup.
Same thing with remnants of the legacy United Autoworkers who finally began playing defense and put resources and out-of-town organizers into Right-To-Work (sic) bottom feeding Southern states where new auto plants were opening with lower non-union wages. States where the companies knew they'd be supported by local politicians and Chamber of Commerce types who'd even steal tax dollars to keep out the union. South Carolina, Mississippi, Alabama…. Etc. Etc.
Union organizers descended into these communities where local workers were already too eager to get these new higher-than-minimum wage jobs.
And then that recent and painful Amazon campaign in Alabama which we all watched with hope and prayers (digest that phrase…) until some of us began to realize that, despite the resources devoted by the progressive Retail Workers Union in New York, the Amazon workers – who eventually and decisively rejected the union – really wanted to keep these basic life sustaining jobs.
I am not sure that anyone ever really captured or knew what the workers in this community wanted. (Some outside folks, without talking to the workers, launched a Boycott Amazon campaign. Which the workers didn't want!!…)
Aside: Ever see the look on a worker's face on the day of an NLRB election when he or she walks by you in the company office on the way to the ballot box after a night of being threatened by the foreman or the owners with termination "if the union comes in?!!"
Amazon. Analysis?
The right wing will say that the "secret ballot" tells the whole story.
In this campaign, it probably does.
In San Francisco we are seeing little tidbits of something different. Small scale and successful worker actions to join a union. Initiated by workers who didn't really care which union they were in. As long as it was theirs.
Fancy croissant and pastry workers at Tartine Bakery who got pissed off at their bosses over things like work hours and health care. People lining up around the block on Guerrero Street every day to buy $10 lattes and exquisite high priced pastries—croissants and brioches and fruit tarts—and wonderful sour dough and heirloom breads fresh from the oven.
Or the folks down the block in a fucking veterinary clinic. White robed young urban professionals who want a voice at work in a company raking in big bucks from folks like me who rush in their little doggies at midnight because the widdy-biddy toenail is bleeding and don't blink at the $275 invoice for the five minutes of work it took to make snookie-doodles happy again.
Their vote to join a union was like 46-39 or something. Very close and then taken to court by the anti-union bosses. But, still, a victory.
Anchor Steam Beers workers—still fewer than fifty—voted to join the ILWU. Never knew this old SF company was non-union. The delivery drivers were Teamsters.
And then the chocolatiers at Dandelion, also in the Mission District, who make brilliant, "to-die-for" $35 candy bars, chocolate makers who only want to be heard about better work conditions, hours and perhaps an extra buck or two. Their close union election (still fewer than 100 workers) just got certified by the National Labor Relations board.
Another victory.
Skilled, young, culturally aware, intelligent and, often, left-leaning workers love unions and are now trying to join and form them.
And another thing:
There is a Northern California cadre of experienced strategic organizers in the newly-legal farm-to-table cannabis industry who have, obviously, been listening to workers in the retail, manufacturing, transportation, and farming sectors because, sure enough, one by one these workers are voting to have a union in the new shops that are beginning to dot the neighborhoods throughout the Bay Area.
I think that organizers are learning better how to listen to workers. And even without "organizers," workers are starting to take command of their work lives.
The legendary Harry Bridges, who lead the populist uprising in San Francisco in the 1930s and 1940s for dockworkers and warehouse workers—shepherding seniority and democracy and actually letting workers speak at union meetings—was once on national TV (invited and interviewed only because, like the Teamsters, ILWU unionism was a threat to transportation and American industry). They tried to ask him an "I gotcha" question. (I paraphrase.)
"Mr. Bridges, you have a lot of radical ideas, are you going to implement them?"
"Well, Bob," (or whoever the broadcaster was), " I intend to present these things to our members and if they like them we will go to work. If they don't, we will work to explore other strategies. The rank and file workers always make the decisions in my union. Not me."
Today, in some unions, an answer like that could get an organizer fired.
Tim Paulson is former executive director of the San Francisco Labor Council and secretary-treasurer of the San Francisco Building and Construction Trades Council.