As we piled into the meeting hall at Treasure Island's Ship Shape Community Center last Monday eve, July 25, city staff had to pull out more and more chairs, squeezing the staged six-feet social distancing arrangement beyond recognition. More than 60 island residents and business owners came to hear about the latest tweak Transportation Authority staff had devised to try to make its toll more palatable, this season's new lipstick color for its pig.
But mostly we came to get a glimpse of the new supervisor Mayor London Breed had appointed for us, Matt Dorsey, and to ask him what he was going to do to alleviate the transportation and housing problems on the island.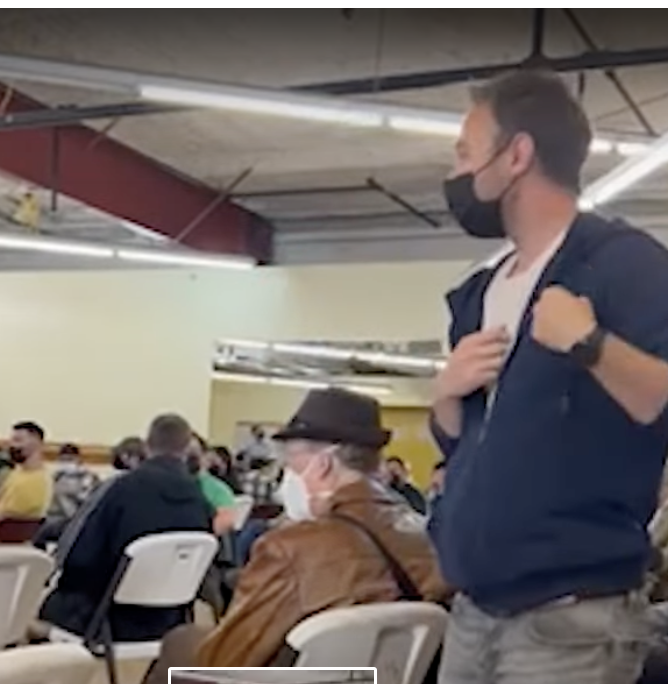 Residents believe the $10 toll the city wants to impose on Treasure Island, the highest toll anywhere in the state, will further isolate the island from San Francisco and the East Bay and ruin businesses there. In spite of the city's attempt to appease them by adding a provision (championed by toll opponents) that exempts current residents, there has been near unanimous opposition to it on TI for the last four years and clearly unanimous opposition at the Town Hall meeting.
To make matters worse, the Treasure Island Development Authority, the city entity that functions as the landlord and sheriff of Treasure Island, recently announced it will begin clearing out some current residents before their replacement units even break ground. These tenants have endured years of living with constant power outages, sewer overflows and cancer clusters they attribute to the inadequate cleanup of the chemical and radioactive waste the Navy left behind, in hope of getting one of the new units. But the living spaces now being offered are far from the "comparable" units they thought they were promised. In the topsy-turvy world of Treasure Island the residents names were entered into a lottery where the prize for the "winners" is a choice of taking the inadequate units or some money to leave TI and renounce their rights to housing there.
Into this controversial stew comes Supervisor Dorsey. At the gathering he was given the courtesy of speaking first. He recapped his experience in City Hall, working in the City Attorney's Office and the SF Police Department, and his plans for his future as a supervisor.
"I want to have the best constituent service operation. I want to be a great district supervisor, and that's pretty much the end-all-be-all of my political aspirations," he said, taking a back-handed slap at his predecessor Matt Haney, who left the position to join the state Assembly and then opposed Dorsey's appointment to replace him.
The Transportation Authority staff then presented its new, barely tweaked toll plan, that mostly consisted of minor changes in its discount policies based on a complex formula of drivers' income levels. It landed with a dull thud among the assembled residents. They then had their chance to give their feedback.
When one of the first speakers hit his two-minute mark, city staff informed him his time was up. The floor immediately exploded. "Let him talk," the crowd shouted.
"You told us to come and give our opinion and we're here. Now it's your turn to listen," 14 year-resident and TI activist Hope Williams demanded.
That set the tone of the evening. We were now running this meeting.
Williams went on to express the frustration felt by residents, the frustration of deja vu, of feeling like we had been to this meeting before. She directed her ire at the city staff.
"Stop trying to play us," she said. "We told you that this proposal was not going to work. You turned around and called a meeting—called this Town Hall."
Then she turned to Dorsey who, as an appointed supervisor, has to run for reelection this November.
"I'm going to leave, but by the time I leave, you're going to tell the other people where you stand because we need to know whether we are electing you out or you're going to stay," she said to rousing applause.
People came to the meeting with their specific beefs, but they almost all found an echo of affirmation and applause from the crowd. Twenty-four residents and business owners offered their thoughts.
Many of the concerns residents have seem to stem from the fact that traffic planners with no experience of raising a family or operating a business on TI appear to be in charge of designing the island's social infrastructure. Mark Demma, a 22-year resident of the island, pointed out that the staff's vision of TI as a public transit paradise was impractical for most people, especially low-income people.
"Raise your hand if you took public transportation here today. Anyone? Any of you guys?" Demma asked as barely a hand or two went up, and none among the staff. "The people selling this to us, they're not taking public transportation over here. You don't know what we go through. You're doing a social experiment here because you can, and because you've got this grand idea of making the cars go away. It's the wrong neighborhood to do it."
He went on to elaborate that getting an Uber or Lyft to come to TI, something carless folks often have to do, is nearly impossible, and how it takes three buses to go to the nearest grocery store on the mainland.
"We are going to keep fighting until we see the toll go away!" he concluded.
Although the meeting was advertised as a discussion of the toll, the lottery evictions issues were bubbling underneath the surface like lava about to erupt. That happened when resident Alissa Gular took the floor and directed her statement straight at Dorsey.
"Mr. Dorsey, we have a much larger issue than the toll happening here on Treasure Island," Gular said. "I'm asking you—all of us are asking you—to put an immediate halt to the eviction lottery process that is happening," she said to thundering applause.
"They forced us all into a lottery eviction process where we are being told to take it or leave the island," she added, referring to the inadequate and not comparable units being offered.
Gular said "lottery winners" are getting incomplete and contradictory information on their rights, options and timing, causing confusion and angst as they try to figure out future housing for themselves and their families. She then made a direct plea to Dorsey.
"We are begging you in your new role—as a member of this community and the years that we have spent here, to keep residents in their homes until the new units are built, find out who is making the decisions on renting out the land beneath our feet and taking us out of our homes, and put an end to that," she said to more loud applause.
Jim Mirowski, a 15-year business owner on TI, took on the legal and financial holes in the toll plan. He noted that it violates the contractual agreements the city negotiated with the Bay Conservation and Development Commission and the State Lands Commission, two state agencies controlling development of coastal lands, as well as the city's own Final Environmental Impact Report, that all don't allow for a toll.
Mirowski called on Dorsey to fulfill his role to provide some much-needed oversight and accountability to the development, and to do an economic impact study residents have been proposing on how the toll will affect the stakeholders of the TI community.
When the witching hour of 7pm arrived, city staff said we had to clear the hall. Gular, who had previously implored Dorsey to intervene to stop the lottery evictions, stood and shouted, "Mr. Dorsey, the floor is yours. Are you going to help us?"
Dorsey replied that this was the first he had heard of these issues, and he would have to look into it.
The first he had heard about the toll and the housing issues on TI!? This is the man who sought out the position of District 6 supervisor. Had he not bothered to find out what the issues are in the neighborhoods he was vying to represent?
I'm not sure if he is naive or disingenuous, but what I do know is that the Treasure Island Organizing Committee, the coalition of residents and business owners that has led the opposition to the toll for nearly four years and of which I am a member, contacted his office and his aide asking several times in the last few weeks for a meeting with him before the Town Hall, and included several documents on these issues explaining our concerns, but never received a response.

Dorsey excused himself from the meeting and further questions saying he had to get going because he had a meeting to attend. He proceeded to go right outside the building and talk with someone for nearly half an hour till just a couple of stragglers remained. Then he turned to TIDA Executive Director Bob Beck, the man in charge of the lottery, and said that they should go now to the zoom meeting. Together they went back into the Ship Shape building.
The supervisors are now on their August vacation. We are still here wondering about our fate and whether and when our concerns will be addressed.
Steve Stallone is a retired journalist who now makes wine and mischief on Treasure Island.