You know what's spooky? How cuddly and safe Halloween has become now that the world itself is so terrifying. As some of us emerge, zombie-like, from our COVID cocoons, remember to take it slow and be nice to other shades and specters. This is San Francisco's favorite holiday (paired with November 2's Día de los Muertos, of course), and I can't wait for all the good spirits to pour forth.
Below are a clawful of bloody good party picks, but there's some concerts here, a hilarious show here, and, hey, the SF Symphony is playing music from Frankenstein and Psycho. Plus, even the walking dead need snacks—check out the Harvest Festival at Ferry Plaza Farmer's Market on Sat/29, 9am-2pm, to taste jaw-dropping good food from Black-owned businesses, with cooking demos and more.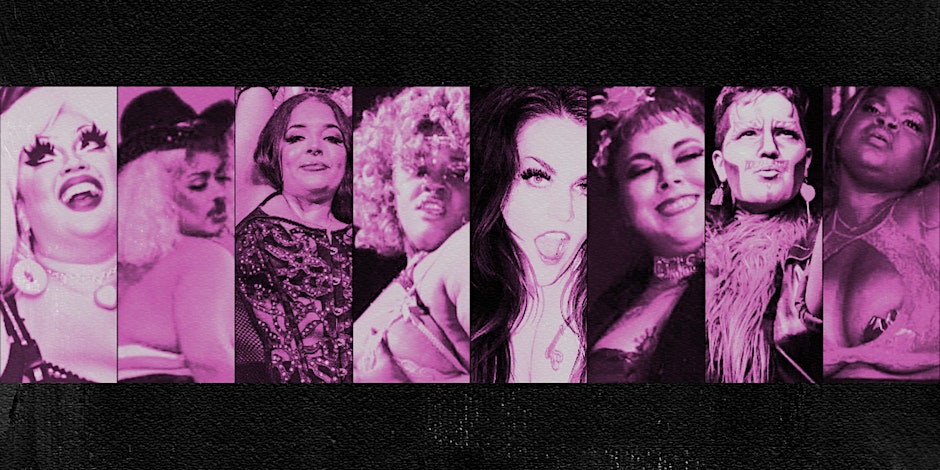 WED/26
THICCTEASE: BADDIES—A HALLOWEEN BURLESQUE SHOW Voluptuous performers to kick off your Halloween week, featuring haunting performances from Sylvia Wrath, Luci DeVille, AmberLust, Panther, and more boo-tiful Bay Area babes. 7PM, Oasis, SF. More info here.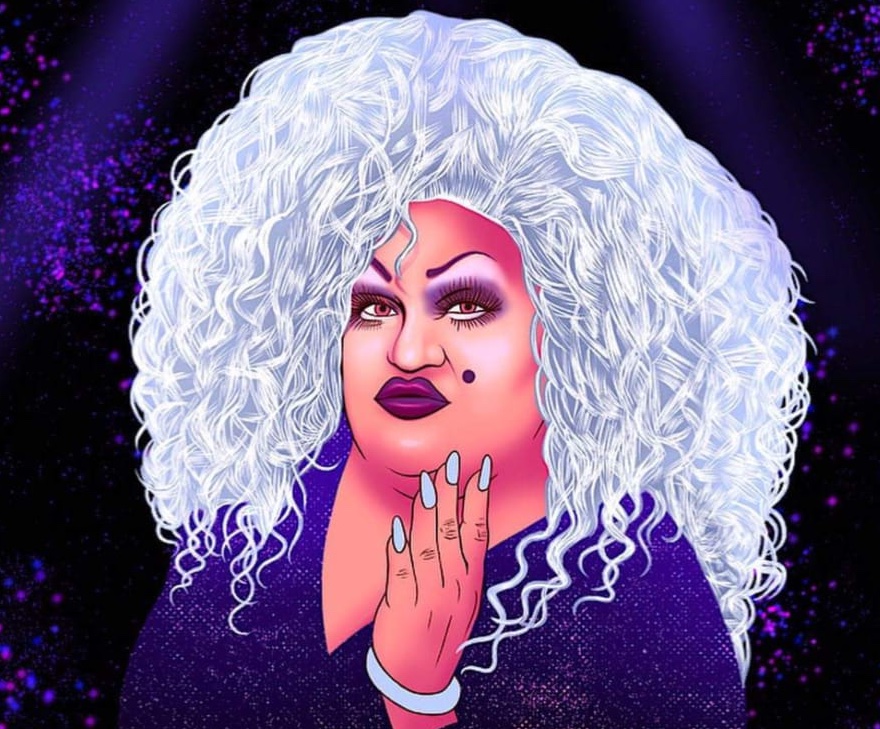 THU/27
COSTUME KARAOKIKI "Karaoke with your homegirl Dulce de Leche"—in costume! Throw something on and howl at the moon on the back patio of El Rio with a sassy drag queen. 9pm, El Rio, SF. More info here.
LITERARY SPEAKEASY PRESENTS: MARTINI BAR OF HORRORS "It's time again to celebrate the things that go bump in the night. Please join us for a macabre evening of haunted prose and ghostly stories with some of the Bay Area's best horror, sci-fi, and genre writers. Literary Speakeasy's Martini Bar of Horrors is proud to feature writers Casey Bennett, Kevin Dublin, Jay Hartlove, Ken Hueler and Sumiko Saulson. Your host and curator every month is James J. Siegel." It's free! 7pm, Martin's, SF. More info here.
THU/27-SAT/29: DUSK TIL DAWN: MIDNIGHT CARNIVAL Despite or because of the chronological confusion of its name, this hextravaganza will burst through time and space (the Midway) with three nights of all-star Burning Man and old-school rave favorites, including Stanton Warriors, Beats Antique, Funk Hunters, Opel, and more. The Midway, SF. More info here.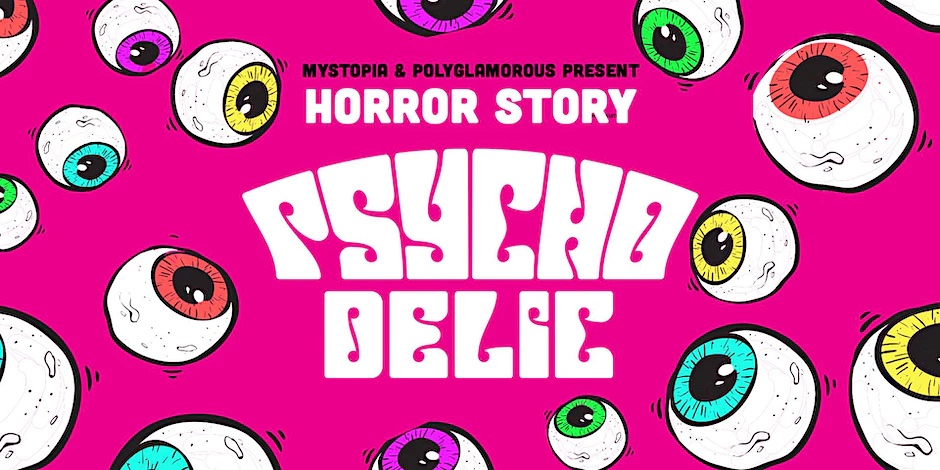 FRI/28
HORROR STORY: PSYCHO DELIC Two of SF's glittering gay party crews—Mystopia and Polyglamorous—join forces to whip you into a house music costume ball frenzy, with special energetic house guests DJ N2N and Rosa Peligrosa and gore-geous decor. (It's sold out online but there will be limited tix at the door.) 10pm-3am, Public Works, SF. More info here.
BOOOOTIE MASHUP HALLOWEEN This frightfully good, wildly creative costume celebration throws you back to the early 2000s heyday of smashing two great songs together to make something new. Come for the wild soundtrack and stick around for drag performances and a costume contest with cash prizes. Aye, there will be pirates a-plenty. 10pm, Oasis, SF. More info here.
MAD HATTER'S BALL Three music stages, "spooky surprises," and best of all, that kooky rave god from Chicago, Green Velvet, telling us "Cameras ready, prepare to flash." 10pm-4am, 1015 Folsom, SF. More info here.
ALL HALLOW'S EVE Halloween is DNA Lounge's time to shine, and this extravaganza with the glorious Hubby Hubby Burlesque Revue kicks it all off for them. "Indie. pop. synthwave. dark electronic. gothic. techno. electro. breaks." With DJs Danny Delorean, Asuka, Star, and like a dozen more, plus costume contest and wild fun. 9pm-afterhours, DNA Lounge, SF. More info here.
DAWN OF THE DISKO Shake your ghoul thing as DJs Meikee Magnetic, Lisa Rose, Nile, and The Barbary Ghost soundtrack a party that features a "dark couture" runway fashion show at midnight. If you don't feel like dancing, you'l also find retro horror movie screenings and karaoke rooms. 9pm-2am, Record Bar, SF. More info here.
WORMHOLE HALLOWEEN Skeleton-rattling bass and spook psychedelic visuals are top priority at this wiggy electronic music fright-fest, taking over the huge Great Northern club with DJs Shlump, DMVU, Saka, and many more. 10pm-3am, Great Northern, SF. More info here.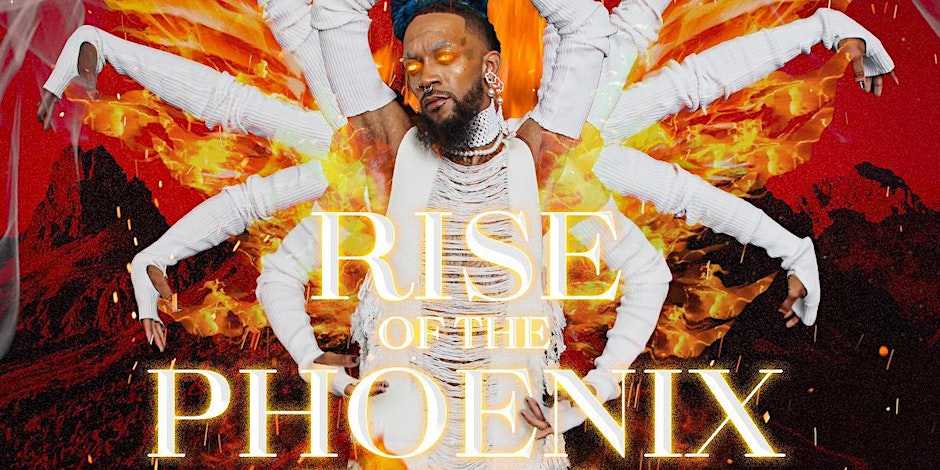 SAT/29
RISE OF THE PHOENIX BALL You betta work, witch. It's a Halloween vogue ball fit for queens of the damned—battling it out in several spooky categories for cash prizes up to $1000 to the fierce ballroom sounds of DJ Spiider. The iconic Dashaun Wesley, King of Vogue, host of HBO's Legendary series and Pose featuree, will be commentating. 7pm-2am, all ages, Omni Commons, Oakland. More info here.
QUEERBAIT: CHELSEA MANNING That's right, she's a DJ, and she's going to shakings me bones on the dance floor at this party from the Squish x Fake and Gay crews. Plus: INVT, X3butterfly, and a Club Trust takeover. 9pm-4am, F8, SF. More info here.
EW Some of my favorite local techno DJs—Five, Trevor Sigler, and DickDream—cut it up at Underground SF for the creepy kiddies. 9pm-2am, SF. More info here.
SWEATER FUNK HALLOWEEN Awww, how can something this cozy be so scary? The long-running funk-centric party invites you to put on your Oogie Boogie shoes (and costume) and come murder the dance floor. For free! 9pm-2am, Starline Social Club, Oakland. More info here.
TAROT: BAD BUNNY I had to list this because it's so ridiculous: A Bad Bunny tribute party with a vague tarot theme? You'll hear all kinds of contemporary reggaton, Bad Bunny look are encouraged, not sure what the tarot tie-in is, but hey, why not? 9pm-2:30am, DNA Lounge, SF. More info here.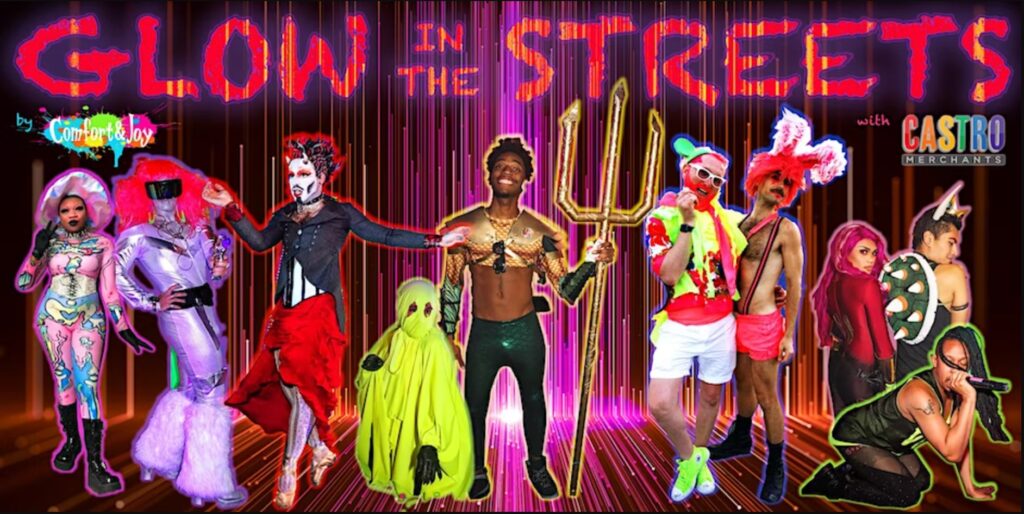 GLOW IN THE STREETS 2022 Officially, Halloween is dead in the Castro (which hardly stops anyone from gathering there). But this evening alternative to the wild nights of yore is sweet and perfect. Pop on your looks for entertainment, performance, and art, and "get lost in a wonderland of dayglo art + dance on the streets of the Castro." 4pm-9:30pm, Noe and Market Streets, SF. More info here.
NIGHTMARE ON SIXTH STREET DJs Dustin Zahn, Centric, Lindsey Herbert, Max Gardner and more bring horrifyingly good, costume-shredding techno to Monarch. 9pm-late, Monarch, SF. More info here.
SPACE COWBOYS HAUNTED HOEDOWN A Halloween party gets even more terrifyingly fun when it's thrown by one of the biggest Burning Man camps. Space Cowboys bring together Left/Right, Airpusher, and dozens more funky techno DJs to the Great Northern club for this holiday hootenanny. 10pm-3am, Great Northern, SF. More info here.
HOWL-O-WEEN From the folks who brought you "Witch, Please," "Boos and Booze," and "Dante's Inferno" comes this too-cute, costumes-mandatory bone-shaker, with DJs PNTHR, Tahdig B2B King, DreamShadow, and more. 9pm-4am, The Foundry, SF. More info here.
SAT/29-MON/31: HELL HOLE: A THREE-NIGHT HALLOWEEN PARTY AT CLUB OASIS This triple-trouble Halloween extravaganza features aerialists, fire dancers, a midnight drag spectacular, a rooftop maze, and demonic decor that only the gay witches and wizards of Club Oasis could manifest. Of course there will be stars: Vander Von Odd, Jaida Essence Hall, and a handbasket of local queens. 10pm, Oasis SF. More info here.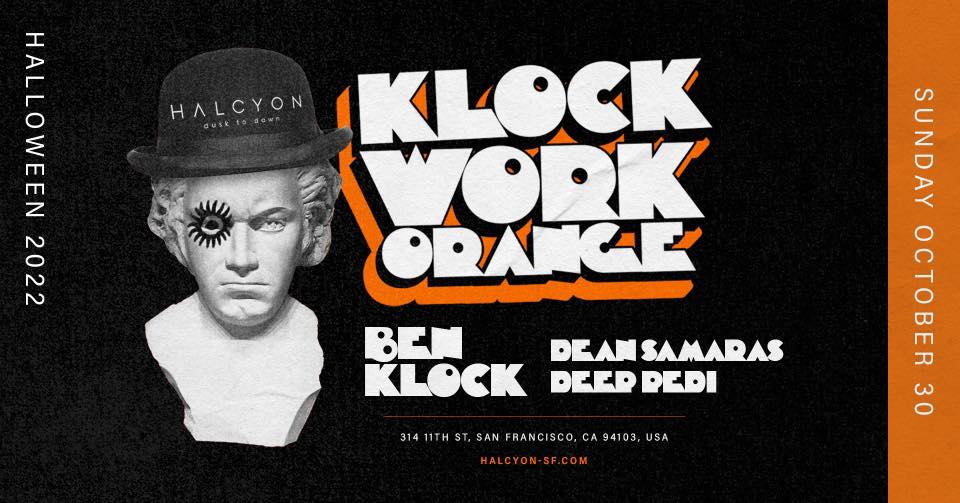 SUN/30
BEN KLOCK: KLOCKWORK ORANGE HALLOWEEN This event is so perfectly themed, I don't know what else to say about it? Very fun techno legend Ben Klock from Berlin at a Clockwork Orange party. Voila. There it is. 10pm-4am, Halcyon, SF. More info here.
SUNSET HALLOWEEN BOAT PARTY An SF tradition! Sunset boys Galenand Solar load a killer lineup onto the boat—acid kings Paranoid London live, slinky house hero Kim Ann Foxman, UK's Bruno Schmidt, plus OMG local legends Spacetime Continuum (with offspring Cah Sel) and its Own Infinite Flower for a synthesizer séance. AND THEN an after party with the incredible Ivan Smagghe and the Werd Crew. Dooooo it! 6pm-11pm + afterparty, more details here.
SUNDAY SÉANCE! CLUB PANSY X CALL BACK The back patio of El Rio will get "spooky ookie ookie" for this daytime fete, with music from the Club Pansy and Call Back DJs, scary good drag from Obsidienne Obsurd and Nitrix Oxide, go-go ghouls Black Woman Is God and Denise Latke, and so much more. 3pm-8pm, El Rio, SF. More info here.
SLEAZE PRESENTS: SISSIES FOR SATAN! A rock 'n roll frightmare at this afternoon of sordid sounds with DJs Knob Goblin and C'est Jille, speeding you down the highway to hell at Junior bar. Performance by Lola Lewd. 3pm-8pm, Junior, SF. More info here.
SO STOKED: THE GRIM "Everyone's a raver on Halloween! Every fall, the rest of the world embraces candy and costumes for one night, dressing up and celebrating the otherworldly. Come show them how ravers do it"—hardcore! DJ Scott Brown, Flapjack, No Left Turn, Forsaken Shadow, and help you put those skeletal hands up. 7:30pm-2:30am, DNA Lounge, SF. More info here.
GAWDZILLAH I absolutely love this—a queer sober Halloween party that sounds like a hoot and a half, with a costume contest, beats by Juan and Jason Mitchell., photos by Kennedy, tarot reading by Leo, and mistress of ceremonies Natalie Mark. Rawr! 1pm, SF Oasis. More info here.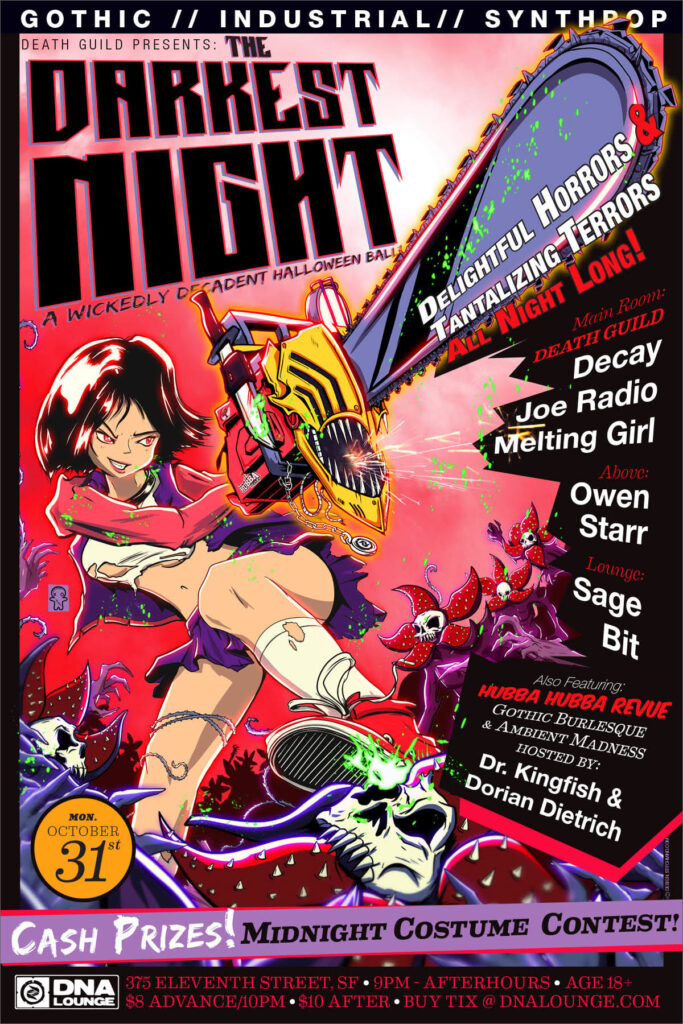 MON/31
DEATH GUILD: DARKEST NIGHT HALLOWEEN Everytime Halloween falls on a Monday, it's time to break out the blood bubbly and celebrate—for it is then that it coincides with the city's longest-running weekly club, dedicated to the glorious gothic, Death Guild. Perfecto. DJs Melting Girl, Decay, Sage, and more deliver the ghoulish goods. 9pm-2:30am, DNA Lounge, SF. More info here.