I can't help the feeling that I've seen this movie before, and I know how it turns out.
Back in 1986, in the terrible, darkest days of the AIDS pandemic, some folks I know started talking about how IV drug users were spreading the disease through reusing dirty needles.
It was a common practice back then: You couldn't get a new sterile needle without a prescription, and information about the deadly threats of sharing was limited.
At one point I called Dr. Phil Lee, who was the head of the city's newly created Health Commission. Lee, a UCSF physician and administrator, had been appointed by Mayor Dianne Feinstein to oversee the Department of Public Health.
I asked him directly: Shouldn't the city be distributing free, clean needles to IV drug users to prevent the spread of what was then almost always a fatal disease?
His scientific response (I remember this pretty clearly all these years later): We don't have data on that yet.
I pushed: Since it's illegal, where are we going to get the data?
Dr. Lee: I don't know.
Me: How about we try it in San Francisco?
Dr. Lee: Well, if it's an effective public-health measure, we should consider it.
A year later, Dr. Mervyn Silverman, who had been Feinstein's health director, helped fund a needle-exchange program in Portland.
In 1988, a group of volunteers created their own, unapproved, program in San Francisco called Prevention Point. They went around with a shopping cart.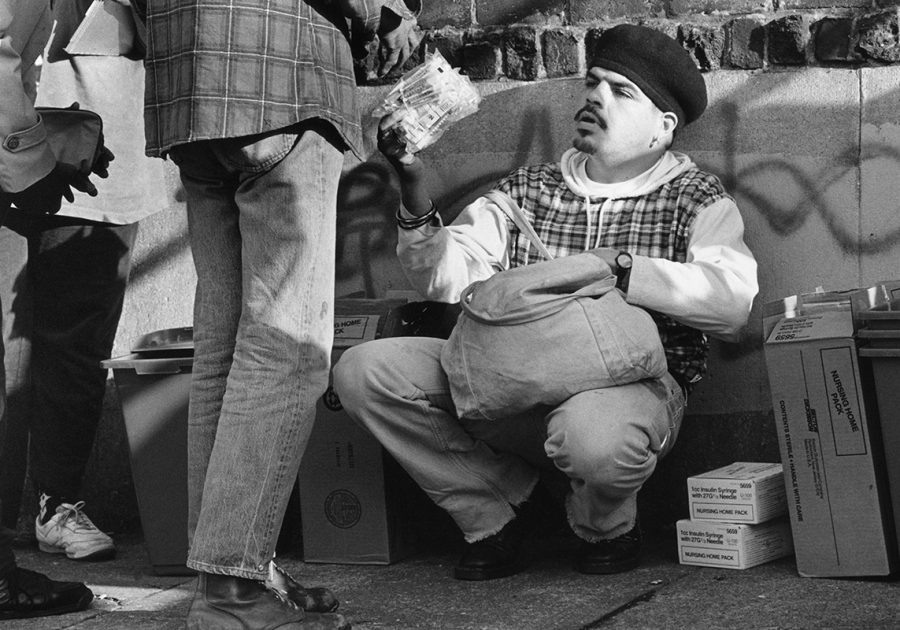 Mayor Feinstein didn't approve. She wanted to be Governor Feinstein, or Senator Feinstein, and the State of California was bombarded with political and media messages about the need for the War on Drugs and getting Tough on Crime. She didn't want to be seen as the mayor who supported drug use.
Under pressure from health advocates, including her own advisors, she cut a deal and told the cops not to arrest anyone—but when someone complained, the officers would seize the clean needles and shut things down.
Prevention Point was right. They didn't argue that needle-exchange was the only solution to the crisis, but it was a powerful tool that saved thousands of lives over the years. Needle-exchange is now considered a critical public health strategy.
Today, safe-injection sites are the modern version of needle exchange. Nobody thinks the sites are the entire answer to the Fentanyl crisis, but they are a powerful tool to save lives.
And yet, we are still having this debate, right here in San Francisco, with Mayor London Breed refusing to take the lead, perhaps because she doesn't want to be seen in the future as the mayor who legalized drug injection in San Francisco.
(That is pretty much the same reason that Gov. Gavin Newsom vetoed a modest pilot for safe-use sites.)
Breed in the past has supported safe-injection sites. She backed the bill by state Sen. Scott Wiener that would have allowed the project in her city.
But now… she keeps saying its more complicated.
At Question Time Tuesday, she told Sup. Dean Preston that she would not commit to opening any city-backed or funded sites. She said there were complex legal issues involved, that individual city employees could face criminal liability, and that she wasn't ready to move forward until those issues are resolved.
The Health Department's overdose prevention plan, released with Breed's support Sept. 14, calls safe-consumption sites critical, a lynchpin of the city's response, and mentions none of these legal issues, Preston noted.
Instead, she said, the city needs more law enforcement to shut down open-air drug sales, and "target the drug dealers who are hurting the Tenderloin."
I have heard this so many times: That arresting drug dealers and users is a key part of the solution.
Interestingly, George Gascon, the former San Francisco district attorney who now has that job in Los Angeles, just put his name on an op-ed piece that directly contradicts that Breed (and her new DA) are saying.
He notes:
As we fight to stem the harms of fentanyl, we cannot use tried-and-failed drug policies of our last drug war just because it's politically expedient. We will only stem the tide of the fentanyl crisis and save lives by using a different, more collaborative approach involving various stakeholders across the county; one that is grounded in comprehensive public health strategies that emphasize education and prevention in addition to targeted enforcement.
If the failed War on Drugs has taught us one thing, it's that we cannot incarcerate our way out of a public health issue. Sadly, whether desperate for a solution, or seeking a reason to go back to the tough-on-crime days, many politicians are calling for stricter penalties. 

 Research shows that criminalizing drug use or harshly prosecuting street-level sellers does not reduce drug use, the availability of drugs, or keep drug users safer. 
So over the next few months, we will see: The supes will be pushing for a strategy that we know works, the mayor is apparently backing a strategy that we know doesn't work, and that does cause terrible harm, and all of this is happening at a time when the local news media has been hyping the horrors of a crime wave that does not exist.
Sound familiar?