Mayor London Breed and District Attorney Brooke Jenkins want to change the city's sanctuary law so the Department of Homeland Security can extradite two people who are accused of serious crimes and are now on the lam in Mexico.
It makes so little sense: DHS doesn't need the city to change anything. The huge federal agency can work with Mexican authorities to bring those two to justice anytime (assuming, for the moment, that the Mexican authorities actually have custody of the two).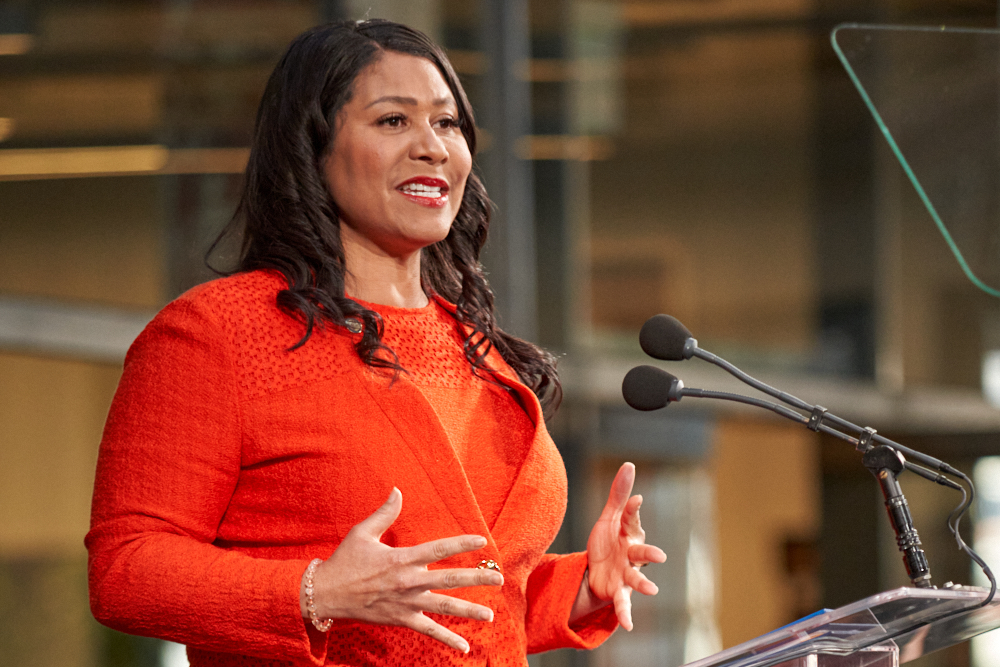 In reality, this is just a matter of politics, a way for Breed and Jenkins to grandstand as "tough on crime" while they give in to what several supes have called federal "blackmail."
Ten of the 11 board members supported a resolution last week endorsing the current sanctuary law—a sign that Breed's efforts may fail, since it would take a majority vote to go along with ICE.
A lot of the discussion on that resolution, by Sup. Hillary Ronen, involve a different attack on sanctuary, an effort by Sup. Matt Dorsey to allow the city to help ICE deport fentanyl dealers.
But the mayor's move will come directly to the board this week, when the Public Safety and Neighborhood Services Committee considers Thursday/9 a pair of bill aimed directly at extradition for the two Mexican suspects. The measure would authorize the DA and sheriff to enter into an agreement with ICE that would require the city to inform the feds if the two suspects are ever released (on bail, or because of an innocent verdict or dismissal of the charges) so they can be immediately deported.
That's the most conservative board committee; the chair is Sup. Catherine Stefani, and the members are Dorsey and Sup. Joel Engardio. Stefani and Engardio don't support Dorsey's measure, but they will be under a lot of pressure to support Breed's.
That hearing starts at 10am.
Meanwhile Ronen's resolution, which was continued for a week, will be back at the full Board Tuesday/7.
Jenkins has decided to drop the manslaughter charges against former police officer Christopher Samayoa, who shot and killed an unarmed Keita O'Neil. Retired Superior Court Judge Ellen Chaitin found herself "flummoxed" by the decision, she wrote in a letter to the Chron:
Running from the police, as unarmed O'Neil did, did not justify killing him. A superior court judge reviewed the arrest warrant for probable cause and signed it. Jenkins doesn't want to prosecute Samayoa and created her bogus conflict of interest theory and tried to make former District Attorney Chesa Boudin the fall guy … I've read everything about this case in the public arena and there is probable cause to charge Samayoa with manslaughter. If he weren't a police officer, he would have been charged with second-degree murder.
So now it's up to Attorney General Rob Bonta to decide if he wants to take over the case and pursue the charges. He has until Tuesday/7. On Monday/6, a rally is scheduled to encourage him not to duck the case. It starts at 10am at the state building, 350 McAllister.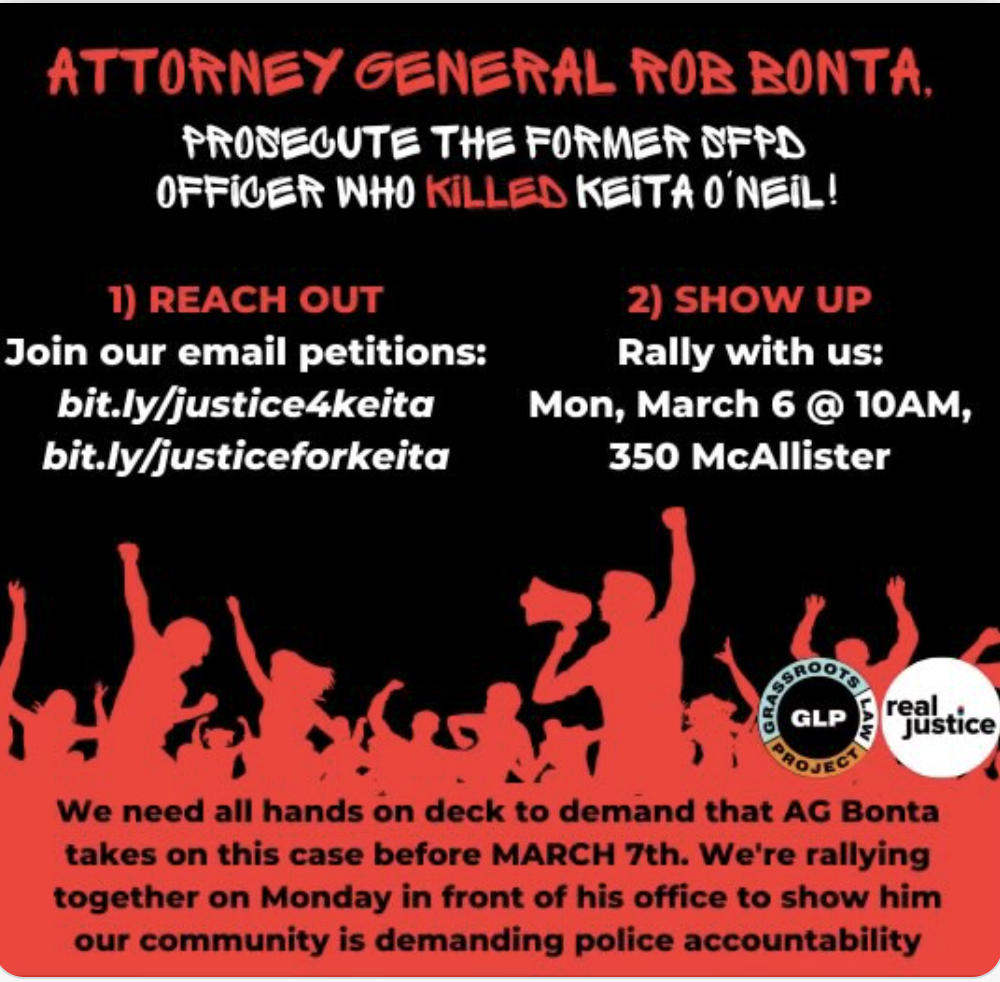 Mayor Breed comes to the full board Tuesday/7 for Question Time, and two supervisors have issues they want to raise. Sup. Dean Preston is going to ask about the non-police ambassador programs in the Tenderloin and whether the mayor is willing to expand that program. From a letter he sent to Breed:
Residents of blocks not covered by ambassadors in the Tenderloin and Lower Polk
neighborhoods have experienced worse street conditions, public drug use and dealing, and increased
crime. This is not surprising. The unintended consequence of covering some blocks with ambassadors,
while leaving others completely unattended, is that people engaged in problematic street activities simply move to the unattended areas.

We were disappointed that when you announced an expansion of the community ambassador programs last October you did not consult with our office or deliver additional coverage to uncovered areas of the
Tenderloin or Lower Polk. I can appreciate the desire for an added presence in other neighborhoods in
the city, but I am concerned that corridors in the Tenderloin and Lower Polk areas with serious need are
being overlooked.
We have raised this repeatedly with city departments under your purview, requesting ambassadors for
these uncovered areas, and while the meetings have been met with positive reactions, outside the
aforementioned limited OCEIA expansion there has been no commitment to filling in the gaps of
ambassadors in the Tenderloin and Lower Polk neighborhoods. Even as some areas have multiple
different ambassador programs present, these two areas continue to have none, a situation that makes no sense to me or my constituents.
I am writing today to respectfully request that you commit to new non-police community ambassadors
in the Tenderloin and Lower Polk areas where there are currently no ambassadors, namely:
● The streets and alleys between Van Ness and Larkin, from Geary to Turk Street, including
Willow, Eddy, and Myrtle
● The streets and alleys between Geary to Ellis, from Van Ness and Mason
These areas are depicted in the following map. As you can see, over a third of the Tenderloin has
absolutely no ambassador coverage.
Engardio wants to know about the mayor's plans to implement the Housing Element.
I will be intrigued to hear her answer to Engardio, who is a political ally; the reality is that she can't implement the Housing Element unless private developers decide to start building housing again, and that's not happening. Instead, the state is going to completely mess with the city's local control—not because SF is using zoning to delay housing, but because late-stage Capitalism is all about international investment, and right now, thanks to the Fed and other causes, nobody can get financing to build anything other than high-end tech dorms in San Francisco.
I wonder how Breed is going to explain that.
Sup. Rafael Mandelman's move to end remote public comments is back at the board Tuesday/7, after a one-week delay aimed as seeking some kind of a compromise. At least four supes have made clear they won't vote to end the ability of people to call into hearings; Mandelman needs six. I'm not sure what a compromise might look like, but any deal that makes it harder for seniors, people with disabilities, people with day jobs, people who are immune compromised, and others who have a hard time coming to a committee meeting in the middle of the day and waiting for hours to speak is going to get pushback.
One of the key moves that Police Chief Bill Scott made to undermine former DA Chesa Boudin (and indirectly help the recall) was his decision, made without Police Commission approval, to back away from a deal that allowed the DA's Office to take the lead on investigations into officer-involved shootings.
This was a big deal: The cops have always investigated police shootings, and those investigations always found that the officers didn't break the law. The deal with the DA's Office was a key reform:
Part of the problem has also been that the cops investigate their own violations; that is, if a cop shoots someone, it's the cops—their colleagues in the SFPOA—who collect the evidence.
It's not terribly surprising that the evidence collection often leads to exonerations for police officers.
So with the support and involvement of the Police Commission, the chief and the DA signed a memorandum of understanding that gave DA investigators (many of whom trained at the Police Academy) the primary responsibility for investigating police shootings and killings.
When Scott, clearly under pressure from the Police Officers Association, which was furious that former DA Chesa Boudin was charging cops with homicide, unilaterally voided that deal, the Police Commission was stunned.
So now a new version of an MOU comes to the commission Wednesday/8, and it appears to me (although I am not a lawyer) to be significantly limited.
The DA's Office, for example, would not be called out immediately and allowed to take full control of officer-involved shooting investigations.
You can read the changes here.
The commission will also discuss an MOU between the SFPD and the FBI around what's called the Violent Gang Safe Streets Task Force. This kind of collaboration has always been riddled with problems.
That meeting starts at 5:30pm.