Sup. Shamann Walton has been leading the way on the city's long-overdue discussion of reparations. The city's debate has attracted national attention, a lot of it clueless at best and utterly racist at worst.
But we haven't heard a lot from Mayor London Breed.
That's going to change, maybe, on Tuesday/11 when Walton, using Question Time, is going to ask the mayor to take a position on reparations.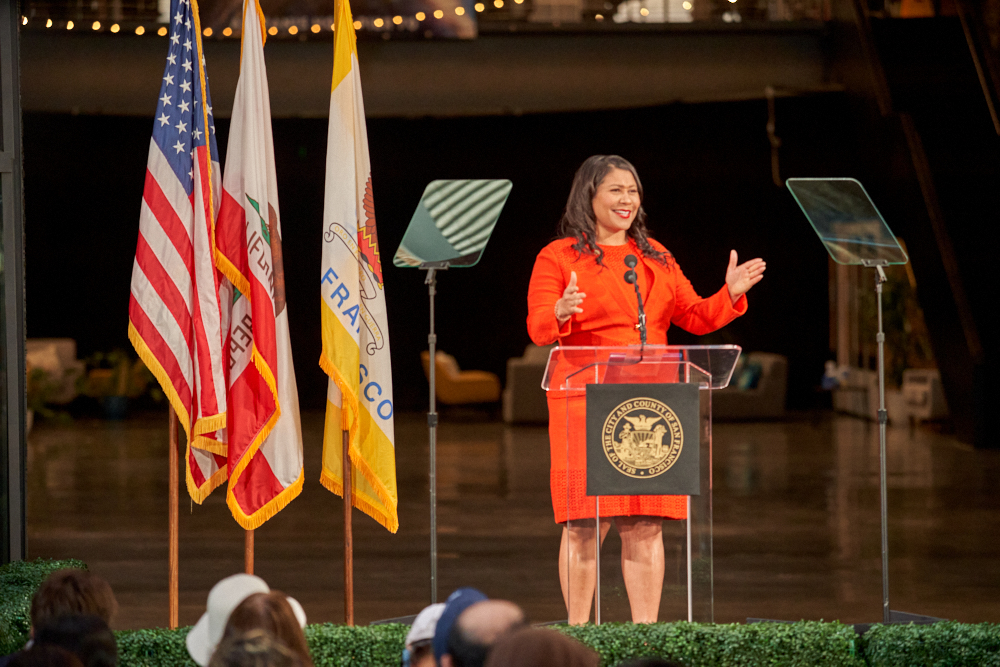 It ought to be interesting: Breed only two years ago talked about diverting $120 million from police spending to invest in the Black community. But that concept quickly disappeared.
And now, the mayor is talking about nothing but giving a blank check to the cops, and has said nothing about the Reparations Task Force report.
While Breed has won approval for a $27 million supplemental appropriation to fund police overtime, and is asking for another $166 million in pay hikes for cops, Walton is seeking $50 million to fund ongoing efforts to research and fund reparations efforts.
Breed has been moving to the right in the past year, and I wonder how she is going to justify putting huge money into the cops and rejecting spending a third of that pursuing reparations.
Laguna Honda Hospital is still facing serious threats from the feds (although Gov. Gavin Newsom should never have let this happen.) It's possible that the city might be forced to evict hundreds of current residents on May 19. And even if that deadline is extended, the feds have insisted that any new plan limits room occupancy to two people, meaning 120 beds would be lost.
There is literally no place in town for those folks to go, and very few places in Northern California.
Health and Human Services Secretary Xavier Becerra could issue a waiver that would save those beds. Newsom has Becerra's cell phone.
There's a petition to keep those 120 beds here.
The Health Commission's Laguna Honda Joint Conference Committee will meet to discuss this Tuesday/11. You can find the agenda and supporting documents here.
The fate of the Castro Theater is still pending, as the Land Use and Transportation Committee put off until April 17 a hearing on a landmark resolution that might protect the existing seats and raked floor. But you can see what Another Planet Entertainment has in mind for the theater by looking at the agenda for a cancelled Planning Commission and Historic Preservation Commission hearing.
That hearing was set for Thursday/13, but the commission can't act on the proposal until the supes make their decision on the landmarking. If the existing interior does not get landmark status, here's what APE is planning:
to establish Nighttime Entertainment and a Bar Use on the first and second stories, alongside the existing Movie Theater Use within the existing multi-story theater building. The project includes interior and exterior alterations, including construction of a new one-story rear addition to add new dressing rooms, a restroom, and a storage platform.
Also:
alterations to the Castro Theatre, for restoration/conservation/repair of interior historic features including the ceiling, murals, original proscenium, and light fixtures; interior alterations including the removal of ground floor level seats, installation of tiered levels with chair lifts on the ground floor over raked concrete, installation of two fixed back counters in the auditorium, installation of entry lobby fixed counter, installation of new mezzanine lobby concession area, infill of the stage stairs, new organ lift, pit and automatic stage trap opening system, and restroom improvements; construction of a new one-story rear addition to add a new dressing room, restroom and storage platform; installation of a new HVAC system; installation of acoustic door gaskets; rear stair replacement; and installation of a new front security gate.
If the supes decline to add clear language landmarking the interior, including the seats and raked floor, then this will come back shortly.