The shooting of Banko Brown developed a new and critical twist today as District Attorney Brooke Jenkins admitted that the evidence shows Brown was unarmed.
The directly contradicts what "sources" in either the DA's Office or the Police Department told the SF Standard, which reported that Brown had threatened to stab the security guard:
Anthony was on duty last Thursday when he saw Banko Brown shoplifting, said a source with knowledge of the case who spoke on condition of anonymity because he was not authorized to discuss the details. Anthony questioned Brown, and an altercation ensued. Brown threatened to stab Anthony, who had pulled out his gun but had not yet pointed it, the source said.
And it seems to also directly contradict Jenkins' initial statement that the guard feared for his life:
The evidence clearly shows that the suspect believed he was in mortal danger and acted in self-defense.
I have covered police shootings for more than 30 years in this city, and nobody at any level of law enforcement in San Francisco has ever told me that it's appropriate or legal to kill someone who is not a direct, immediate threat to your life or the life of another.
Here's what the SFPD Use of Force policy says:
an officer is prohibited from using lethal force against a person who … does not pose an immediate threat of death or serious bodily injury to another person or officer … Factors for evaluating the use of force include but are not limited to:
a. The severity of the crime at issue;
b. Whether the suspect posed an immediate threat to the safety of the officers
or others.
It's hard to imagine how an unarmed person would pose that threat to an armed guard.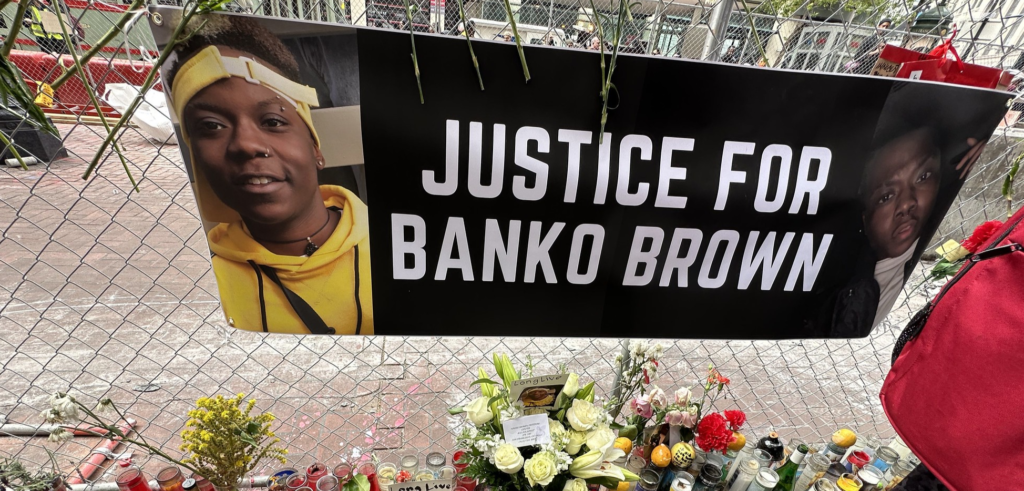 That makes Jenkins' decision not to charge the guard with any type of homicide at the very least rather suspect.
Meanwhile, Sup. Aaron Peskin has introduced a resolution calling on Jenkins to release the video and other evidence, and Peskin told me he thinks it's going to get unanimous approval Tuesday.
The resolution states:
WHEREAS, On April 27, 2023, a young and unarmed trans man, Banko Brown, was shot and killed by Walgreens security guard, Michael Earl-Wayne Anthony, after allegedly shoplifting $14 worth of candy; and

WHEREAS, The San Francisco Police Department (SFPD) interviewed witnesses at the scene at the 825 Market Street Walgreens, collected video and duly arrested Michael Earl-Wayne Anthony for the killing of Banko Brown; and

WHEREAS, The SFPD proceeded to bring a case to the District Attorney's office to duly charge under the law; and

WHEREAS, On May 1, 2023, District Attorney Brooke Jenkins issued a public statement declining to press charges against Michael Earl-Wayne Anthony, and later released the murder suspect; now, therefore, be it

RESOLved, That the Board of Supervisors urges the District Attorney to release police reports, witness accounts and video information from the April 27, 2023 killing of Banko Brown, that form the factual basis in the case presented by the SFPD for filing charges by the District Attorney; and, be it

FURTHER RESOLVED, That ensuring the equal application of the law and pursuit of justice is critical to upholding a social order of peace, safety and prosperity for all in San Francisco.
Peskin said that the worst crime Brown might have committed was stealing about $14 worth of candy.
If that even happened.
That level of petty theft would almost never lead to prosecution in San Francisco, much less the death penalty.
State Sen. Scott Wiener, who supported Suzy Loftus against Chesa Boudin for DA, and who refused to take a stand against the Boudin recall (he didn't even show up or send a proxy to the Democratic County Central Committee endorsement meeting on the issue) has just issued a statement seeming to suggest that he's disturbed by Jenkins' decision not to prosecute:
While we are still awaiting comprehensive investigation results on what occurred that day, initial accounts appear to indicate Banko Brown was unarmed. Businesses employing private security must take appropriate safety precautions to prevent horrific tragedies like this one. That is particularly the case for companies employing private security guards who are armed but have not received the same level of training as law enforcement officers…. It is critical that the investigation proceed with urgency and transparency. I will be monitoring this process, and I have every confidence that District Attorney Jenkins and SFPD will conduct a thorough and transparent investigation.
He has more faith than I do—but the fact that an ally of Breed and Jenkins is saying this might be an indication that the DA is about to change her mind.
Meanwhile, I will repeat again, over and over, because so many politicians are not paying attention:
Breed, Jenkins, Wiener, and their allies, along with the San Francisco Chronicle, the local TV stations, and a lot of other news media, created the deadly narrative that crime is so out of control in this city that we need more cops, more people in prison, and more crackdowns on small-scale theft. (Walgreens can afford to lose $14).
Now a young Black trans man is dead.
This is what happens when you create a racist, pro-cop, tough-on-crime narrative, and when you, like Jenkins, refuse to hold the shooters, whether they be cops or security guards, accountable.
The mayor so far has been very quiet.