"People think of the Farmers Market as 'Oh, cherries are in season,' but there's a complex web of relationships going on beneath the surface," says Christine Farren, the executive director of Foodwise, which runs the Ferry Plaza Farmers Market and Mission Community Market. "We work with about 130 food makers, restaurants, and farms, some of whom are on their second or third generation of working with us, as we're now celebrating our 30th year. It really is an entire vibrant community."
You can taste the bounty of those deep relationships (and possibly a few cherries) at the excellent Foodwise Summer Bash (Sun/17, 5:30pm-8pm, Ferry Building, SF. More info here), one of the cutest events of the summer, now on its 12th year. There, inside and outside the Ferry Building, you can sample unlimited bites and drinks from more than 45 vendors who work with the organization, including such purveyors of delectability as Del Popolo, D.R.E.A.M. Doughnuts, Loquat, Peaches Patties, Reem's California, and Señor Sisig. It's like a giant smorgasbord-picnic on the Embarcadero, full of happily stuffed faces. Sometimes the sun even comes out—see our photos from last year here.
Tasty examples: I got a sneak peek at the 2023 Summer Bash menu, and let me tell you, I'm going right for the shrimp, cheese, and scallion cornbread with hot pepper jelly from Minnie Bell's Soul Movement, and the "For My Peaches" cocktail with Bespoken American whiskey, K&J Orchards yellow peaches, apricot black tea, and Rojas Family Farms lemon.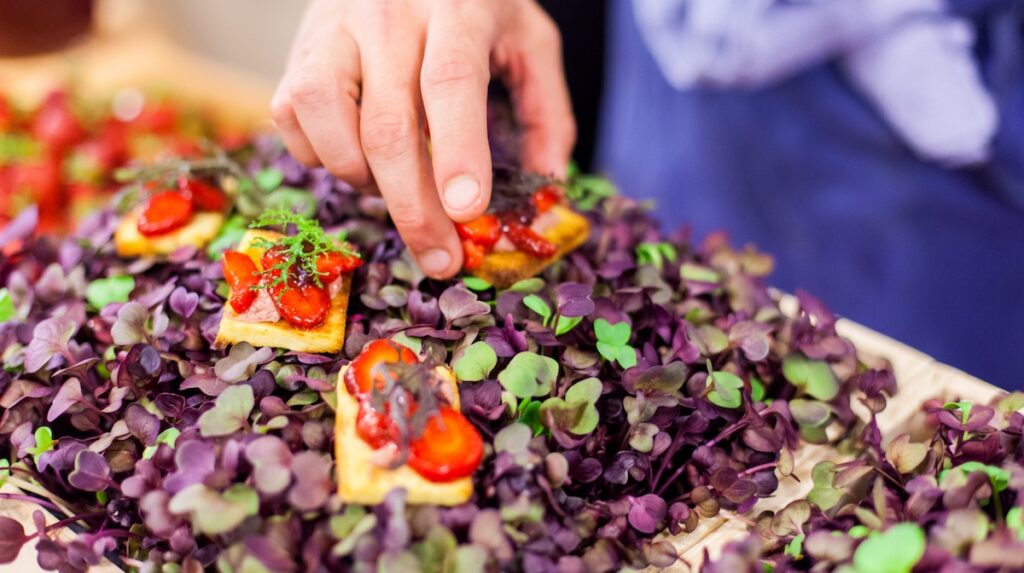 Farren herself has been at Foodwise for 20 years, joining the org after she moved to SF in the wake of the dot-com bust and was looking for a way to connect with community. "The Farmers Market felt like dirt under my fingernails, something genuine and real. It was a microcosm of San Francisco: Prada heels and recycled shopping bags," she laughed. "Everyone meeting in one place, and supporting each other. That's really the mission of the organization, connecting folks who live in the city with local food, helping them to understand the food system better and engage with the community on a deeper level," she said. "We weave education through everything we do."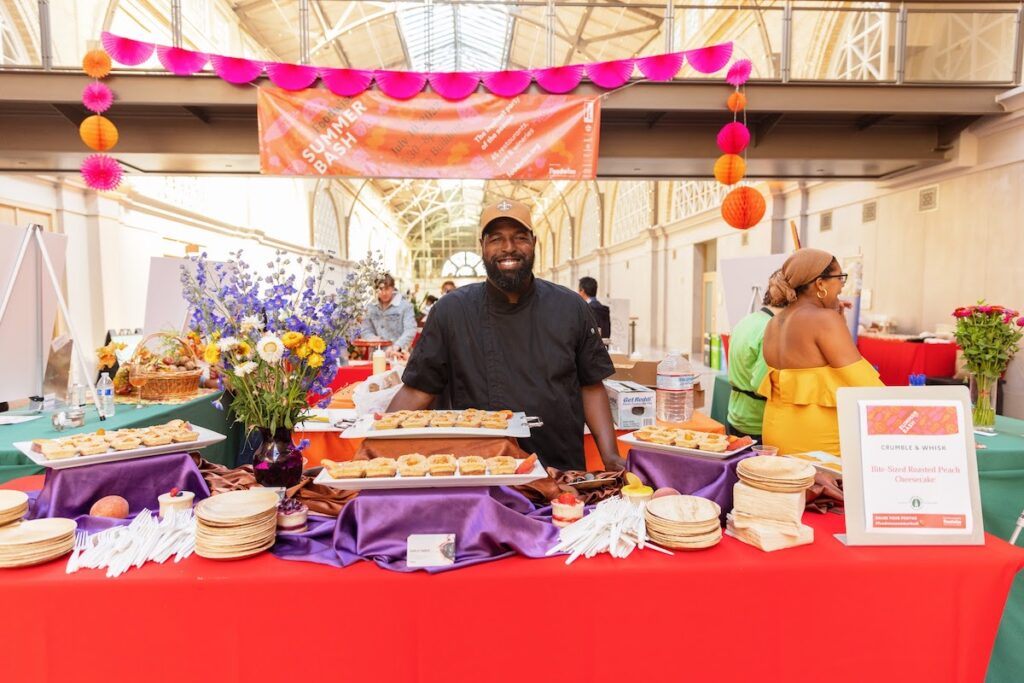 Foodwise is tip to tail in terms of starting with the with farmers right though the Foodrunners service, which rescues unsold produce for distribution at local shelters and food pantries, and the composting system at the market, introduced in 2008, which diverts more than 78 tons of compostable materials from the landfill annually. Education programs for teens and kids help connect them to knowledge about food production and healthy eating.
One of the things Farren is most proud of is Foodwise's "walk the talk" DEI initiative, which helps BIPoC food makers gain a foothold in the industry by welcoming them into market with reduced fees, menu and stall layout consultation, and spotlight events like the Juneteenth Farmers Market, which featured Black vendors—and was a complete blast.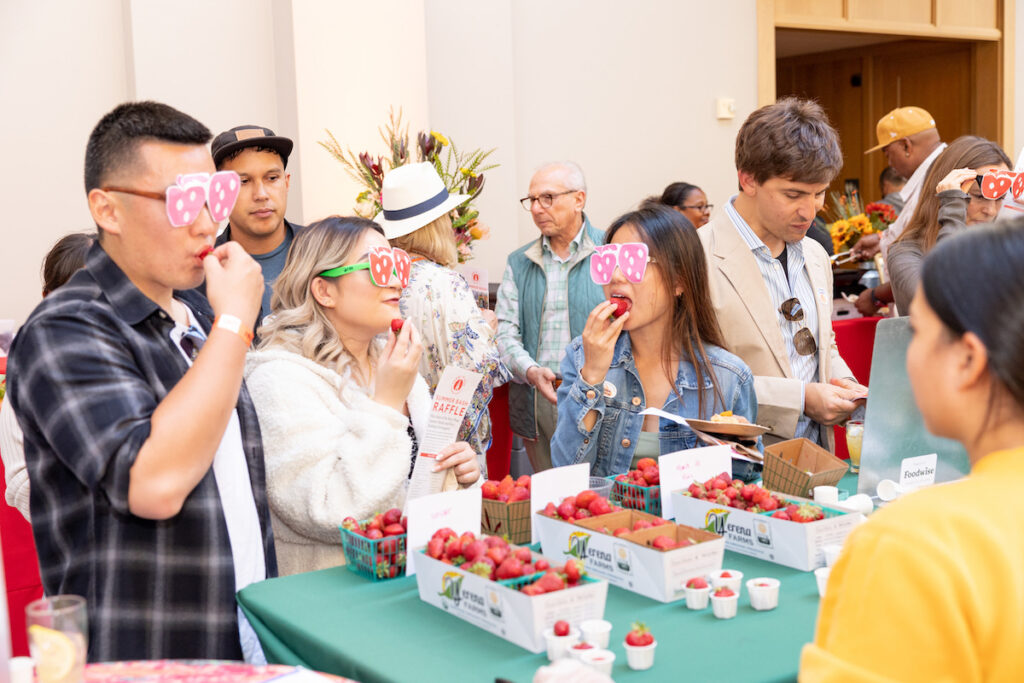 Back to this weekend's Summer Bash: What is Farren most looking forward to? Besides the sachets of herbs grown by Foodwise program teens at their schools and kids' stations emphasizing the discovery of new textures and flavors, "I always love the cocktails, people are doing such inventive things with non-alcoholic cocktails, especially, and low ABV beverages. And I just also love the mix of people and vendors. When I look at the list of participants it goes from casual to really high end, from simple and rustic bites that really let the fruit sing to these complex, mind-blowing creations.
"We have a saying at Foodwise: You can take us to the opera or to the roller derby. Hopefully both!" You can find out more about this Sunday's Foodwise Summer Bash here.  
MORE EVENTS OF NOTE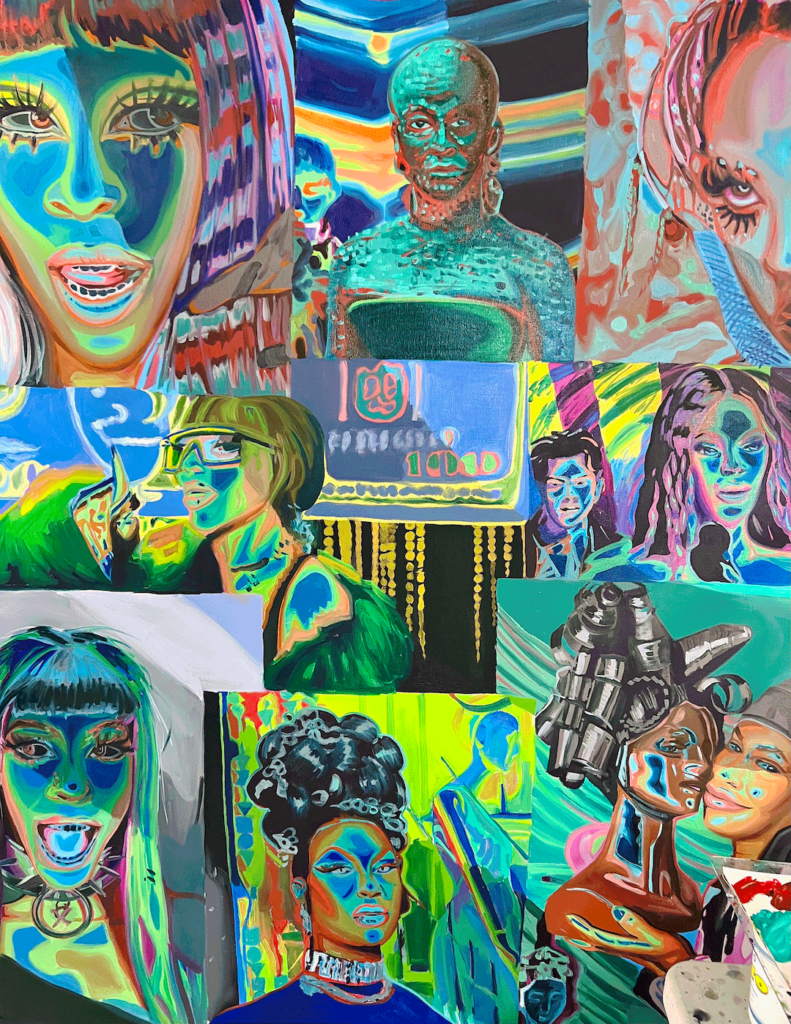 ONGOING THROUGH JULY 29: "CAITLIN CHERRY: THE REGOLITH WAS BOILING" These gorgeous oil paintings are pushing all my buttons. "An emerging artist based in Mérida, Yucatán, Mexico, Caitlin Cherry's paintings feature women within the backlit glow and glare of LCD screens and social media platforms, where porn stars, drag queens, Instagram models, C-list rappers, and A-list celebrities push the boundaries of the feminized body, Blackness, and class." I mean, real Internet life, right? CCA Wattis Institute for Contemporary Arts, SF. More info here.  
FRI/14: "POOLSIDE" OPENING Karl the Fog may have us in their grip, but 111 Minna is bringing the heat with this art show of over 60 artists presenting 200 works, many from the gallery-club's awesome "Sketch Tuesdays" drawing party. There's also a BBQ, music, live painting, food vendors, and a kiddie pool to splash around in (yasss). 5pm-10pm opening; show continues through September 23. 111 Minna, SF. More info here.
FRI/14: FIESTA LATINA This bonanza of Latin beats looks like a ton of fun, and it's been a minute since I've been to the Brick and Mortar club. Musical performers IndiviDúo, Razteria (check her new album Tocar las Estrellas out, she is great), and DJ Zego join forces with dancers from Amor Do Samba and Cambamberas for an all-out culture fest. 9pm, Brick and Mortar Music Hall, SF. More info here.
FRI/14: BHANGRA & BEATS NIGHT MARKET The awesome folks behind the Non Stop Bhangra party have launched this night market that includes plenty of music, dancing, food, and crafts, and the last one went off! Anyone who says downtown is completely dead needs to stop on by for some SF spirit and delight. 5pm-10pm, Battery and Clay Streets, SF. More info here.
FRI/14: AN EVENING WITH GINA LA DIVINA The classy, brassy grande dame of San Francisco drag has been entertaining for more than six decades. Here's a rare chance to catch Gina La Divina in a full-length show of her own, full of her favorite queens. You do not want to miss all this glamour. The Shirley Bassey tributes alone are sheer divinity. 6pm, Oasis, SF. More info here.
FRI/14: DAM SWINDLE The tasty funk and house music from Dutch DJ duo Lars Dales and Maarten Smeets is terrific—as the kids say, "immaculate vibes"—and they are stand-up guys as well who take the spirit of the music they play with much respect and laidback joy. 9pm-3am, Public Works, SF. More info here.
SAT/15: JOE BATAAN + LA DOÑA If you've read 48 Hills for any length of time, you know we adore La Doña, the Mission musical force who wields her trumpet and musical acumen to fuse reggaeton, mariachi, bass music, and outspoken politics. She's appearing at the free Yerba Buena Gardens Festival with Latin music legend since the mid-1960s, Joe Bataan, a brilliant early star of the immortal NYC Fania Records. 1pm-3:30pm, Yerba Buena Gardens, SF. More info here.
SAT/15: POLYGLAMOROUS: HOT SAUCE WITH DJ HEATHER Summer is here, yes, and even though it's freezing as I write this, it is always the sunniest vibe on the El Rio patio. This daytime spin-off of the wild Polyglamorous parties brings in Chicago DJ legend Heather, who has been slinging delicious grooves for more than three decades. Spice it up! 3pm-8pm, El Rio, SF. More info here.
SUN/16: THREE-LEGGED DOG PICNIC OH. MY. GOD. I am going to die of the cuteness. "Please come and enjoy the day with your Tri Pawed Dog! Dogs with cones, casts, one eye, wheelchairs, blind, deaf, toothless, vintage, etc are all welcomed! Music, blessings for your pups, the largest, small parade of costumed three-legged dogs and their handicapable friends, show your dog's tricks!" 11am-2pm, Duboce Park, SF. More info here.
SUN/16: STERN GROVE FESTIVAL: ANGÉLIQUE KIDJO There's no doubt the free Stern Grove concerts have been popping off this year—so many of my friends went to the Indigo Girls and Santigold installments that I am still suffering FOMO. Now welcome "Africa's premier diva," the Benin-born queen of global folk-soul-funk, Angélique Kidjo. Doors open at noon, Stern Grove, SF. More info here.