I cannot stress enough how significant it is that Irreversible Entanglements has made the renowned label Impulse their home.
The free jazz quintet with an experimental punk mentality, featuring poet-vocalist Camae Ayewa (often known as Moor Mother), bassist Luke Stewart, trumpeter Aquiles Navarro, saxophonist Keir Neuringer, and drummer Tcheser Holmes, is most definitely a fit for the imprint.
Logical for sure—to such an exacting point that the first thing that crossed my brain was a mindblown emoji.
Why?
How often do things get the opportunity to actually make sense these days?
Not much.
As one of the characters from the Indiana Jones movie franchise remarked, so many times we are in the act of chasing down history.
This moment, this union.
Is History.
Growing up, I was taught to appreciate the Impulse name as jazz royalty.
There was an esteemed Black professor (whose name escapes me at the moment) that did a serious jazz radio show, after mine, on a college radio show on the East Coast. He did expert commentary between selections like proper jazz radio presenters are supposed to do.
On breaks, before and after segments, he'd pass down his experiences to me in the studio, about what it meant to walk through his neighborhood in Philly in the '60s with a copy of John Coltrane's "A Love Supreme" under his arm.
That's swag. Black art at its pinnacle. It symbolized all of that, and some constructs for which there are still no words.
Of course, Impulse is also nicknamed as "the house that Trane built," in honor of the legendary John Coltrane and his numerous contributions to Black art and advancing jazz.
Folks need to put some respect on Alice's name too. Her work on the imprint after his passing inspired a different generation of musicians. Harp player and current Impulse recording artist Brandee Younger is one of them.
Younger's rise completes this era's resurgence for the label. Its healthy and thriving contemporary set of innovators also include Shabaka Hutchings and his groups Sons of Kemet, Shabaka & the Ancestors, and the psychedelic jazz trio The Comet Is Coming. On Impulse, Irreversible Entanglements will be amongst peers.
The Impulse rosters mirrors that which the wide-reaching Dead Oceans imprint is building with Toro y Moi, Khruangbin, Mitski, Japanese Breakfast, and Phoebe Bridgers. A home for the next wave of indie artists.
Irreversible Entanglement's forthcoming album, Protect Your Light, out September 8, was primarily recorded over three days in January at the historic Rudy Van Gelder Studios in Englewood Cliffs, New Jersey. For those who don't understand the history of that studio, I'll clarify. Since it was built in 1959, Rudy Van Gelder has captured recording sessions by Duke Ellington, Coleman Hawkins, Ray Charles, John Coltrane, Freddie Hubbard, Sonny Rollins, J.J. Johnson, Horace Silver, Art Blakey, Hank Mobley, and so many more. What those walls have observed … soaked up from America's classical music. All those people who built The Jazz Cannon.
It's unrivaled.
Is IE, with all that energy music in tow, ready for the challenge?
Listen.
Growing up in the '80s, my parents would make the trek to the Newport Jazz Festival each summer, packing up picnic baskets, blankets, and most importantly, anticipation. It was a journey that came with notable moments.
Then one year, some friends of mine purchased a ticket for me to see The Jacksons Victory Tour. It coincided with that summer's Newport Jazz Festival, where Miles Davis (in his red electric horn phase) and BB King were headlining.
I made a compelling argument to my Dad, explaining how important of a cultural moment, an event, it was to see Michael Jackson performing once again with his brothers on stage. It was such a long opening statement that my Dad lit, smoked, and extinguished a cigarette politely, before informing me, "Boy, I don't know what you think you are going to do, but you ARE going to see Miles Davis and BB King."
Obviously, I thought he made the wrong choice. That is, until I saw Miles Davis up on stage give the eminent death glare to some random woman who might have made a song request.
Did she know who she was going to see? Did anybody prep this woman?
I really don't really remember much of his performance besides a tinny version of Cyndi Lauper's "Time After Time" (yep, it was that Miles phase.)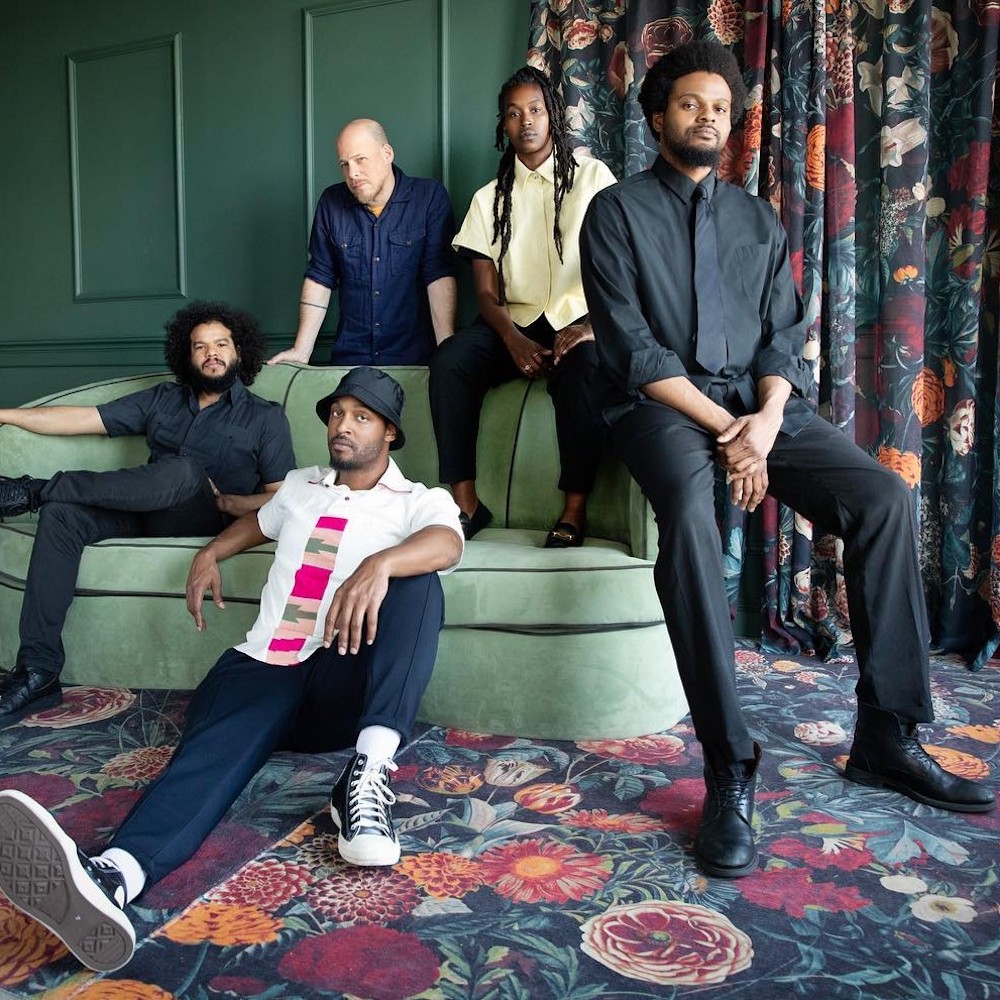 But—the death stare. The one Herbie Hancock spoke of, the one Davis gave Coltrane when John ran over a bit too much with the sax solos, and Miles commanded him "Take the damn horn out cha mouf." Quincy Jones once said, "One moment Miles is giving you a hug, and the next second he wants to kill you."
That glare.
Miles went so hard the entire crowd, a sold-out Newport Jazz Festival audience, went "ooohh" when he dealt it. Forget a Cardi B mic toss, this was of a different ilk.
I don't know if that's what Pops wanted me to see, but I got it. Power, unlike i've ever seen or felt. But I got it now.
It was amazing. Worth every sacrifice. Jacksons? Sorry, Tito. Moonwalk or not, they couldn't do that. Pops was on point with the flex.
So when Irreversible Entanglements performed at Noise Pop in 2022 at The New Parrish in Oakland, and vocalist Camae Ayewa (a.k.a. Moor Mother) dropped that enigmatic "we have arrived," with a specific cultural enunciation of hers, signaling that the relentless 58 (maybe 72)-minute performance, consisting of two-albums-worth of material coiled into a rigid, terse, and finely executed draining bombardment of the senses, was close to completion.
It was the closest in feel that I've ever gotten to the Miles Davis stare. Ever.
Black experimentalism at its zenith.
I knew this band—these warriors in spirit and sound—were bound for extraordinary gain.
Impulse is their vehicle.
Irreversible Entanglements' album Protect Your Light drops September 8. Presave here.