The Petal, a duo show from Misa Chhan and Lyric Shen on view through September 2 at Et al. etc., urges us to consider the potential generated by translation and distortion. The exhibition features cyanotypes, indigo shibori, hydrographically dipped images whose iterations vacillate from flat to dimensional and back again. The Petal also brings up questions surrounding labor, time, and the slipperiness of images. Cadence is subtly stretched, compressed, and confused, along with the assumed indexicality of photography itself.
Both Chhan and Shen have cultivated disciplines in tandem with their art practices (naturally dyed clothing and textile fabrication, and tattooing and sex work respectively) that feed into their explorations of translation, process, and doubling. 
Anyone who lives in San Francisco will react fondly towards Misa Chhan's walnut-dyed cyanotype of a speared window security bar (Security, 2023). I spend a lot of time observing the different window guard and gate designs as I walk through the Mission—some of which seem to be hand-forged wrought iron, and many so weathered by time and coated with layers of paint and grime that they begin to take on new shapes and forms entirely.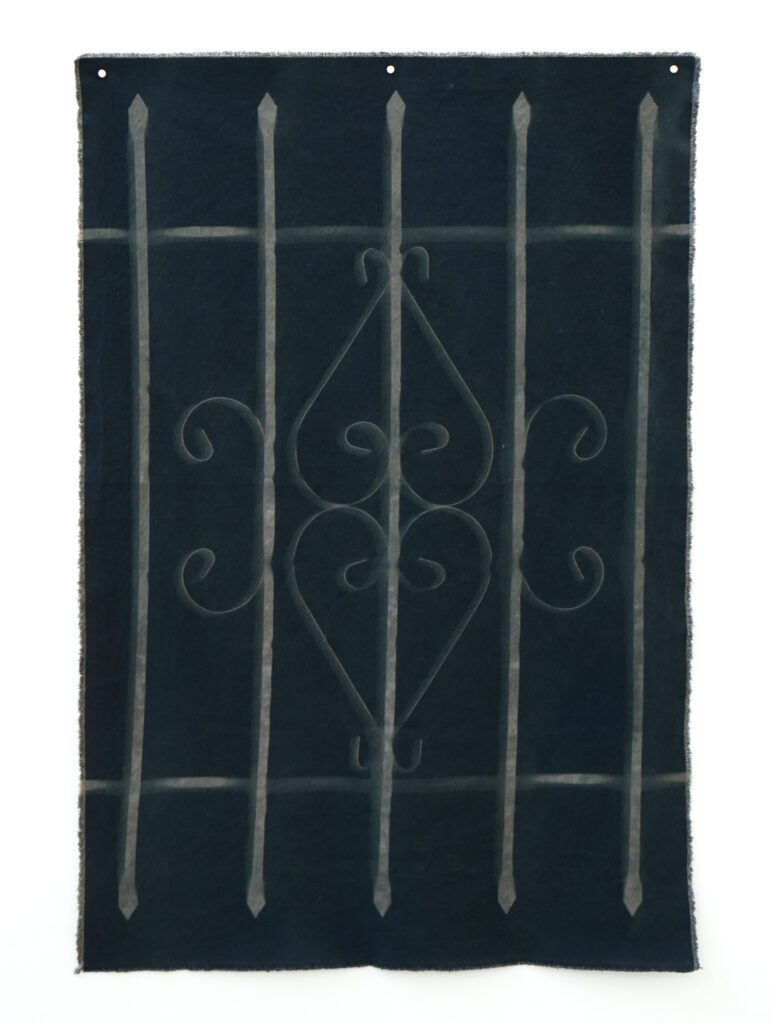 The pattern, scale, and cleanness of this mirrored curly heart-shaped design used to make a contact print in Protection can be traced to a mass-produced product by Grisham Bros LLC available at big box stores, and utilized throughout the city. These grates function as an icon of the contradictions of city living, symbolizing both care and hostility. While the antagonistic architectural details throughout the Bay often feel repressive (continually directing our bodies not to rest here, nor tag there), there is something simultaneously dystopic and perversely comforting about the attempts to turn these features into opportunities for ornamentation. 
In Chhan's Hearts and Butterflies (Protection), the curly heart shape from the window barrier repeats itself (in a more organic iteration with an entirely different gestalt, minus the vertical bars) as a veil covering the window between Et Al Etc.'s gallery space and its bookstore, this time translated using indigo dye. Many of Chhan's indigo dye works use an ancient shibori stitch resist technique where fabric is sewn and cinched together in a manner that stops the dyes from reaching parts of the fabric, creating an image through the contrast of what is dyed and undyed.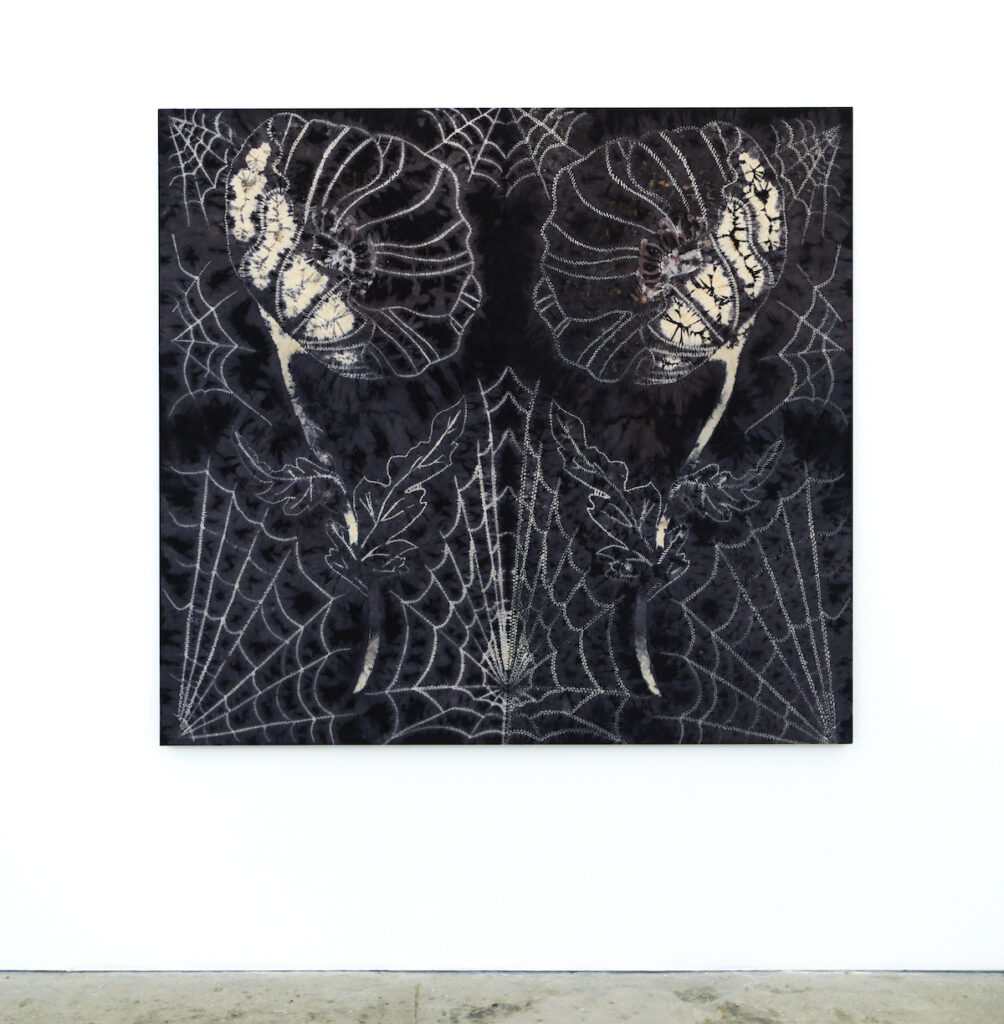 In Poppies (2023), chain-like spiderwebs and the outlines of intricate poppies emerge from a mottled background created by a mixture of indigo, iron, and sumac. Chhan's Sunflower series creates a productive confusion between the indigo shibori dyeing process and the blue cyanotype contact prints nearby, momentarily implying and imbuing a photographic quality to images that are in fact created by hours of stitching by hand. 
On the other edge of the time continuum, Lyric Shen embraces the immediacy of water transfer printing, in which a hydrographic film is placed on water, and surface tension helps the image to wrap around any three-dimensional object dipped into the membrane. Shen considers the images in the exhibition to be forms of self-portraiture, and a meditation on whether it's ever possible to have control over one's own image within the context of late-capitalism and the ongoing residues of colonialism.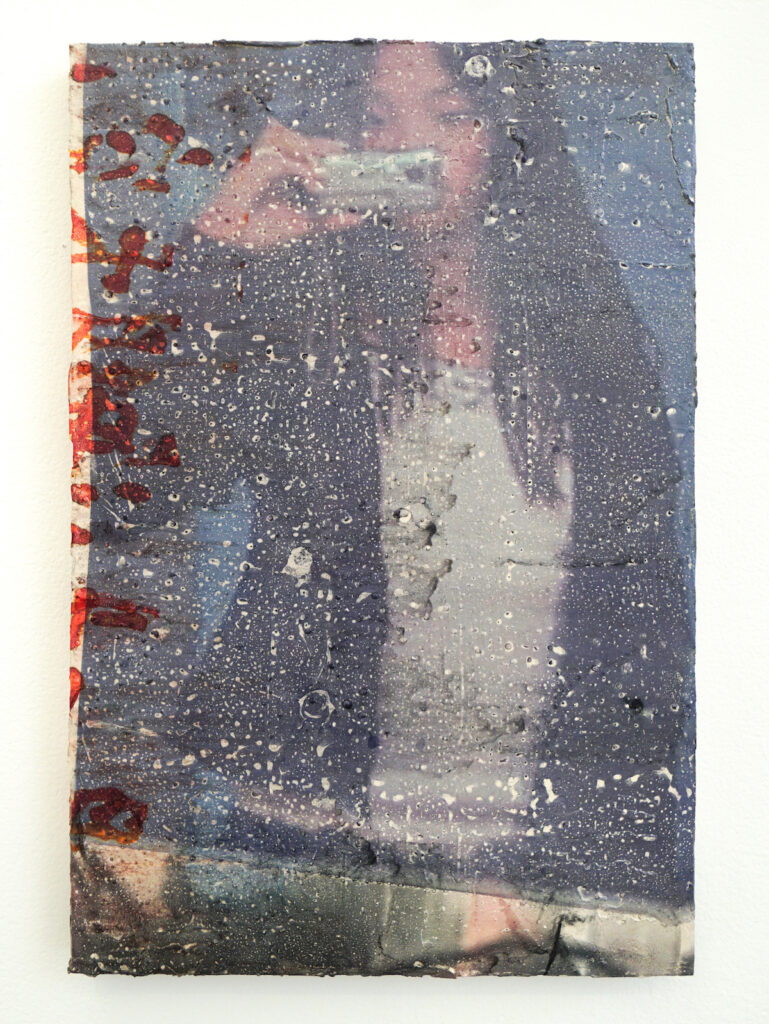 With their source imagery as varied as Vivitar digital camera preteen mirror selfie to a line of ants, the images' interaction with diverse substrates end up playing an important role in how the photographs are mediated. 
Shen embraces the folds, bubbles, and varied levels of legibility that come along with this process, creating additional levels of abstraction as the images drape and stretch onto their supports. The ink absorbs with a soft and painterly quality into porous ceramic and sits differently around the curved plastic of a car bumper (Sent, 2023).
Car customization is one of the original contexts in which the hydrographic printing process has been utilized, and Shen's rerouting of this technique for their own means suggests parallels between auto and human bodies but also reflects a desire to undermine capitalism's ability to consume everything in its wake by destabilizing the decipherability of images. Twenty-three depicts a BDSM needle-play closeup of a back punctured with needles arranged into a heart shape, the skin-like membrane of the image puckered and wrinkled on top of the sleek surface of the aluminum panel.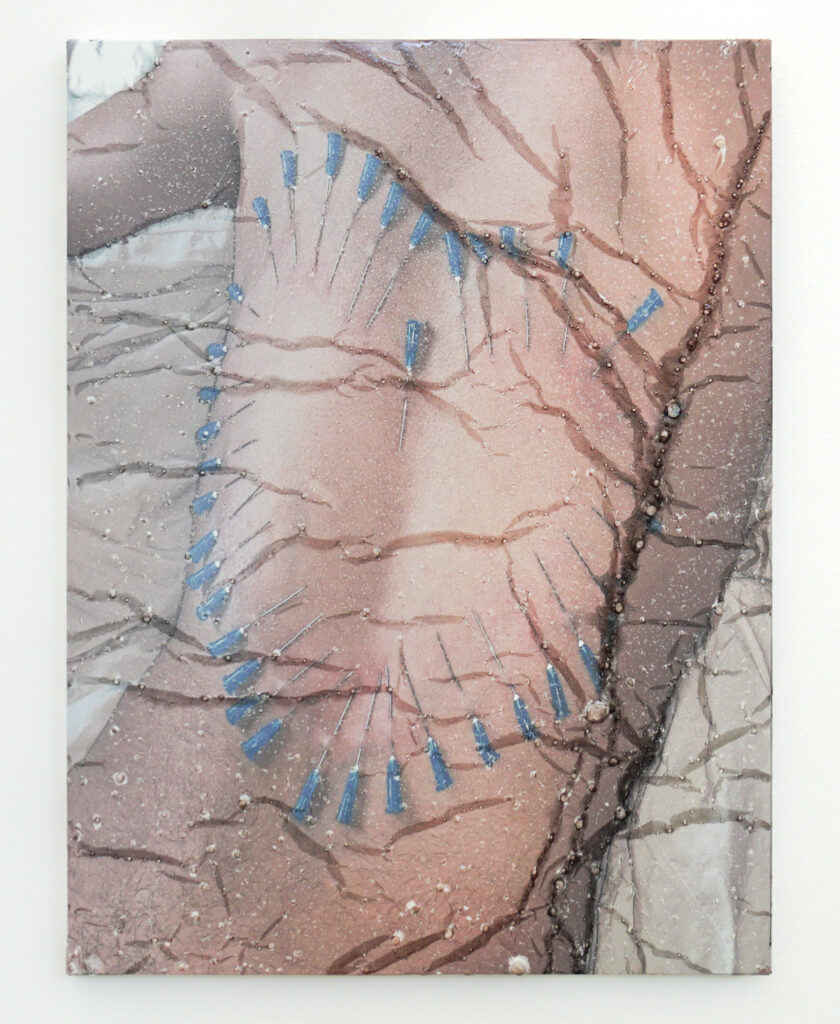 The recurring motif of skin highlights the echoes between the two artists' work: stitched fabric and bodies, image transfers and tattooing, photographic contact prints and dye resists.
Hydrographic processes aside, images are inherently slippery. They are simultaneously full of depth and reductive, personal and inevitably co-opted by commercial interests. Chhan and Shen exploit this gray area in more ways than one. As the Szarkowski-era binary between photographs that are forms of self-expression versus investigations of the world continues to erode, along with the medium-specific boundaries of photography itself, Chhan and Shen's navigation of abstraction through dyeing and warped image transfers offer possibilities for how images can function simultaneously as mirrors and (barred) windows.
Neither Chhan nor Shen have made a monolithic material approach in their work, and The Petal allows us the privilege of being let into their experimentation and embrace of chance as we make meaning. We're given the opportunity to consider how quotidian images can transmute into something more fantastical, and how their interpretation is altered through the pressures of external forces outside our control. 
THE PETAL is on view at Et Al Etc. through September 2. More info here.