Even if a person has never traveled to Traverse City in northern Michigan, attended summer theater, farmed cherries, fell in love with embroidered napkins, or harbored secret memories of hot sex with a budding film star when you both drank too much and slept too little: Read Ann Patchett's Tom Lake (HarperCollins/Harper Books). It's likely you will find yourself somewhere within Patchett's finely sculpted story of a mother and her family—a husband, their three adult daughters, and memories collected over decades—all "forced" to shelter-in-place on the family cherry orchard during the pandemic.
Patchett is the best-selling, justly lauded and awarded author of nine novels, four nonfiction works, and two children's books. A little over a decade ago, she opened Parnassus Books in her hometown of Nashville, Tennessee, launching the independent bookstore just in time to be named one of Time Magazine's 100 Most Influential People in the World in 2012. and lives in Nashville, Tennessee. Her 2019 novel The Dutch House was a finalist for the Pulitzer Prize, a plaudit she can set beside her National Humanities Medal, PEN/Faulkner Award, and Guggenheim Fellowship, among many others.
Tom Lake spins on the axis of secrets and delivers much of its rich storytelling through Lara Kenison, mother of Emily, Nell ,and Maisie; wife of Joe; and a former actress who decades ago left the stage just as her career began to take off. It is a kaleidoscopic world of theater, family, love, passion, truth, half-truths and lies told with voices expressing the full range of human emotions. The novel's frame and internal structure are shaped and paced by the three daughters, who decide that the sudden return to communal living due to COVID is the perfect opportunity to ask their mother to recount her past, including the family history and the lives of people with whom their parents and ancestors intersected.
Patchett, inundated with interviews as the book rocketed to astonishingly immediate success (even for her), offered her thoughts in response to some of our lightly edited prompts. (Some of her comments have been adapted from previously published interview.)
48 HILLS How and where did the idea for Tom Lake come to you?
ANN PATCHETT Ideas evolve over a long period of time. I leave them on a back burner for years and they change and change. The very first idea was about a woman who, at the end of her life, realizes she was happiest in her high school production of "Our Town" in which she played Emily. She went off to try and find the other people in the play. Over time that turned into Tom Lake. Every part of the story changed except the connection to "Our Town." I've gone back to that play my entire life and it always teaches me something. The play was the constant for me.
48 HILLS Is Tom Lake inspired by a location you've visited?
ANN PATCHETT Yes! The beautiful setting in Traverse City was inspired by beautiful Traverse City, Michigan. I started going there more than twenty years ago when I was sent to the neighboring town of Petoskey, on a previous book tour. Over the years I've made close friends in the area. It's one of my favorite places. When I started writing the book, my friend Erin took me to see a family fruit farm. I wanted to live there. Pretty much all the physical details of the Nelson farm are based on the Wunsch farm.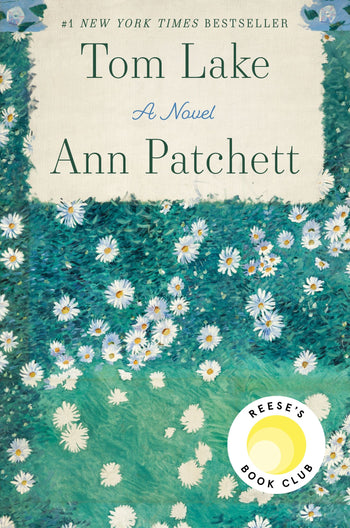 48 HILLS In the book, Lara says: "My girls have directed me to start the story at the beginning when they have no interest in the beginning. They want to hear the parts they want to hear with the rest cut out …'" How much does this influence what Lara chooses to tell them?
ANN PATCHETT Lara doesn't withhold the parts her girls aren't interested in. She withholds the parts they are interested in. The Nelsons are a modern family, and the girls are grown, but she's still their mother and she isn't going to tell them about her sex life or how confused she felt by her relationship with Duke.
48 HILLS Emily, Nell, and Maisie return to the cherry farm because of the pandemic, but there's a strong sense that family and home bind them together. After her summer at Tom Lake, Lara returns home too. Can you tell us a bit about what home and family mean, not only to the characters in Tom Lake but to you?
ANN PATCHETT Home is where they all return when times are hard. For Emily, Maisie, and Nell, that means the pandemic. For Lara it was a ruptured tendon and the end of her career as an actor. None of them wanted to move home, they just didn't have a choice. I moved home to live with my mother when I was 25. My life had fallen apart and she took me in. My childhood home was long gone (we moved often) and she lived in a house I had only visited before. I slept in the guest room, got a job as a waitress. My grandmother was living with my mother as well. I was a wreck, but looking back now I remember it as a sweet time because the three of us were together.
48 HILLS Would you describe Tom Lake as a love story?
ANN PATCHETT Absolutely. It's about the different ways we can experience love at different times of our life (if we're lucky). The daughters love their father but they can't imagine anyone more thrilling than Duke. They're certain, at least at the beginning, that Lara must have wanted to spend her life with Duke. But you can never spend your whole life with guys like Duke. In a real sense, the novel is about the difference between exuberant, youthful passion and married love. What Joe and Lara have is my idea of love, but then again I'm old, and I've been married a long time.
48 HILLS COVID itself is never referenced directly in Tom Lake but plays a crucial role in bringing the family together at this time. Was that a deliberate decision not to mention it and what was your experience of living through this time?
ANN PATCHETT I think of COVID as what a person comes down with and the pandemic as something we lived through, so this was a pandemic story and not a COVID story, insofar as none of the characters are sick. As for my experience, I'm a writer. I excel at isolation. I have a big house, no children, a husband I love and want to spend time with, work I find meaningful. I didn't have to travel. I own a bookstore and we managed to keep the business afloat and never laid anyone off. A friend came and lived with us and that was wonderful. She had pancreatic cancer, which put the pandemic in a different light. I don't want to say I had a good pandemic, because the suffering in the world was heartbreaking, but in this house we did not suffer.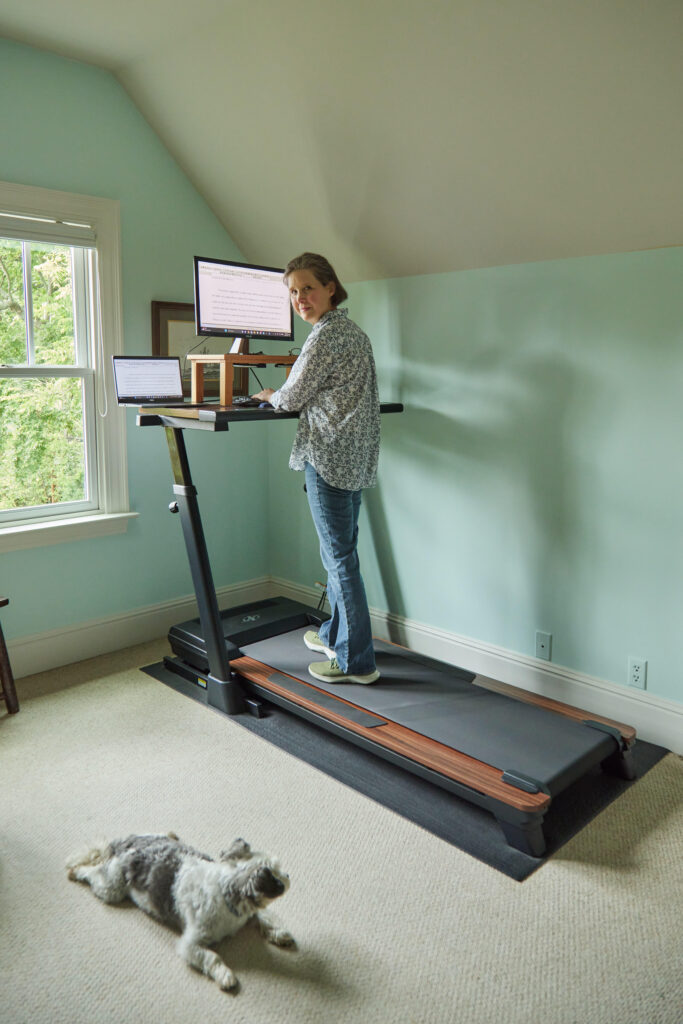 48 HILLS Tom Lake was written entirely on a treadmill desk. How did that come about?
ANN PATCHETT I got the treadmill desk for my 50th birthday (I'm 59 now). I wanted one because Susan Orlean had one. Susan Orlean is always 10 years ahead of the curve, and I strive to emulate her. In the past I had used the treadmill to answer emails or return phone calls but I never used it to write fiction. Starting a novel is always the worst part for me and for whatever reason I decided to give the treadmill a try. It did wonders for my concentration. I felt like I was stepping into the novel every day, and when I finished work I stepped out of it. I think that walking occupies the restless part of my brain.
Aside from the concentration, the difference between writing a novel on a treadmill or in a chair is that in a chair, my hands, arms, and neck wind up hurting. On the treadmill, the pain was in my hips and feet. Having pain from the waist down is preferable to having pain from the waist up. This is the kind of thing you think about when you get older.
48 HILLS Was it difficult to write literature of hope, especially when news headlines are bleak?
ANN PATCHETT There is so much goodness. When I turn away from the headlines and talk to my neighbors, talk to the people who come to the bookstore and work in the bookstore, talk to my family and friends, pretty much all I see is kindness. There are plenty of brilliant books that represent the current state of hopelessness and despair. I write books about the sort of people I actually know. There's nothing wrong with that.
48 HILLS In a 2018 interview with PBS you noted, "reading books can be the antidote to fragmentation and distraction." But has the shortening of attention spans changed your attitude toward plot and prose? How does one make a novel both urgent and true?
Shortened attention spans have not changed my attitude about plot and prose in the same way that the headlines haven't changed my ideas about kindness. I'm sure that plenty of people have shortened attention spans, but plenty of people are also reading Abraham Verghese's new novel The Covenant of Water, which weighs in at 736 pages. No one writes a novel that is for everyone. You write the best novel you can about the things that matter to you. If you start shaping your craft in an attempt to fit your notion of the marketplace, you're doomed.