If you've ever wondered what the non-Stratfordian (aka "Shakespeare truther") flick Anonymous would look like if it went into full-fledged Oliver Stone territory, Liz Duffy Adams may have come upon the answer. The Aurora production of her Elizabethan speculative fiction was the first-of-three-shows I saw in a single day, two of which were Shakespeare-related. I dare say this one was the only one to take such an entertaining turn into "tinfoil hat" material.
(Incidentally, it was the same weekend the comet Nishimura was visible to Earth, something that hadn't been possible since shortly after Shakespeare wrote Romeo & Juliet.)
The play in question is Born with Teeth (Bay Area premiere through October 1 at Aurora Theatre, Berkeley), a two-person drama about a young 'n green Will Shakespeare (Brady Morales-Woolery) attempting to collaborate with the already-revered Christopher "Kit" Marlowe (Dean Linnard) on Henry VI, Part 1. This is a precarious time in England for a shameless hedonist and atheist like Marlowe, something he reminds the Catholic-born Shakespeare at every opportunity. But are Kit's provocations merely a narcissist's bid for attention or a sign that the danger they fear is right outside their door (if not closer)?
From that description alone, the historians reading this may have already torn their hair out. Yes, the play subscribes to the core tenet of non-Stratfordians: that Shakespeare either didn't write his own plays or that he collaborated more than is given credit. (The former theory is easily disproven and the latter is debatable.) It also takes the position that Shakespeare was the Elizabethan equivalent to a pro-McCarthyist, one who'd gladly name names for the House Un-American Activities Committee. In short, the "historical accuracy" of Adams' play is akin to that of Amadeus, but without the music.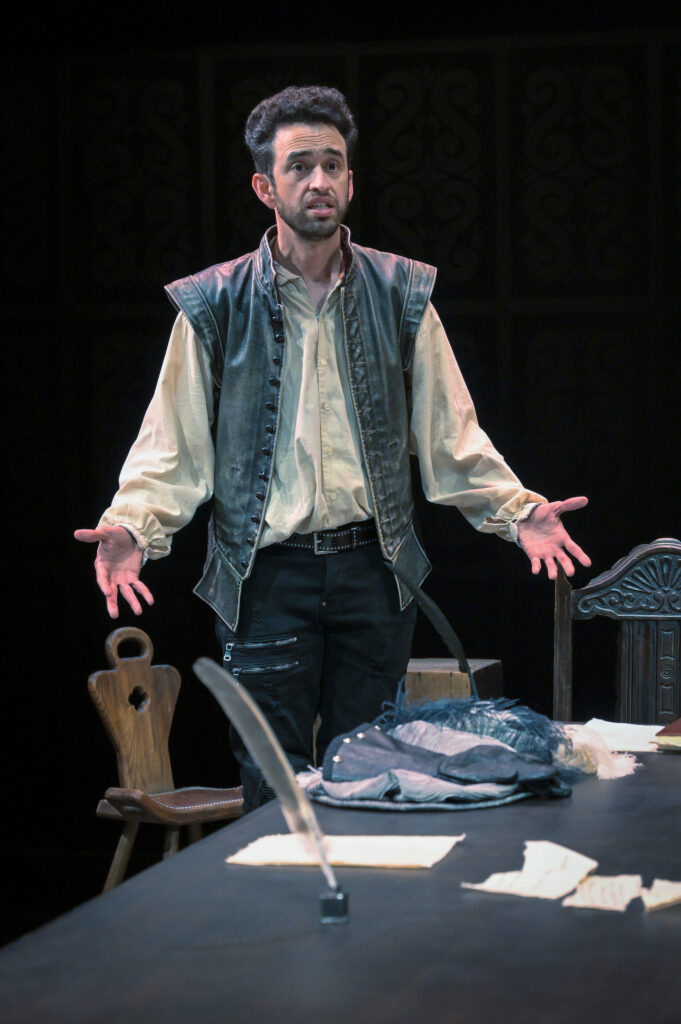 Adams—much like Arthur Miller with The Crucible—draws explicit parallels between the persecution of the time period covered and the frighteningly-similar persecution today. Her text may not be historically accurate, but it knows its relevance in an era where book bans have once again become the order of the day.
Still, there's a reason Amadeus was popular. As with that play's depiction of Mozart and Salieri, Born with Teeth makes the wise choice of deviating from history in an entertaining way. Adams knows the fun of having each scene revolve around a verbal tête-à-tête between the two titans of the English language. Marlowe is the same age as Shakespeare (something Will frequently points out), but is far more world-travelled and no stranger to intimidation, be it from governmental forces or otherwise. Shakespeare, on the other hand, is shown as foolishly optimistic and easily drawn into the idea of the status quo bring necessary order to a world in chaos. Not only will the two argue ideologies, but the conceited Marlowe is clearly envious of the talented upstart who may usurp him in fame. Taking the piss out of said upstart is a good way to put him in his place.
Of course, one can't mention the roles of a two-person play without looking at the players. With that in mind, it's clear that Linnard is the one with the advantage. It isn't simply that he has more with which to work in playing Marlowe, it's that Morales-Woolery only plays Shakespeare at one note through the entire show. It's one thing to have a contrast between the two characters, but Morales-Woolery's Shakespeare never evolves, performance-wise. He delivers nearly every line in a high-pitched cracking squeal, like a someone starting puberty. True, Linnard's Marlowe greedily demands attention at all times, but Morales-Woolery's Shakespeare never gives us anything to focus on, except in the narrative scenes wherein he's the only one on stage.
It's a nice-looking stage. Kate Boyd's set—with its long wooden table, matching floor, candled chandelier, and barely-noticeable gold-painted wall–looks like an analogue writer's dream, and it's a lot of fun watching director Josh Costello make the two actors dance around it (though not often literally). Jeff Rowlings' lights are subtle in their storytelling accentuation and Ulises Alcala's costumes make one wish that leather vests would come back into fashion.
This being the start of Aurora's new season, the company has taken the Berkeley Rep route of employing an "only sometimes" approach to masking requirements. I saw the show during its first masked matinee, and the mostly-senior crowd seemed well-behaved about it (though there were noticeable noses peaking out over surgicals). My Aranet4's CO² readings seemed to peak at 1797ppm over the course of the one-hour-fifteen-minute show—pretty average for the Aurora mainstage.
When reviewing a work that takes many liberties with history, one tries to fall back on Roger Ebert's advice to not review what a work is about, but "how it's about what it's about." I've personally found that my mileage with this depends solely on whether harmful misinfo can be gleaned from the history-fudging: it's all in good fun to suggest that Abraham Lincoln hunted vampires, but it's flat-out irresponsible for a racist urban myth is presented as an empirical truth (think Erika Dickerson-Dispensa's [hieroglyph]).
Adams' play is relatively harmless, occupying a similar space as the aforementioned Amadeus and the Tom Stoppard-co-written Shakespeare in Love. Adams treads similar territory as Roland Emmerich's Anonymous, as the two seem to share an anti-Shakespeare bias, but at least Adams seems self-aware that her scenario is pure speculation and not some great "A-ha!" moment of historical revelation.
It's also an entertaining way to spend an hour-plus watching the clash of two historical personalities. That's not bad at all.
BORN WITH TEETH runs through October 1 at Aurora Theatre, Berkeley. Tickets and further info here.