One glimpse of the artist listings in the 2023 San Francisco Open Studio program guide will leave a person blown out of the water and wondering, does every artist in the United States live in the Bay Area? Emerging from the cave-like years of the pandemic as a vibrant, warm-hearted, sparkling lavender beast—more on that below—the spectrum of expression, styles, and mediums included in the 49th annual event appears unlimited.
Presented over four consecutive weekends (total run is Thu/19-November 19) by the local nonprofit ArtSpan, SF Open Studios offers free access to visit artists in their studio and work spaces. ArtLaunch, the event's opening celebration, is the outlier in that it is a ticketed event held Thu/19, 6pm-9pm, at SOMArts Cultural Center (more info here), with 267 pieces of art and well over 100 artists attending in-person to introduce their work in one accessible location.
Work on display at the opening and throughout the subsequent weekends in studios, galleries, and art co-ops is organized by territories/neighborhoods and includes paintings, photographs, wearable art, LED artwork, sculpture, quilts, wall ceramics, mixed media, and more. A map available online and in the program guide shows the breakdown: Weekend 1 in the West Mission, October 28-29; Weekend 2 in the Westside, November 4-5; Weekend 3 in the North, November 11-12; Weekend 4 in the East/Mission, November 18-19.
An "art tasting exhibition" (also at SOMArts Cultural Center) on November 8 provides special opportunity for people 21 and over to enjoy wine, browse the ArtLaunch artwork, hear a discussion held by this year's jurors and select participating artists, and applaud the Amplify Award winner selected each year.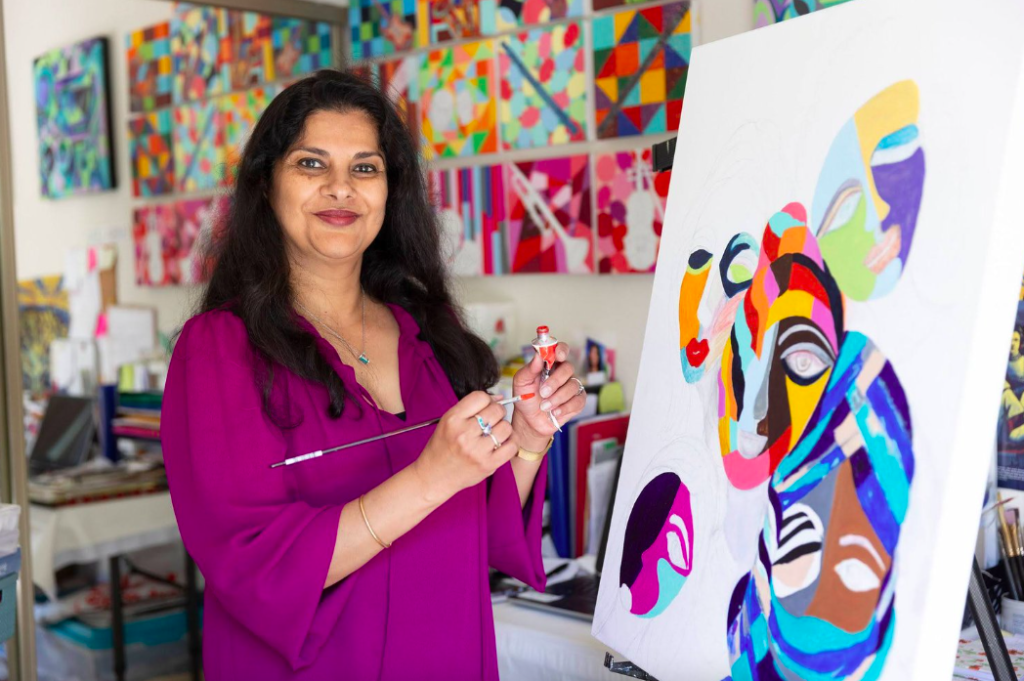 Program and membership manager and artist Nick Maltagliati says in an interview three days before the opening that this year's "Title Wall" followed tradition and was granted a chosen color for the year, causing it to be re-dubbed, "The Lavender Wall." A sparkle theme was selected in part to signal the lightness and joy of the complete return to in-person art experiences following the doom and gloom of the pandemic. The work, "Erosion 2," created by artist Karen Olsen-Dunn, was chosen to matching Open Studios program guide cover.
"It's a landscape mixed media work (acrylic on panel) and has twinkly light spots and dark areas that form the image of a tree," says Maltagliati. "There's lavender in the piece, and it has a kind of effervescence that is inspiring. Instead of thinking of the past few years, we wanted to bring brightness to the community."
In 2020, Open Studios was entirely online; 2021's edition featured some in-person events, but artists were free to create events at any time, day or night.
"We didn't get the best response from the artists in the feedback we collect each year. They strongly preferred a more scheduled, regimented program like we mostly returned to in 2022," says Maltagliati. "This year, we've come full circle, and the traditional format is going strong."
With only three full-time and one part-time staff members, ArtSpan is dependent on volunteers.
"They're the backbone of the organization," he says. "Lots of artists are donating their time to install the artwork, bartend at the opening, then de-install the exhibit. Without them, none of this would happen."
In addition to providing an essential workforce, it's important to remember these same artists are creating new work, preparing their studios for visitors, coordinating music or beverages or snacks, and organizing works-in-progress and process presentations they plan to share. All that, in addition to continuing to market their work, keep up with clients and collectors, and perform daily human activities related to family, self-care, homeownership, and running a small business.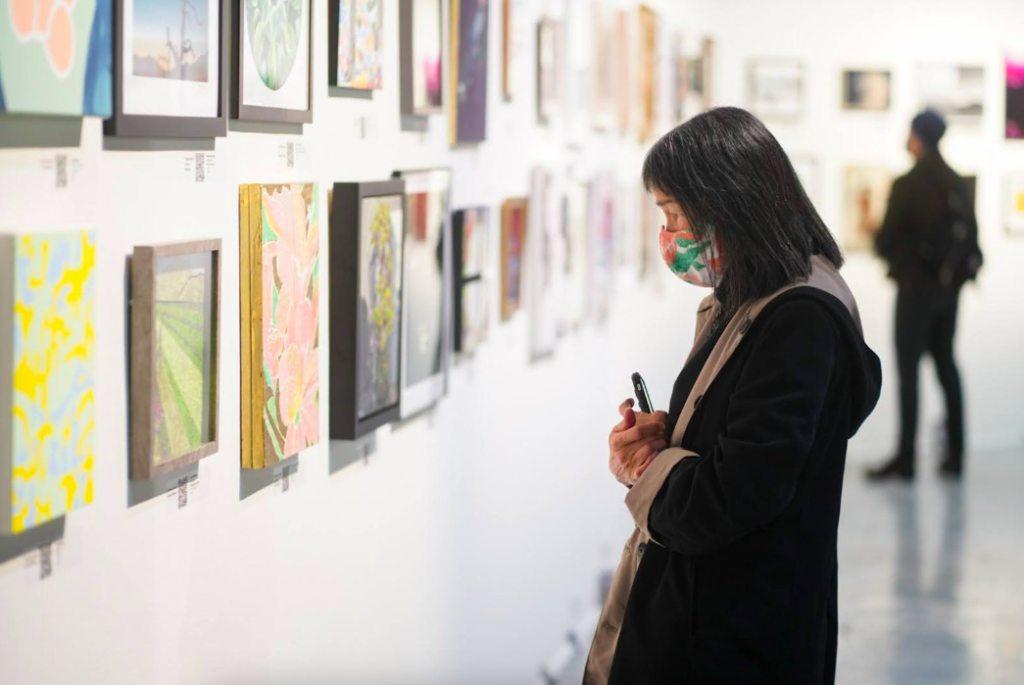 Maltagliati says most artists he knows continue to use email newsletters and "old-school" postcard mailers to promote their work, although some younger generation artists and students might be gravitating to social media—Instagram, TikTok, and on rare occasions, Facebook—to spread awareness.
"More established artists rely on the stability of people who sign up for their newsletters. They use their contact lists that connect straight to their inboxes, and go to people who have already bought their work."
For his own open studio days, Maltagliati creates a warm, salon-like atmosphere he believes allows people to immerse themselves in his paintings.
"I have a background in the service industry, so I have wine, snacks, music. I have a work-in-progress [on display] so people can see how a painting might go from a muddy state to where the art will flow, have clear lines. It's like a cooking show where I show the tools and ingredients and the mess during creation, but also what it will look like when it's done."
Each studio environment is different; which is a major part of Open Studio's attraction. Some artists will talk about Covid, war, environmental crisis, social unrest. Others have a more mythological or spiritual focus, and might want to discuss the otherworldly forces behind their work.
"I've gone out to other studios and some artists barely acknowledge visitors, but for the most part, they're really happy you're in their space," says Maltagliati.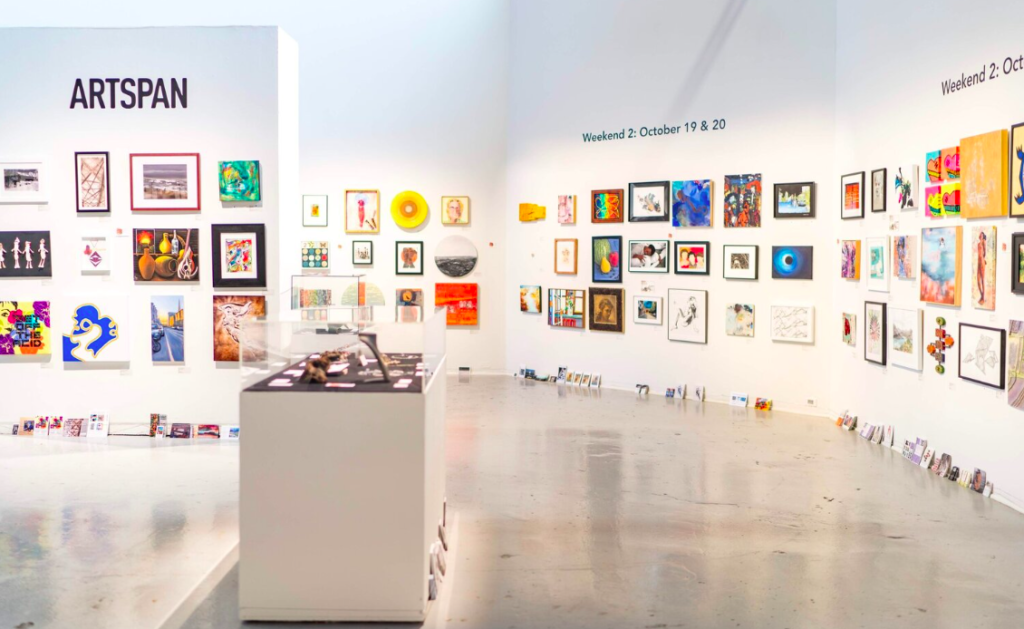 Asked about the lessons he learned through being involved in the Open Studios curatorial process since 2021, particularly regarding the contemporary art currently being produced in the Bay Area, Maltagliati says, "This year, I'm seeing how artists are growing. There's more colorful work, more movement toward maximal energy. They're stepping beyond dark, heavy pieces. There's more soul. The work makes you want to think. Artists tell their stories in pigment, line work, shape, form, genre. So their narratives are not in words, and there are choices that make [a viewer] consider why an artist made a choice, what the process was, and what is the material used."
ArtSpan grew out of SF Open Studios, which began in 1975. The organization gained its non-profit, tax-exempt status in 1991. Next year marks the 50th anniversary of the Open Studios program that originally opened artists' doors for one weekend and now spans a full four weeks, with over 800 artist-participants and up to 100,000 visitors. ArtSpan's year-round artists-supporting programs fill out the mission, and a campaign to fund an organizational headquarters is underway. The organization invites everyone to participate, and to celebrate local talent, innovation, and creativity without boundaries.
SF OPEN STUDIOS runs Thu/19-November 19. Various venues. More info here.