As you make out your shopping list for Thanksgiving, be sure and include a trip to your local dispensary to pick up some much needed cannabis to enhance and help you endure the big day. (Getting surreptitiously stoned with your cousins on holidays is an essential tradition!) Here are some items that I am currently enjoying that would benefit your celebration.
First off, cannabis enhances the taste of any meal, so it will definitely give that turkey and cranberries an extra zing to the taste buds.
My current favorite strain is Pineapple Jack coming in at 35.6% THC from Daze Off which is a new brand to me. I love anything from the Jack Herer family, this one is a mix of Pineapple Haze and Jack Herer. It has that wonderful Jack smell with fluffy buds and a nice Sativa kick to perk you up after eating too much or listening to boring relatives. I picked this up at SPARC on Polk Street for $35, and it is highly recommended.
I am also loving Cam's Bubba's Girl which is a nice Indica mixing the strains of 98 Bubba Kush and Girl Scout Cookies and coming in at 33.77% THC. After Jack, Girl Scout Cookie is one of my all time favorites. This is a good one to smoke and sit back and enjoy the football game or watch a holiday classic like Meet Me in St. Louis or Blood Freak (The only turkey-monster-anti-drug-pro-Jesus-gore film from 1972) depending on your tastes for a Turkey Day movie.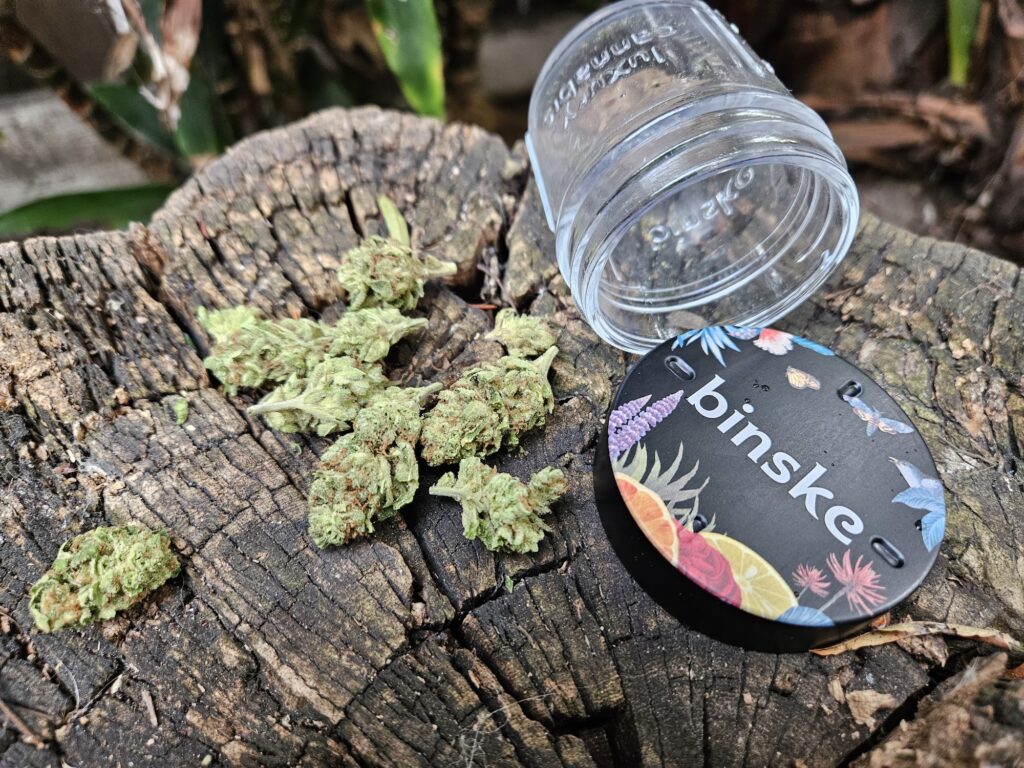 Binske is putting out some interesting strains. They are packaged in a nice box with a little mason jar-style container. If you need to bring some weed over as a gift or for everyone to try, this one looks nice and festive. The strains I have enjoyed recently are Caramel Cookies which is a hybrid mixing Cookies and Cream and Koolato (32% THC) and Omakase Strawberry which is a Sativa derived from Strawberry Cough and Durban Poison (32% THC). Strawberry Cough has definitely made a comeback recently. It disappeared for a while, and now I am seeing it all over the place.
Maybe where you are going isn't pot friendly, and you may need to smoke a few tokes outside before coming in for the big feast? Well then, pre-rolls are an easy way to go.
I recently enjoyed KGB's Bambinos infused pre-rolls. They have cute packaging and each jar holds five green, frosted, shorty joints. They burn well and have a great flavor and effect. I tried the Zombie Brainz strain clocking in at 34.5% THC. Sometimes the name sells itself to me. I did turn into a stoned zombie afterwards in the best way possible, but I craved cookies and cupcakes more than brains.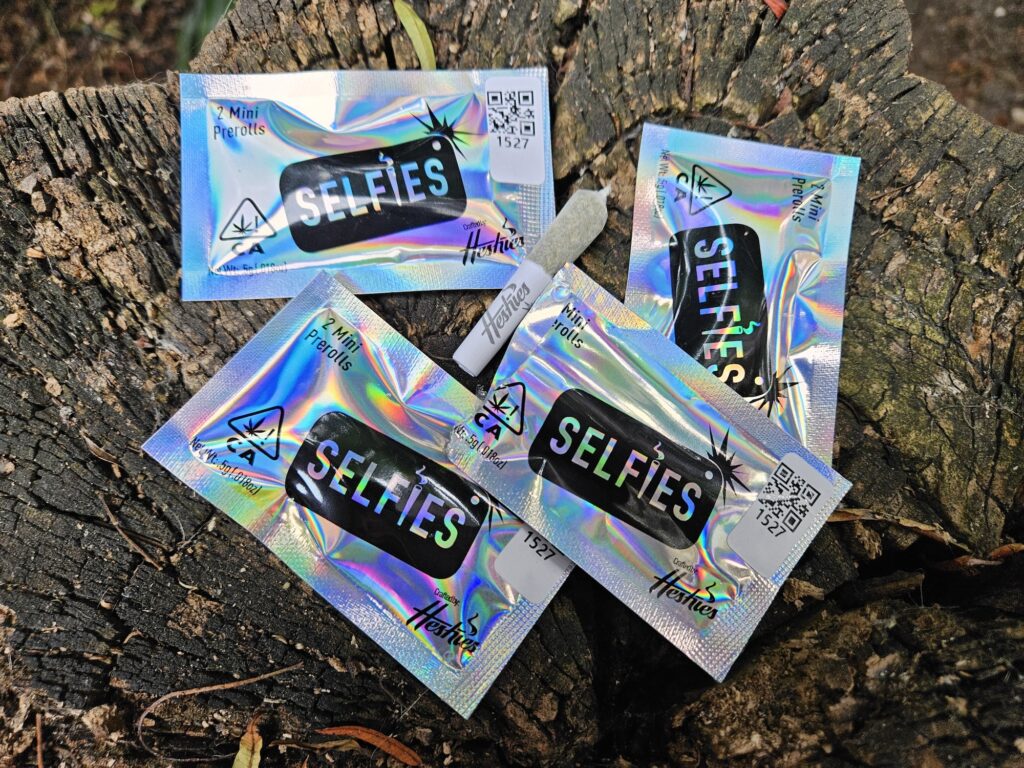 Your best bet for a quickie high is Selfies by Heshies which are little mini-joints packed with flavor and punch. You get two minis in each packet which are perfect for a quick out the door, light, puff, get high, walk back inside never being missed experience. They are also great to have in your pocket when you go out to a bar, movie or restaurant. They don't take up much room, and bingo, you get weed to puff quickly. They are available in bigger sizes for more enjoyment as well.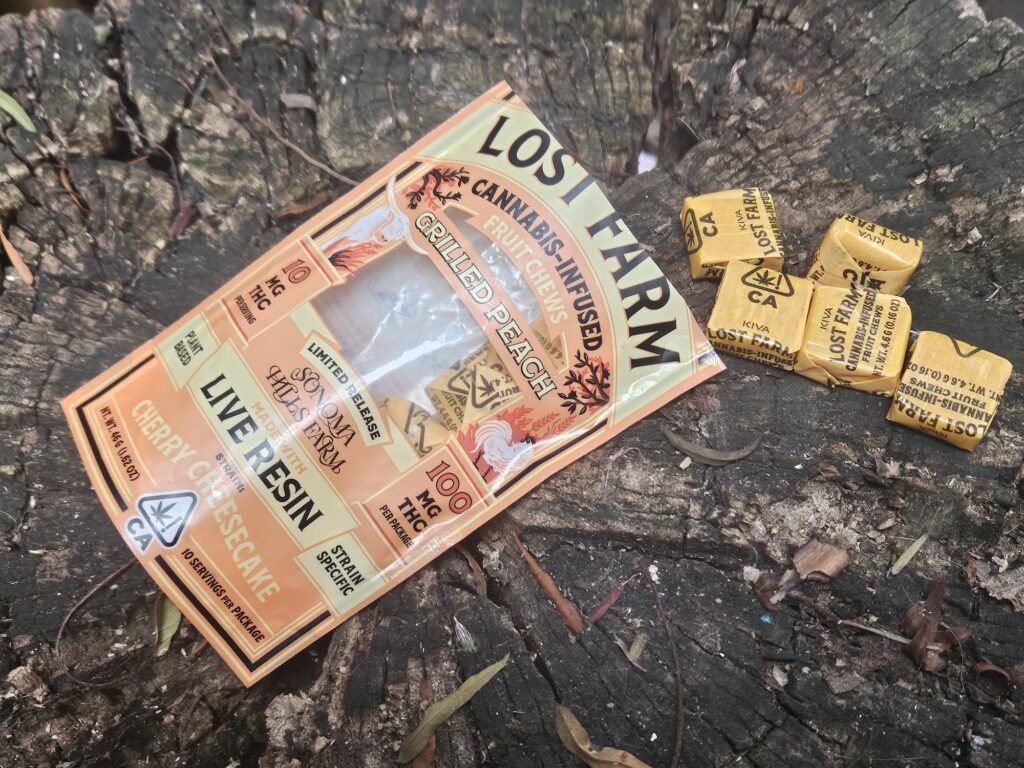 Of course you can eat your weed. I am currently loving Lost Farm's Grilled Peach cannabis-infused fruit chews. Kiva's brand has many wonderful flavored fruit chews and gummies. I like these especially because they were derived from a Cherry Cheesecake strain supplied by Sonoma Hills Farms, which I have covered in this column. They always have fantastic cannabis. You can eat these out in the open, and no one would be aware you are dosing 10 mg THC with each chew. Just keep them away from the kiddies.
Finally, if you are feeling like dabbing for the holidays or want to add a little punch to your bowl, I recommend Purextracts' Kosher Jack badder or crumble. I know, there's Jack Herer again! It has a fantastic, terpy flavor and plenty of bite with 69% THC.
All of these items should be easy to find at your local dispensary. If not, most of the websites have store locators to help you find them. As always, check out all the specials at your dispensary. There will be lots of sales for the holiday.
After you have digested and relaxed after Thanksgving and are feeling the need for some terpy good fun, then head over to the Mission Cannabis Club on Saturday, November 25 from 6-9pm for BONG-O BINGO's "Danksgiving," hosted by myself and Thee Pristine Condition. It will be a fun evening of bingo, drag and cannabis prizes. We will even be giving away a bong! We are there every 2nd and 4th Saturday of the month. So come wrap up your festive weekend with us.
I hope you all have a festive, safe, fun and dank Thanksgiving.
Now it is time to light up!
PS Calling all cannabis companies, especially local! I am putting together this year's Cannabis Holiday Gift Guide. If you have a cannabis or cannabis-related item you want featured, please contact me at djdanksf@gmail.com. I will need samples sent or delivered to me. If you are selected, your item will be featured for free in my gift guide for all the Bay Area and beyond to see. The deadline is the first week of December.