I've never particularly been a fan of immersive performance art. I worry about tripping into the spotlight. I don't like moving from one space to another to follow the action, and usually end up wondering if I've accessed the best view. I admit, it's a bit curmudgeonly of me, but I've come to accept that I prefer being alone in the dark of the theater where I can process my own experience without having to leave the comfort of my seat.
However, this reticence was dismantled last year during a 25-minute preview performance of Jess Curtis/Gravity's deeply immersive work Into the Dark. Just off its world premiere in Berlin, the evening-length show comes to San Francisco's CounterPulse Thu/9 through November 19.  
At the performance's start, audience members are led into a pitch-dark space. Dancers guide us to our seats by feeling their way along ropes on stanchions. Though we can't see in the dark, the stage is marked with various raised shapes taped to the floor that denote for performers the different locations onstage that they can feel with their bare feet, hands, or other body parts. This variation on "wayfinding" is just one of the extra-visual access practices used in the development of Into the Dark. The diverse cast is composed of blind, low vision, and sighted dancers who also use sound to orient their action on the stage and to one another.
Into the Dark is essentially a choreographic sound sculpture, exploring the physical, subconscious, and literal effects of Western culture's binary mythologizing of darkness and light. Intellectually, I understood the premise, and yet I was unprepared for the dark. I experienced it as a kind of weight, a thickness that seemed to have texture and temperature. Then I noticed the sounds, first those of the audience around me and then more significantly, of the performers. A dimensionality emerged that I was not expecting.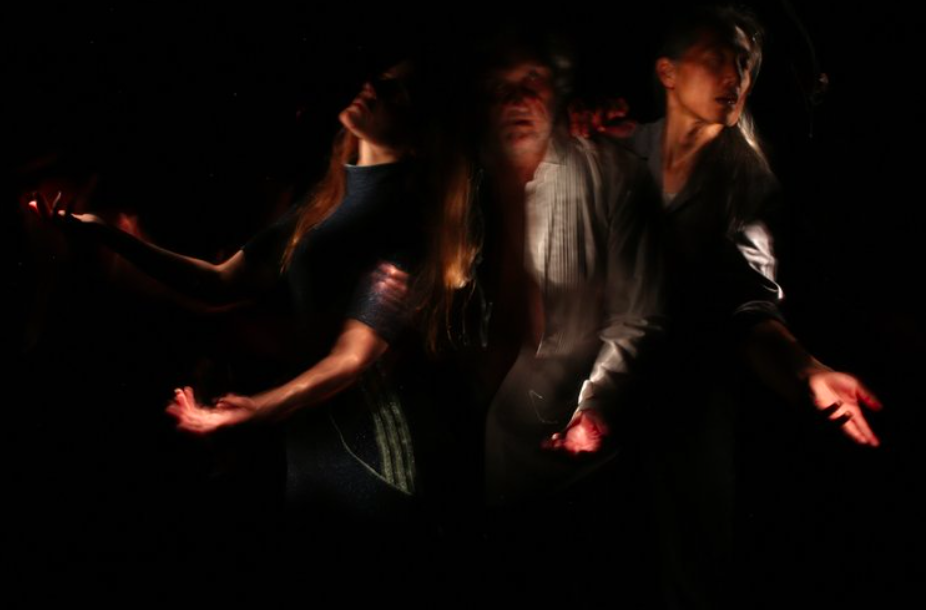 Gravity's artistic and executive director Curtis, who is sighted, explains that he often wore a blindfold during the rehearsal process, listening to the performance to make decisions about how audiences might perceive the work without the use of sight. Curtis' work has evolved over his many years of dance-making in the Bay Area and Germany, and throughout work on his PhD on perception and performance. Part of his dissertation explored dancing in the dark and what happens to an audience's other senses when visuality is limited. He says, "I love the feel of a dance from the inside. I think there's so much that audiences miss when they're far away and only have access to what they see."
Curtis adds, "By de-centering our visual experience, we have a lot more space for dreaming and imagining, with each person having their own perceptions."
Blind collaborator-performer Tiffany Taylor explains, "The dark means different things to different people. Darkness often is seen as this awful scary thing." She adds that for the performers, the production's impact is deep. "When people are not actually watching you, it can yield a different response, one that we didn't necessarily anticipate."
Performer, art critic, essayist, artist, and photographer Gerald Pirner says, "Without an image or light, the performers' attention is much more on themselves, their own bodies." He posits, "Perhaps this is a kind of collectivity. There is no image that divides us. It creates a totally different sensory feeling." Pirner tells me that the weight I describe is a kind of "raum" (German for "room" or "space.") He says, "What is inside the four walls of the theater and what is the space itself, it does get a quality of weight."
Composer Sam Hertz's improvisational score allows for the performers to compose a different sound installation nightly, passing rhythms around the room by singing, stomping, and clapping. The thick weighty darkness becomes populated with sound and texture. I began to not just hear the brush of a dancer's foot on the floor and their intake of breath, but rather to feel those things in my own body. The immersion is visceral. My perceptions begins to fire differently.
Taylor has worked with Gravity on several productions since attending Curtis's 2016 duet performance with disabled Scottish dancer Claire Cunningham, The Way You Look (At Me) Tonight. Taylor recalls, "That was the first accessible performance I had ever attended and it was the first time I had seen anyone on stage who identified as having a disability." Taylor took classes and workshops with Curtis and joined the 2017 cast of Gravity's Sight Unseen. "I was very enthusiastic about it," she says. "There are not very many performance opportunities for people with disabilities."
Asked how he navigated the differences within the diverse cast, Curtis explains, "Consensus is not particularly a part of what we do, but consent is. I want to know that everyone is doing something that works for them. We did work with blindfolds because we couldn't turn our rehearsal spaces into completely dark rooms." And the process was not without levity, he adds, "We've joked that we should get an infrared video of what we're doing in the dark, because it's often hilarious what the performers are doing to find each other." The cast of Into the Dark features Gabriele Christian, Rachael Dichter, Clarissa Dyas, Ka Rustler, Pirner, and Taylor.
Pirner, who lost his sight in 1989 at the age of 30, first experienced Gravity's work in Berlin, where Curtis was already well acquainted with the esteemed Pirner's writings and art work, known as light paintings, one of which is featured in Into the Dark. An exhibit of Pirner's work is currently open at CounterPulse through January 7. He explains that for each painting he carefully designs where to focus light on the subject, which involves touching and tracing on the model's body where the light will hit them, then capturing that image with a photograph. He says, "I show a new kind of space. The space is called darkness."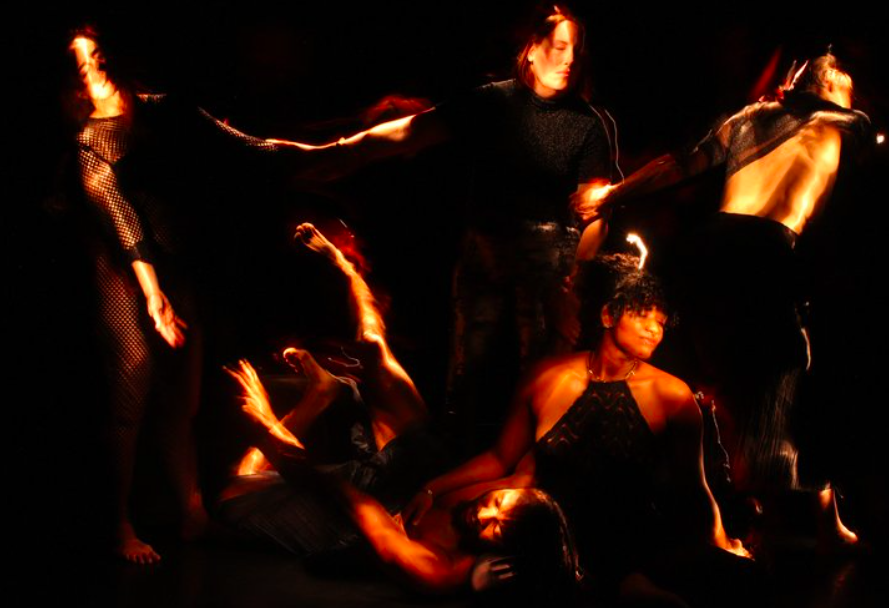 Pirner describes the rupture of going from having vision to not having vision as harsh, violent.
"What the rest of your senses have to do is the exact kind of awareness I have been wanting to bring to the group," he says. "A perceptual experience that is very different for those of us who are sighted."
He adds that sighted people, "Don't experience space in its actuality, but instead only experience the images of space, the edges and its visual limits." What he likes most about Into the Dark is that, "We make the experience of the space itself almost visible."
Taylor explains, "I have a little vision, but mostly I rely on my tactile and auditory skills. I use my cane in one scene intentionally, not for access reasons, but as a comment to identify as blind on stage. Most of the time in society, my blindness is visible, whereas it is not necessarily so on stage. There is a question: do you identify each dancer by their abilities? Is it important to highlight this or not? Audiences don't always know."
Pirner adds that when he is identified as blind he's usually categorized in a way that may not be true. He says, "There is a whole range, a whole universe of possibilities that each of us can embody and experience, and to keep it only with the binary is too simplistic and not serving anyone."
Watching Into the Dark, I experienced a heightened awareness of the moving performers as well as the seated bodies adjacent to me in the audience. I imagined the distances between us and how I might find them in the dark. Curtis shares, "The performers can be dispersed around a room and someone can make a sound or just say 'I'm here,' and they come together as a group."
He adds, "These techniques are rich metaphors for community. There's something really touching for me about that, especially during this crazy time in the world as we ask ourselves 'Where am I?' and 'Where are the people that I want to connect with?'"
INTO THE DARK Thu/9-Sun/12 and November 16-19. Counterpulse, SF. Tickets and more info here.