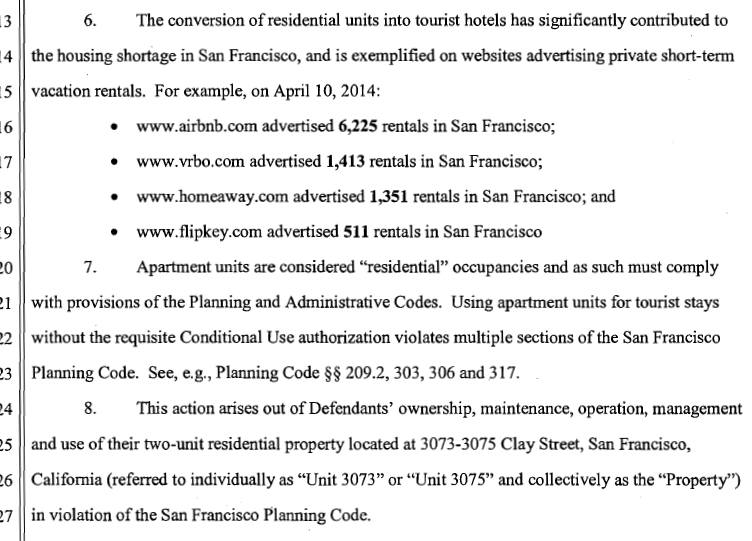 By Tim Redmond

Dennis Herrera has filed suit against two landlords who he says have illegally evicted tenants and turned rental housing into hotel rooms. It's the first legal salvo in San Francisco against the big companies that are making tons of money through something that, in many places, is flatly illegal.
It comes at a time when New York State's attorney general, Eric Schneiderman, is going after the short-term rental folks head-on. He's gone after not just landlords but the companies themselves. As he notes in a New York Times oped:
Take Airbnb, a San Francisco-based company now valued at close to $10 billion that enables users in 192 countries to turn their homes into hotel rooms. In 2010, the state of New York passed a law confirming that short-stay rentals were generally illegal in apartment buildings, and for good reason: The longstanding distinction between hotels and apartment buildings protects the rights of building residents who didn't choose to live 10 feet away from a parade of strangers. The law also protects tourists — who are usually unfamiliar with the rooms and buildings where they are sleeping — by imposing stiffer fire safety and building codes on hotels.

Airbnb "hosts" rent out apartments every day in violation of this law. Some of these are large, commercial enterprises with dozens of apartments — truly illegal hotels.

The most straightforward solution would be for Airbnb to simply prevent illegal transactions. But when my office reached out to Airbnb, the company rejected the idea of self-policing out of hand and refused to provide data that would give us a handle on the scope of the problem. With my hope of working in partnership with Airbnb dashed, we were forced to subpoena the company for information, a step that Airbnb has attempted to quash in court.
Herrera's suits (you can read the complaints here) outline in great detail how two alleged scofflaws operated. They used the Ellis Act to get rid of existing tenants – and then, according to the complaint, boldly began advertising the places as hotel-type rentals on websites like airbnb and VRBO (Vacation Rentals By Owner.) There are public statements from former renters talking about how much they liked their faux-hotel. There are public statements by the owners advertising the units for three-night minimum stays.
There are complaints by neighbors, citations by the City Planning Department – and no evidence that either of the landlords made any real effort to comply with the law – or even hide what they were doing.
This is the climate we've had in this city for several years now: So what if it's illegal? Go ahead and turn your place into a hotel; nobody's going to do anything about it.
So now, at least, Herrera has made it clear: Go too far, and we'll come after you.
But he can't catch everyone; there are way too many violations. Every day, thousands of apartments are on airbnb. And in New York, the AG is demanding that the companies making money off this model – not just the people renting their units – be held accountable.
It's tricky – airbnb can argue that it does nothing illegal. But if your entire business model is based on providing a platform for other people to break the law, aren't you even a little bit liable?
And if the city attorney went directly after these companies, might we be able to do what current legislation won't – make these folks pay back taxes and fees?
Just a thought.