Eighth annual mini-festival features low-cost films made on mobile devices, Thu/9 at Castro Theatre. 

By Marke B. 
 SCREEN GRABS We're so used to walking around with lightweight video cameras in our pockets that it's hard to remember when, eight years ago, the Disposable Film Festival burst on the scene as such a groundbreaker. An anarchic evening devoted to short films people made with their cell phones and other non-traditional cinematic devices? It felt like the DIY film aesthetic was being rebooted for another generation.
(OK, totally flashing back to those grainy clips on my old clam shell flip phone, here. Where did that thing end up, anyway?)
While the original revolutionary glow of the fest may have receded behind a writhing, Autoplay tangle of Vines and Grams (and the DFF has repositioned itself, pretty brilliantly, as a more "hand-on tech" affair, with a weekend's worth of workshops, panels, and networking opps), the artistic oomph of the festival entries themselves still shines through. It's cool stuff.
There's now a huge app palette for mobile filmmakers to dip their finger-brushes into, and animation remains a strong theme of the fest, as in an adorable entry called "Wind" from last year's fest by Robert Loebel.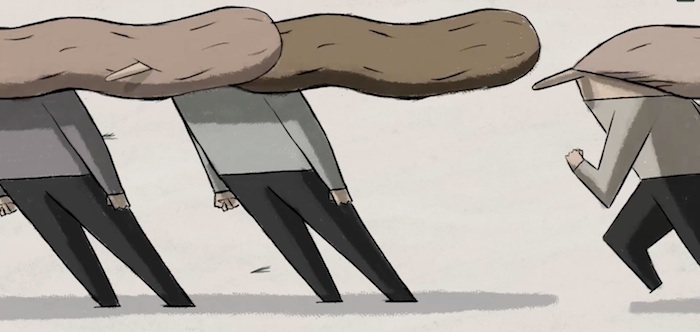 The polish and originality of some of films shows that they're no mere throwaways. Even the New York Times is getting in on the act, running another entry from last year, "Allergy to Originality" by Drew Christie, as an Op-Doc:
Don't be too concerned, though — there's still plenty of fun, goofy, spirit to make for an intensely enjoyable evening:
8th ANNUAL DISPOSABLE FILM FESTIVAL
Thu/9, 6:30 reception, 8pm-10pm screening, $30.
Castro Theatre
429 Castro, SF.
Ticket registration and more info here.