Secret dirty politics could come back if new proposal gets through the Board of Supervisors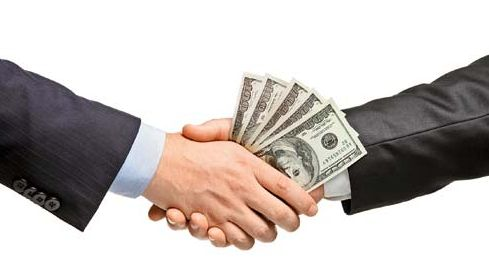 By Larry Bush
MAY 27, 2105 — An anonymous mailer arrives at your door with a photo of a synagogue defaced with a swastika alleging that a candidate is an anti-Semite. You answer the phone to hear a robo-call on a controversial political issue on the ballot — but it doesn't tell you who paid for the call. Mailers touting an official who happens to be running for election appear as fundraising pitches for a local nonprofit, with no disclosure about who paid for them.
San Francisco put the kibosh on that kind of secret dirty politics in 2006, but it could come back from the dead this November as a result of new loopholes proposed by the SF Ethics Commission and Board President London Breed up for a vote at Thursday's Rules Committee.
In the name of clarifying and simplifying the law, the commission and Breed have produced a "reform" that includes elements that worsen rather than improve our politics. Maybe it's because they don't know why the law was written in the first place, but whatever the reason, this proposal needs to be amended by the Rules Committee or go back to the workshop to be overhauled.
Few people will notice the changes being proposed, much less their impact, until they see the results made possible as soon as this November's election.
The worst changes fall under the category of "electioneering communications," which include requiring disclosure of who is being paid as a vendor. That's how voters would know who was paid for that swastika mailer (which was actually used against a Board of Supervisors candidate in 2004).
Under Breed's proposal, there would be no required disclosure about who is paid by these campaign funds if the mailer comes from an entity that is not a campaign committee (and from committees potentially only after election is over). So Friends of Ethics could send a mailer making charges, false or true, and there would be no disclosure because "electioneering communications" only apply to committees. The same would be true for the Airbnb and pro-developer Astroturf groups who will mobilize around this November's ballot.
Help us save local journalism!
Every tax-deductible donation helps us grow to cover the issues that mean the most to our community. Become a 48 Hills Hero and support the only daily progressive news source in the Bay Area.
A second change creates an exemption for mailers that feature a candidate within 90 days of an election if it is a fundraiser for a nonprofit. As innocent as that sounds, it doesn't take any imagination to know it will be used for political promotion, not promotion of the nonprofit (which can do the same thing as long as it is not within 90 days of the election).
Full page ads urging contributions to the Shanghai Sister City committee featuring Mayor Lee and thanking him for his many visits to China paid by the Sister City committee, with funds donated by Uber and Airbnb? Mailers to households undergoing repairs asking for contributions to Friends of the Planning Department featuring another politician on the eve of an election? Or from SF Parks Alliance asking for funds for more Astroturf for the playing fields and featuring a candidate close to the time voters decide?
This is not the first time that the Ethics Commission has sent to the Board proposals that ethics staff claimed streamlined the law, or made it easier to comply or administer. The 2012 attempt was a disaster. Though this attempt is an improvement, sadly, the commission still doesn't seem to consider whether changes benefit the voters — just whether they help political committees, consultants and Ethics staff.  Public disclosure is the casualty.  In fact, the two problems noted above aren't the only ones in the proposal.  Some robo-calls may no longer require disclaimers about who paid for them.  A new exemption is provided for PAC filing obligations in advance of the election.
In the past, the Rules Committee has sent back measures proposed by Ethics because of the many defects that harmed rather than helped our political dialogue. There also have been Ethics proposals that were so defective they couldn't even find a board member to sponsor them.
Friends of Ethics argues that this proposal should be delayed until it has been reviewed with an eye on how it affects voter information, and how it impacts our political disclosures.
Larry Bush is a member of Friends of Ethics