Despite last-minute efforts, a misleading measure seeking to undermine clean public power is going to the voters. Will the mayor help defeat it?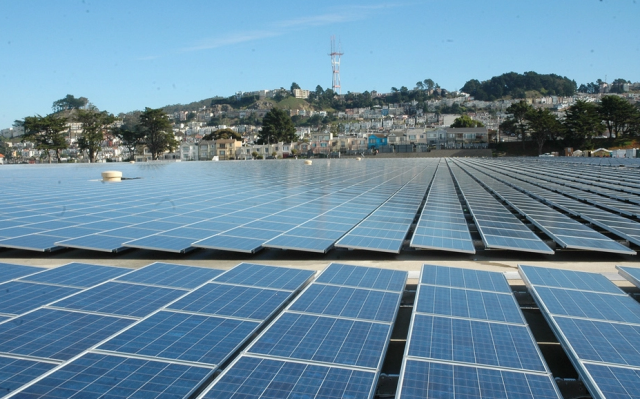 By Tim Redmond
JULY 8, 2015 – Sup. London Breed made a last-ditch effort to block the PG&E Scam Initiative from making the November ballot, but the company's allies were so determined to undermine even the slightest attempt at moving toward public power that they rejected all offers.
The staff at the San Francisco Public Utilities Commission wouldn't back down from the idea that the city will move into the retail electric-power business next year, I have learned.
That means a really bad PG&E initiative will be in front of the voters, with misleading language that could go so far as to undermine the city's solar-energy efforts and categorize rooftop solar and possibly even the city's own solar projects as nonrenewable power.
Hunter Stern, the head of IBEW Local 1245, which represents PG&E workers and has carried the company's water on its fight against CleanPowerSF, is the sponsor of the "Renewable Truth in Advertising Act."
He turned in more than 15,000 signatures Monday, most of them gathered at a cost of as much as $4 a name by paid signature gatherers who were, in some cases I saw, presenting a misleading picture of what the measure was and what it did.
"We would much rather not have had this on the ballot," Conor Johnston, an aide to Breed who worked on the talks, told me.
There was, however, no middle ground: The IBEW local doesn't want any competition for PG&E at all, and will do anything possible to damage CleanPowerSF.
Under the program, set to go into operation soon, the city would buy renewable energy in bulk, and resell it at retail rates to local businesses and residents. Customers who want to stay with PG&E – which can't possibly match the city's green-power mix – will have the chance to opt out of the city program.
The idea, of course, is to reduce the use of greenhouse gases in the local energy mix – and to generate a revenue stream that the city can use to build its own renewable power projects.
For the first time since the passage of the Raker Act in 1913, which mandated the city run a public-power agency, San Francisco would be getting into the retail electricity business.
PG&E is barred by state law from directly opposing CleanPowerSF – but its union is not.
The IBEW measure is complicated, and the state law it references is even more complicated. The point of it, however, is clear:
PG&E is rolling out its own "green" alternative, and doesn't want the city to be able to market public power as environmentally sound. So the measure would strictly – very strictly – limit what the city can advertise as "clean" or "green."
It would have no impact on what PG&E can say.
To understand how it works, you have to delve in to the arcane world of state utility law, the way electricity is generated and sold, and the various definitions of renewable power.
The ballot measure says
"Renewable, greenhouse gas-free electricity" means electricity that qualifies as category 1 renewable energy generated from solar, wind and other eligible resources provided in California Public Utilities Code section 399.16(b)(1) or electricity generated by the Hetch Hetchy power system."
If you've got some serious expertise in energy law, you can go ahead and read Section 399.16 (b) (1) here. I'm not, so I called Jason Fried, the staffer at the city's Local Agency Formation Commission, which helped create CleanPowerSF.
Here's the gist of how he explained it (and if I got any of this wrong, it's my fault not his; shit's confusing):
A lot of renewable facilities lack what experts call "firm" capacity – that is, a solar array only produces electricity when the sun's out, and a wind farm generates nothing when the wind isn't blowing. A large hydropower dam can generate day and night, no matter what the conditions (except for drought); obviously, a natural gas or coal plant (or a nuclear plant) can do the same.
Since people don't just use electricity when the sun is shining or the wind is blowing, and you can't easily store power – it gets used the instant it's generated – renewables tend to be backed up by something else.
Category 1 power is renewable electricity generated in California, going directly into the state grid and getting used right away. The city's solar project at the Sunset Reservoir would count as Category 1 power – during the day.
But here's the reality of how it works: During the afternoon, when the sun is shining bright, a city-owned solar project could be putting more power into the grid than its direct customers are using. That means the state, which controls the grid, could shut down a natural-gas fired "peaker" plant that would otherwise be running when demand for electricity is at its greatest. So the city's daytime solar plant reduced greenhouse-gas emissions beyond the SF borders.
When the sun sets, people turn on lights in San Francisco and get power from somewhere else. The city's power plant still created renewable energy, enough to satisfy a percentage of the city's needs – but that power went somewhere else, to prevent the use of  fossil-fuel plants in another part of the state, and now the city needs another source to keep the lights on at night.
My guess: With the city's Hetch Hetchy hydro project, San Francisco could probably provide "firm," reliable power to a percentage of local customers without ever importing anything from anywhere else. But there's not close to enough to feed the entire needs of the city, and as CleanPowerSF expands, it's going to need to contract with other electricity suppliers – some, perhaps, out of the state, some using Renewable Energy Credits for adding green power to the grid somewhere else – to provide reliable energy.
But that's not in the definition of the ballot measure, so the city can't call it "green power." Which undermines the whole idea of CleanPowerSF and helps PG&E take away customers.
There's a good analysis of the whole situation here.
At the same time, there's no definition at all for what's known as "behind the meter" power. I put solar panels on my house and use that power as it's created, and it doesn't count as any "category" at all – so by the IBEW standard, I can't call it "green." And in fact, even if I'm connected to the grid, I can't use that word, since PG&E's smart meters are too dumb to measure what I am putting in and taking out.
And while PG&E argues that nuclear power is greenhouse-gas free, anyone who wants to call that "green" is missing the point.
Here's the Sierra Club's analysis:
If passed, this measure would set a double standard to allow PG&E to advertise unbundled renewable energy credits (RECs) as clean and green, while barring CleanPowerSF from using those terms ("clean" and "green") to advertise offerings of the very same kind of RECs.

Since the CleanPowerSF program plans to use neither nuclear energy nor unbundled RECs in its power mix, the PG&E-backed proposition seems to be designed purely to give the for-profit utility an unfair marketing advantage.

"This so called 'Truth in Advertising' measure enables PG&E to deceive energy customers and claim that its dirty fossil fuel and nuclear power is just as 'clean' and 'green' as the far more renewable CleanPowerSF program," said Jed Holtzman, Co-Coordinator of 350 San Francisco. "PG&E heavily uses the same unbundled RECs they are trying to ban for CleanPowerSF in order to greenwash the climate-changing and health-harming pollution they pour into the air every year."
So let's call this what it is – a direct attack on the city's attempt to provide cleaner power, to fight climate change, and to help consumers get out from under PG&E.
So now it's up to the mayor (whose own PUC is running the CleanPowerSF program) and Sup. Breed (who has been pushing it and tried to stop this initiative) to help raise the money it will take to fight PG&E.
I asked Johnston who was going to take responsibility for leading the anti-PG&E campaign. "That," he said, "is the big question."
We need an answer. Soon.