Tamil rebels, explicit 'Love,' 3D horrors from the past, a Moroccan masterpiece, and gobbledygook skin flicks in part 2 of our coverage. Read part one here.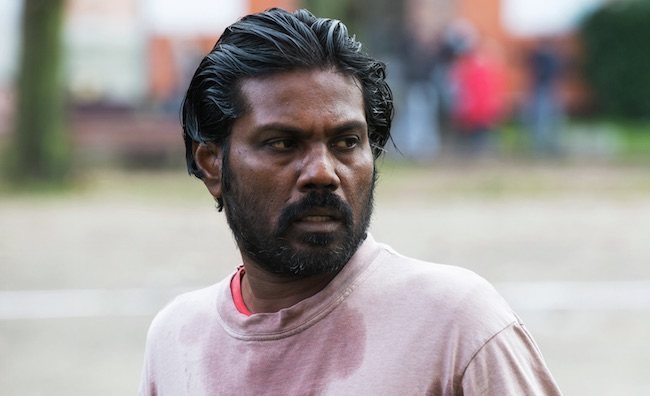 SCREEN GRABS Perhaps the most exciting screening at this year's festival was the 2K digital restoration of the first Canadian 3D Horror film, Julian Roffman's The Mask aka Eyes of Hell (1961). Made just after William Castle's LSD allegory The Tingler (1959), shot in gimmicky "Percepto" which gave audience members minor shock therapy from hidden wires on their arm rests, The Mask used the already obsolete Anaglyph 3D (red and blue glasses) to enhance (montage-master) Slavko Vorkapich's tripped-out sequences.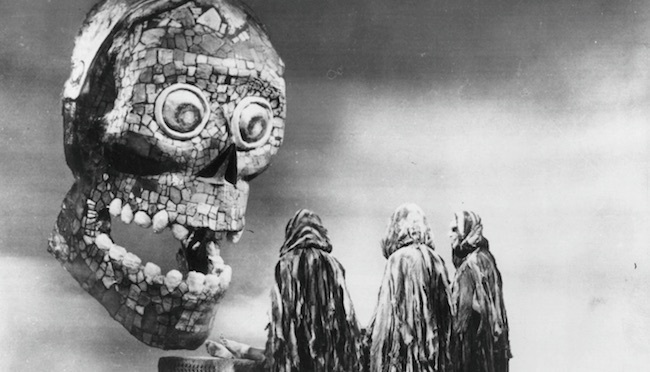 Fast forward 50 years and with the help of digital restorationists Robert Furmanek and Greg Kintz, not only does the 3D work, so does Roffman's addiction parable. There is absolutely nothing silly about this tale of a doctor who battles losing himself and all of his surrounding loved ones whenever he puts on an ancient tribal mask. My mouth fell open, especially during the hallucinatory, batshit crazy 3D sequences. The film is being released on 3D Bluray by Kino/Lorber later this year, so go out of your way to either see this projected in a 3D theatre or in your home entertainment cave. Much like the recent, also jaw-dropping restoration of Alfred Hitchcock's Dial M For Murder (1954), it's an unforgettable experience.
One of the most talked about films at the festival was another kind of 3D flick: Gaspar Noe's Love, a surprisingly sentimental, very explicit 135-minute exploration of modern relationships. Newcomer Karl Glusman is an (actual) fucking revelation as an American in Paris, studying to be filmmaker. Shot in polarized 3D, this excruciatingly honest portrayal of the prevalent pitfalls between misguided young lovers should strike a chord in many folks that use sex as a way to find soulmates. Graphic yes, exploitative, for once… Noe. The badboy of cinema (I Stand Alone, Irreversible, Enter the Void) has delivered an extremely personal, touching and downright romantic masterpiece.
https://www.youtube.com/watch?v=VoST2X16ELE
Terence Davies' epic adaptation of Lewis Grassic Gibbon's 1932 Scottish novel Sunset Song glistens and glows with the kind of familial melancholic nostalgia that both John Ford achieved in How Green Was My Valley (1941) and Jane Campion presented in An Angel at My Table (1990). Following the hardships of Chris Guthrie, a young woman growing up in an abusive farming household, newcomer Agyness Deyn carries some powerful weight while Peter Mullan delivers yet another haunting performance as her damaged (and damaging) father.
Cinematographer Michael McDonough (who shot Debra Granik's darkly similar 2010 coming-of-age tale Winter's Bone) should most definitely be rewarded, come the end of the year. As usual, director Terence Davies (The Deep Blue Sea, Distant Voices, Still Lives) is focused on the landscapes and their direct relation to the character's emotional struggles. Emphasizing a structuralist approach towards life-as-a-child vs. life-as-an-adult, the results are anything but simplistic. In fact, it's one of the year's best films.
I anxiously await new short films by Austria's Peter Tscherkassky as much as any movie from the greatest feature filmmakers. Manipulating found footage is more than a gimmick or quaint Internet remix for Tscherkassky (pronounced "T-share-kassky"). His extensive, optically printed reworking, redefining, and ultimately reinventing of older films puts most experimental filmmakers to absolute shame. My life was changed at Sundance in 1999 when I saw the 10-minute masterpiece Outer Space (1999), which reimagines scenes from Sidney J. Furie's remarkably mean-spirited The Entity (1982), a film that already showcases one of the great, unsung Barbara Hershey performances.
It was Tscherkassky 's physical altering of the elements of film that helped me understand what experimental cinema can be. Then came Instructions for a Light and Sound Machine (2005), which inverts a black and white Western into a 19-minute white and black collage of soundscape schizophrenia. This in fact is a perfect jumping point into his psycho-sexual bath The Exquisite Corpus, one of the only films to be screened in Toronto in 35mm. This 19-minute montage of scenes from European skin flicks of the 1970s and '80s, swirls its participants into a sensuous cycle of moaning, groaning, and throbbing gobbledygook that built to such a provocative conclusion, my heart skipped and eyes literally spilled backwards into my skull. There surely can be no better short film of 2015, though Daïchi Saïto's 19-minute psychedelic, mind-melter Engram of Returning runs a close second. Also projected in 35mm this cinemascope amalgamation of other-worldly fluctuating flashes were combined with a memorable score by Montreal-based musician Jason Sharp, do whatever it takes to see these exercises beyond the narrative on a big, loud screen.
https://www.youtube.com/watch?v=bfhMMDiRvzo
Jacques Audiard's Dheepan, which won the Palme d'Or at Cannes this year, should resonate worldwide with its honest depiction of the devastating struggles for modern Sri Lankan refugees. It also should finally put Tamil cinema on the map. Lead actor Antonythasan Jesuthasan, a former child soldier with the Sri Lankan militant group Liberation Tigers of Tamil used many of his own experiences to express the pains and struggles for his title character's performance. But following the screening (and a full minute standing ovation) Jesuthasan explained that everything achieved in the film was because of the endless hard work by his director Jacques Audiard (Un Prophet, 2009). Being familiar with a handful of recent Tamil-made action films from India, Audiard surprisingly honored many of the expected tropes while raising the bar on the grim paradoxes for its country's inhabitants.
Ben Rivers' follow up to his wonderful meditational feature A Spell to Ward Off the Darkness (co-directed with Ben Russell in 2013) has created yet another meta-masterpiece that mixes documentary and narrative, deep within Morocco. Based on a 1947 short story by Paul Bowles entitled A Distant Episode and filmed in 16mm cinemascope, The Sky Trembles and the Earth is Afraid and the Two Eyes Are Brothers has a gripping train-of-thought approach that heightens, rather than diminishes the viewer's attention. Complex questions of xenophobia, colonialism, and the ethics of filming in foreign countries will undoubtedly occur. While my post-screening thoughts turned to Ruggero Deodato's Cannibal Holocaust (1979) and Werner Herzog's Fitzcarraldo (1982), you too may want to watch the film immediately, all over again.