A native sees the city go from the absurd to the insane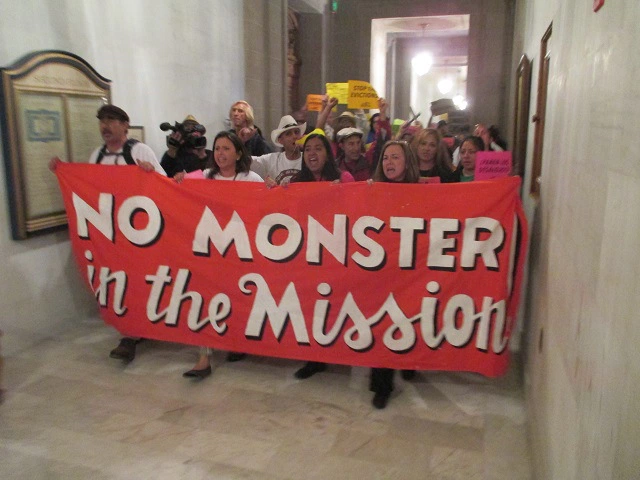 By Lia Azul Salaverry
OCTOBER 5, 2015 — To say I am a Bay Area "native" would be an understatement.
I have lived in more than 25 rentals across the Bay Area –in Berkeley, Napa, El Cerrito, Albany, Palo Alto, Richmond, and Oakland.
After graduating from UC Santa Cruz, I planned a life in San Francisco, where most of my friends and family live. But after months of searching, I have been unable to find any suitable housing in the place I call home.
I hit rock bottom after seriously considering a 5-foot by 9-foot area under a stairway in someone's "art studio" for $800/month. The proprietress, who had just kicked her boyfriend out and needed some extra cash, said cheerily, "You can hang a curtain!"
At that point I knew I'd transitioned from the absurd to the… insane.
There's a group of Latino families in the Mission with 12 people in a one bedroom who cook on a grill and eat out on sidewalk due to their lack of space. And I have some friends living 5 up in a 1 bedroom in the Sunset. For all but the extremely wealthy in Bay Area, this madness is not the exception, but the rule.
It is no mystery San Francisco is in the middle of a severe affordable housing crisis. Yet there are cranes everywhere, pumping out $6,000 two-bedroom apartments in the Mission District and $10 million dollar condos on Rincon Hill.
So there doesn't seem to be a "market rate" problem. Rather a lack of affordable housing for everyone, including young people like me.
At the heart of this issue is the question: who gets to live in San Francisco and who gets to decide? Does money rule? What is the role of City Hall? What input should the existing community have?
Who does our city exclude or prioritize? How many can we accommodate or want to accommodate? Do we want a monochromatic, gated lifestyle similar to cities like San Ramon? What value do we place on diversity of income, race, etc.? In short, what is our shared vision of the future?
There are highly visceral responses from folks across various spectrums of opinion. But one thing seems clear; a huge part of the "insanity" is that we're doing the same thing again and again and expecting different results.
Interestingly, longtime residents and tenants aren't the only ones living in fear. Developers feel it too. In a recent letter, Oz Erickson of the Emerald Fund compared the "plight" of his developer pals to that of the Jews in Nazi Germany.
As a direct descendent of Holocaust survivors, whose family was almost all brutally exterminated…I was not amused by Erickson's deeply pathological remarks. If socio-economic cleansing is going on, its target is not on developers.
It's not just the developers that are out of touch with reality. Into the crisis, the San Francisco Bay Area Renters Federation (SFBARF) has sprung, whose "Build Baby Build" solution at first appealed to a housing-challenged Millennial like me.
But I quickly realized that their libertarian vision of a three-million inhabitant high-density Hong Kong by the Bay was not just impossible, it was dystopian. I briefly considered organizing an antidote to SFBARF called San Francisco Tenants United for Mission Stabilization, or "SFTUMS" after the neighborhood where I'd love to live.
Sanity returned and instead of starting my own aggressive astroturf org, I've decided to put my efforts into Prop I. At a minimum, Proposition I, Pause for a Plan will give Mission residents a voice at the table.
San Francisco needs real change, tangible, reality-based solutions that uphold our most cherished values as a community. And with Prop I passed, maybe someday there will be an affordable unit for a college grad like me, rather than the couch I'm occupying in Oakland.