Hey, guess what? We're all gonna broil and/or melt! But some of us are going down in flames clinging to a last shred of hope that humanity can twist its wicked, smog-befouling ways towards something constructive when it comes to climate change. Or at least we can have some fun, informative street fairs as we slide inexorably into the Hell Mouth.
Seriously, though, some great people are doing their best to bring much-needed attention to some of the challenges facing our planet. (While some are spinning more and more into Big Oil-backed hysterical inanity, ugh.)
Take beloved Reverend Billy of the Church of Stop Shopping. He's got a new book out from City Lights, The Earth Wants YOU, which may be a svelte little 120 pages, but is packed with energizing exhortations to Earth Firstify yourself and wild accountings of some of the Reverend's more audacious shenanigans as he preaches his gospel of selflessness. Meant to "inspire readers to challenge the consumerism, racism, and militarism that are killing our planet," the book is accompanied by an album, also released this week, for extra electrifyin' testifyin'. He'll be reading Wed/20 at 7pm at City Lights in SF (and Thu/21 at Moe's in Berkeley) – but first he'll be levitating the de Young Museum in one of his patented press coups, to bring attention to the use of pesticides on the grounds.
Earth Day may be official observed Fri/22, but the big SF Earth Day 2016 Street Fest falls on Sat/23, 10am-7pm. According to the organizers: "Located in the heart of the most culturally rich neighborhood in the city, The Mission, Earth Day SF unites Artists, Activists and Amazing Entertainers all dedicated to promoting the protection and preservation of our Beloved Mother Earth and all of her inhabitants. This one-of-a-kind event promises to be a robust celebration of everything 'Green, Fun and Sustainable.'"
For a more intimate Earth-y affair that takes place on actual Earth Day, hit up Burrows Pocket Park in portola for What's Growing On? An Earth Day Celebration, Fri/22, 3pm-7pm, which promises "giveaways, face painting, bike-powered karaoke, music, and much more."
Besides the ongoing Green Film Festival (ends Weds/20), we're getting an Earth Day Film Festival as well, taking place at the new "art-driven" Merchants of Reality space in SF. featuring 38 film screenings over four days (Thu/21-Sun/24) — plus tons of art and other activities — the new fest "is a platform to showcase art and film projects of an Earth-sensitive population. Our film festival runs entirely on clean energy with zero waste goals, holding film screenings around the world on Earth Day and throwing fat festival full good earth love and mind expansion in San Francisco. We match the action to the message."
Featured among the offerings of the Earth Day Film festival is Watershed, "A Robert Redford production explores the new west and its relationship to water. The story follows the once Mighty Colorado river through the heartening character vignettes that reveals a new water ethic and 21st century solutions." Also featured: Oregon's Oaks; A Vanishing Legacy and Pushtar, a speculative movie that takes place "in a world ravaged by climate change 350 years hence."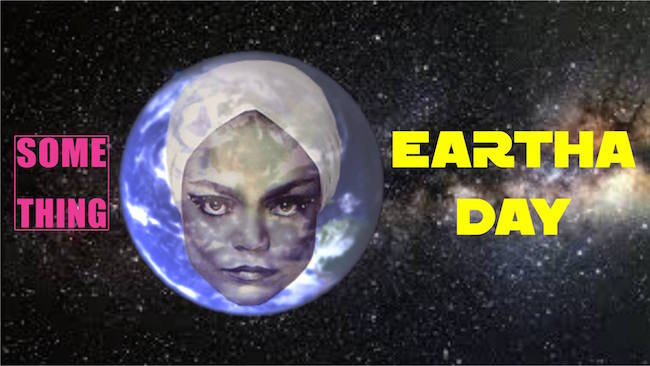 Finally, hey, what would Earth Day be without a full-blown drag tribute to Eartha Kitt? The crazy kids from weekly art-damaged gender-illusionist party Some Thing are taking full advantage of the holiday falling on Friday and presenting a show that will surely make your sense of climate injustice purr like a sexy kitty. Happy Eartha Day, everybody!