ONSTAGE It's been a minute since hyperkinetic comic actor John Leguizamo tore up the boards here — I last caught him nearly half a decade ago on his hilarious and surprisingly touching "Ghetto Klown" tour. But he's remained a consistently beloved stage presence here, as one of the few nationally acclaimed Latino comedians who really seems to love performing in the Bay Area. When the Manhattan-based Leguizamo comes to town, he settles in and feels like family.
So Leguizamo Fever ran high when it was announced he'd be debuting his major new one-man-show, "Latin History for Morons" — his fifth since 1991's "Mambo Mouth" — at the Berkeley Rep for a long summer run. (Runs through August 14.) Opening night didn't disappoint: despite the years slightly thickening a few parts and thinning others, at 51 Leguizamo projected all the speedy wattage, rambunctious charisma, and quick-change impressions that have kept him such a star.
The premise itself of "Latin History for Morons" is fantastic. Asked by his son, who's being bullied at school about his Puerto Rican heritage, for an example of a historical "Latin hero," Leguizamo spirals rapidly through the thick myths, ironic conquests, violent defeats, and frustrating invisibility of 400-plus years of history. His quest to locate just one uncomplicated heroic fighter to point to as inspiration for his son leads to the construction, on stage, of an alternative American history, one which privileges the brown over the white, the oppressed over the oppressors, the forgotten or buried over history's "winners."
In the exhilarating, rapid-fire, intermission-less 90 minutes that follow (directed by Tony Taccone), we learn a little bit about everyone from Montezuma and the native Taino people of Puerto Rico to relatively unknown figures like the Mexicans who helped America fight the Revolutionary War and Loreta Janeta Velasquez, a transgender woman fighting as a man in the Civil War.
One after another, as Leguizamo examines them more closely, these figures are knocked out of the "hero" category — partly due to the complex nature of Latino history. (Is Cortez a hero for conquering Mexico? Or Montezuma for losing it? Does aiding the United States against its enemies, who might have been better for your people in the long run, really count as a victory?)
Some reasons for disqualification are bitterly funny: the Cuban-born Velasquez rose through the ranks and gained a reputation as a fierce fighter — but fought for the Confederacy, alas. Others are much more of a stretch. (The vast complications of the Aztec empire's contact with the Spanish conquistadors — not to mention the Aztecs' own awful history of violent conquest — are almost completely glossed over.)
Along the way, we get side-splitting digressions, some of them recycled from other shows, and some genius bits of minimalist stage business, involving a blackboard, chalk erasers, and few other props. Leguizamo remains riveting, foul-mouthed, and self-effacingly candid about his limitations both as a father and a budding intellectual, and even a comedy writer, throughout. It all winds up as a personal journey with a quick, poignant ending.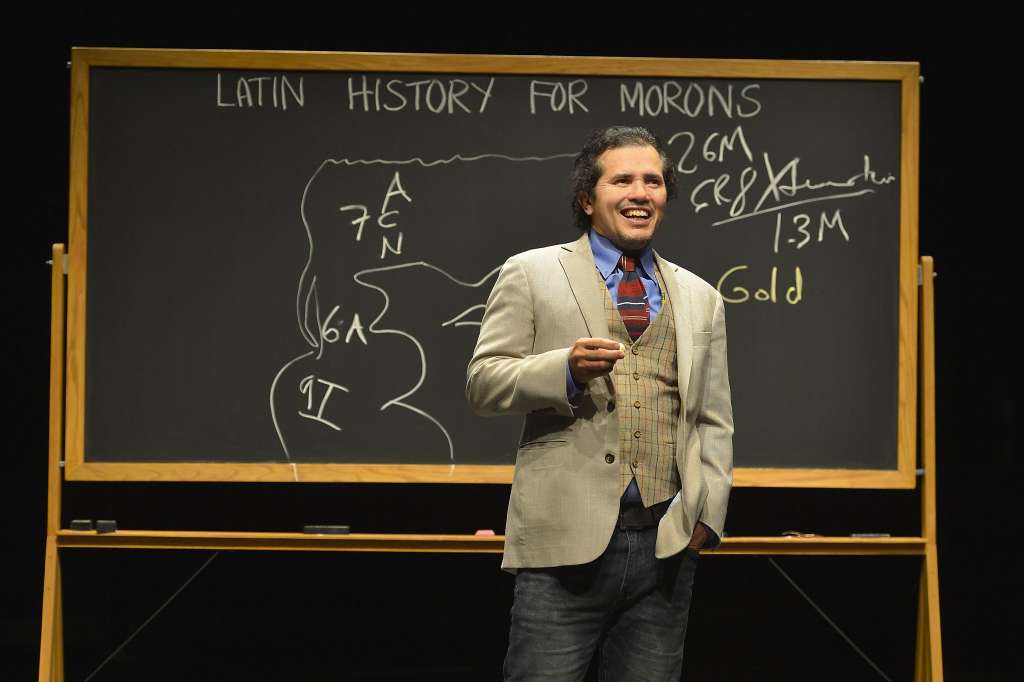 And yet the show comes off as a bit clunky, especially in light of contemporary conversations about Latinx history and intersectionality. Gleefully offensive comedy can be a delight, but somehow here, in the context of reconstructing Latin American history, the parts didn't quite fit. The biggest reason may lie in Leguizamo's definition of "Latin" — a fuzzy, Caribbean-centric category in his telling, which stays true to his East Coast roots but might seem confounding to those who grew up in the more ethnically Mexican and Central American West. A lot of the jokes about Hispanic impotence rang hollow to those with a vast tradition of indigenous and Chicano political and cultural heroes to draw on.
More problematic: While raising up consciousness of brown-skinned history, the more sexist and homophobic aspects of the show are unfortunately also highlighted. Leguizamo has done tremendous work in dignifying (and playing) women and queer people: 2002's "Sexaholix" was an improbable paean to his future-wife's love and patience, and who can forget his groundbreaking "little Latin boy in drag" in To Wong Foo…?
Yet here, he often seems to revert to his old school, naive, stereotypically machismo-obsessed "You can take the boy out of the ghetto, but not the ghetto out of the boy" persona — one that proved fruitful to his early career but, after decades of success and portrayal, seems a bit ragged. Here, gays are wimps. (Montezuma is portrayed as a flamer who gets castrated for coming on to a straight man, a dismaying portrait blithely excused by Leguizamo because he has a gay brother — this coming right on the heels of the Orlando attacks.)
And wimps, of course, are pussies. Although Leguizamo does take a weak stab at deconstructing the eye-rolling sexual oppression of feminizing the powerless, it's undone by his wheedling portrayal of his wife. And, oddly, by the slight attention that he pays on stage to the true hero of the play, his daughter, who provides the key insight that many of us came into the show with: Heroes aren't necessarily those who fight. They are also those who make — like the centuries of brilliant Latin artists, writers, dancers, musicians, builders, and legislators he almost completely skips over. (Frida Kahlo does get a shout-out at the very end.)
Leguizamo is also one of those maker-heroes, and his fight to bring Latin history to light is a noble one. "Latin History" is funny and necessary. But it would be profound if Leguizamo rewrote the textbooks to include even more of the culture he represents and celebrates.
JOHN LEGUIZAMO: LATIN HISTORY FOR MORONS
Runs through August 14
Various times, $35-$60
Berkeley Rep
Tickets and more info here.