Sat/6 at Rickshaw Stop, Bay Area audiences will have a chance to hear the sound of an artist's limitations falling away. Local favorite Meklit, who could previously have been categorized as a singer-songwriter, will be giving a sneak peek of her third studio album, When The People Move, The Music Moves Too, out June 23 on legendary local label Six Degrees Records.
Meklit likes to say that, "as a musician, you have no choice but to grow in front of other people." If that's so, then this album is like the explosion of wildflowers that has overrun California with color and texture. Meklit has turned from more traditional American songwriting to reinventing Ethio-jazz, her birth country's greatest cultural export, through an American lens. To do so, she looks back to the rhythms of traditional Ethiopian music and brings them into dialogue with American jazz and hip-hop, all without forgetting her roots as a singer-songwriter.
This transformation has attracted the notice of music industry heavyweights: the album was produced by Dan Wilson, whose songwriting and production credits include Adele's 21. It features Andrew Bird and the Preservation Hall Jazz Band, alongside a host of local hot-shots and traditional Ethiopian musicians.
Meklit describes When the People as many interwoven stories, but the creation of the album is its own epic, one that began six years ago with a challenge from the founder of Ethio-jazz himself.
48 HILLS Can you describe Ethio-jazz for those who aren't familiar with the genre?
MEKLIT Mulatu Astatke is considered the godfather of Ethio-jazz. He was the first African to go to Berklee College of Music, and then he was in New York in the late 1950s and '60s, when jazz was just exploding. He was incredibly inspired by the Cuban musicians, in particular, who were leading the development of Latin jazz. He was like, "What they did with Latin jazz – I can do that with Ethiopian music."
Ethiopian music is pentatonic and has these scales that are entire worlds to themselves. The way Gash [term of respect/affection] Mulatu describes it, his contribution was to take the pentatonic scales and make them the centerpiece of songs that had Afro-Cuban or funk rhythms. It was as much New York as it was Addis Ababa.
48H How did your evolution from singer-songwriter to Ethio-jazz innovator begin?
MEKLIT Starting out as a singer-songwriter wasn't so much about wanting to be a singer-songwriter. It was like, "I have these things that I want to say." You don't need to be a virtuoso to tell your story – the story itself is what will compel people to listen. As one of my early bass players said, "You gotta kill 'em with vibe." And that was what I had, so that's what I did.
Fast forward five years later. My first album included an Ethio-jazz interpretation of the traditional Ethiopian song "Abbay Mado." I was performing in Ethiopia, and Gash Mulatu came to a show of mine. He took me aside after and was like, "You have a wonderful voice, but why are you playing Ethio-jazz like we played it 40 years ago? A composer's job is to innovate. You have to take this music and do something with it."
48H Wow. What was your response to that challenge?
MEKLIT My jaw was open. Because, to a large degree, Ethio-jazz is how the world knows Ethiopia. So I kind of just sat on that conversation for two years. I would think about it, and feel really confused and overwhelmed by it. Then I finally got myself together and ended up getting a grant from the Multi-Arts Production (MAP) Fund to compose the music. And then I actually didn't do much for a year because I was on tour with The Nile Project. When I came back, I put myself in creative sabbatical and just wrote for 6 months.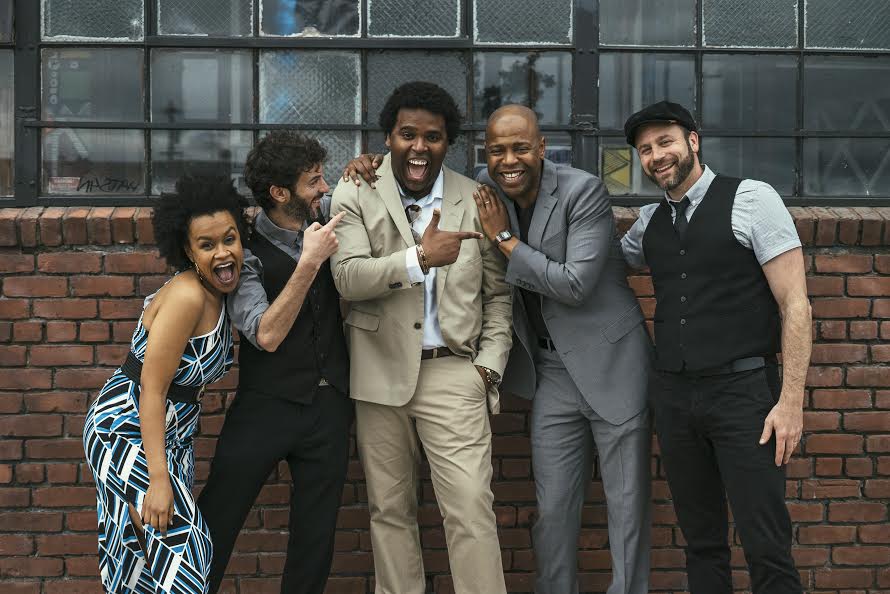 48H The Nile Project is a program you co-founded that brings together musicians from the 11 countries on the Nile River basin to collaborate on an album. How did participating in The Nile Project influence this album?
MEKLIT It was an incubation time. All along that whole tour, melodies would come to me and I would record them, so by the time I got to composition, I had so much to start with.
I was also spending a lot of time with Jorga Mesfin, the Ethio-jazz saxophonist, who gave me theory lessons and helped me understand the rhythmic world in a whole different way. The other thing was just becoming obsessed with the power of having multiple percussionists, which felt really important if this was going to be dance music.
48H How did the Grammy-winning musician and producer Dan Wilson (Adele, John Legend, Dixie Chicks) come to produce the album, and what impact did he have?
MEKLIT I met him at TED in 2013, and we totally connected and talked about music for a week. We stayed friends, and at the end of 2015, I spent two days with him in the studio, and we co-wrote "This Was Made Here" and "Memories of the Future." Then I asked if he would be involved in the record as a producer.
That's the biggest musical gift of my entire life – working with him. He taught me how to listen to the small voice that's easily pushed aside, but actually deserves all your attention. He would say things like, "I think what you're trying to do is have two bridges. But instead, you have one bridge, and then it kind of changes in the middle. Why don't you experiment with making the second bridge really different?" And now it's my favorite part. It was like a diviner's rod of song.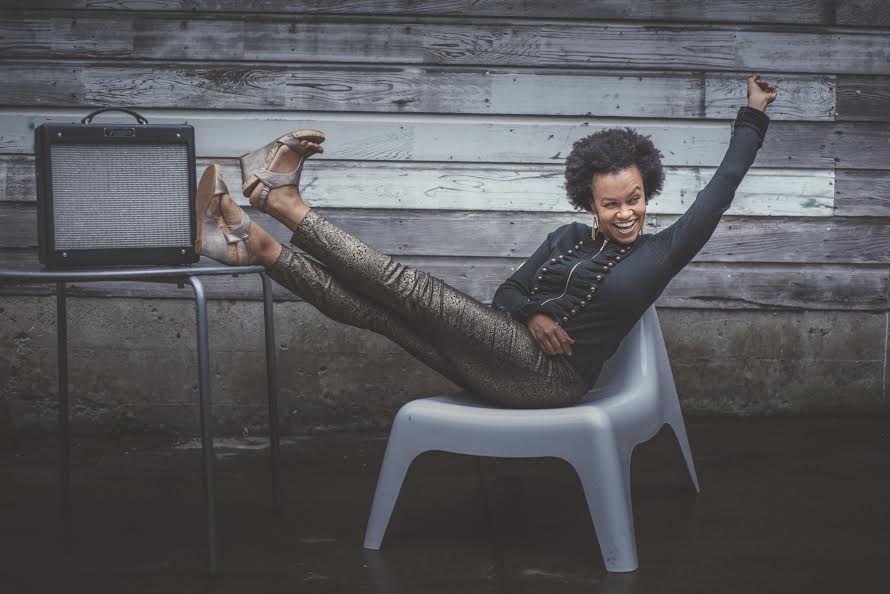 48H How did you end up meeting Mulatu Astatke's challenge? What is your contribution to Ethio-jazz?
MEKLIT The first way it sounds different is rhythmically. The Ethio-jazz of the '60s and '70s doesn't use traditional Ethiopian rhythms as its point of departure, but I wanted to, because lot of that music is pretty mellow, and this is music for dancing. The traditional rhythms almost target different parts of the body: a certain rhythm will attach itself to your knees, or attach itself to your left shoulder.
The focus on the traditional rhythms gave me the freedom to experiment in other things: for example, the song "Sweet or Salty" has a masenqo [Ethiopian single-string fiddle] solo over an American blues chord progression. Why not? Why can't they exist together, if you're telling a story that means something?
48H What does the album title, When The People Move, The Music Moves Too, mean for you?
MEKLIT It's about the way that cultural shifts follow migration. But it's also about the circularity between the dancer and the player: the person in the audience can transform the music, too.
And then it's about this place where we find ourselves: we are all being slapped in the face with these questions of how you define American, and how it needs to include the immigrant. I think of music as a way to carve out meaningful cultural space, an umbrella where people can gather and connect and reflect and grow collectively. After the immigration bans, I needed to make the statement that immigrant music belongs under the umbrella of American music: this album wouldn't have been made anywhere else in the world, so doesn't that make it of this place?
48H Why did you want the album to include an Ethio-jazz cover of "You Got Me" by The Roots?
MEKLIT Growing up, man, hip-hop was one of those few places where I felt seen as an African woman. Whether it was The Pharcyde: "Now there she goes again, the dopest Ethiopian" or just being 19 and falling in love with The Roots and Things Fall Apart and that story of an Ethiopian woman. He might be speaking allegorically, but I was like, "I'm gonna take that as real."
I'm really interested in linking Ethiopian music and African American music and telling that story of inter-relationship, on these shores. I always think about how I'm here as an African woman because of the Civil Rights Act – that's when the immigration codes were opened up and African people were no longer restricted from coming to the States. Everything that I am stands on the shoulders of the Civil Rights Movement and the struggles of black people in this country for justice and equality.
48H The album features a whole host of local musicians. Who are they, and what did they bring to the project?
MEKLIT There are three traditional Ethiopian musicians: washint [flute] player Tasew Wendim, krar player Mesele Adsamaw, and masenqo player Endris Hassen. They're all over this record, right next to electric guitar, drums, and horns.
Sam Bevan was my bass player for the record, and he and I did all the arranging together. Sam has since moved to New York, so a wonderful Cuban bass player named Ernesto Kindelan will be playing the show.
Marco Peris Coppola on the tupan and Colin Douglas on the drum kit created this incredible engine for the music. Marco just wants to make people dance, which is key.
My saxophonist, Howard Wiley – he's a genius. I sent him all the traditional flute stuff that Ethiopian saxophones are based on, and he studied all of it, so he can really go into that feeling.
48H You also have some big-name special guests. What was it like to work with Andrew Bird?
MEKLIT Dan and I were thinking of interesting people to have as guests, and I wanted to represent that singer-songwriter side of myself, so Andrew Bird is on two songs. One is my anthem song, "I Want to Sing for Them All." It's in a hard scale called Bati major, and he killed it! He was so intuitive, and he plucks and whistles the same note, and it sounds like a steel drum. Rhythmically, the song sounds triplet-y, which is very African, and he had no problem with the rhythm. He was syncopating!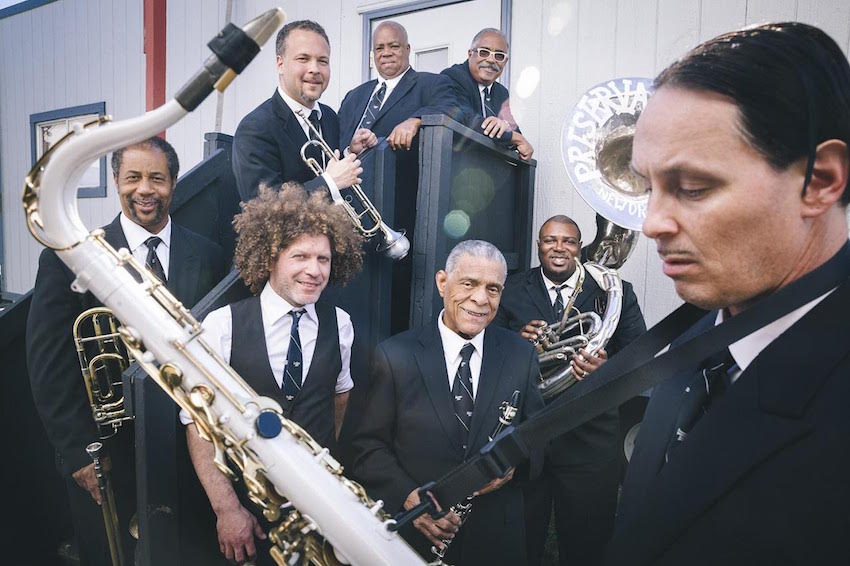 48H Why was it important for you to go to New Orleans to collaborate with Preservation Hall Jazz Band?
MEKLIT I wanted to plug into the city where jazz was born, where this nation-defining sound was born from African-American culture and the history of slavery, and the grit of the blues. I wanted Addis Ababa and New Orleans to be in a relationship with each other, to have a conversation. We went down to New Orleans and recorded Preservation Hall Jazz Band on four tracks. There is a special power in that city, and everyone who goes there feels it.
48H How have you been able to do what you want to as an artist within the confines of the music industry?
MEKLIT A big part of how I've been able to sustain myself as an artist is living in this world of arts and culture, as well as in the typical music industry. It's about understanding why you're doing what you do, and being able to connect with institutions and people who are interested in the ideas that bring you to the sound.
It's hard though. It's really, really hard. We have to fight for this space to make these messages heard – and to make them heard in a way that is fun! If it's all heavy and entrenched and difficult, how long can you go on? You need spaces of joy and celebration that still affirm who you are, and still affirm the fights that you're fighting day in and day out.
MEKLIT
Sat/6, 9pm, $25
Rickshaw Stop, SF
Tickets and more info here.