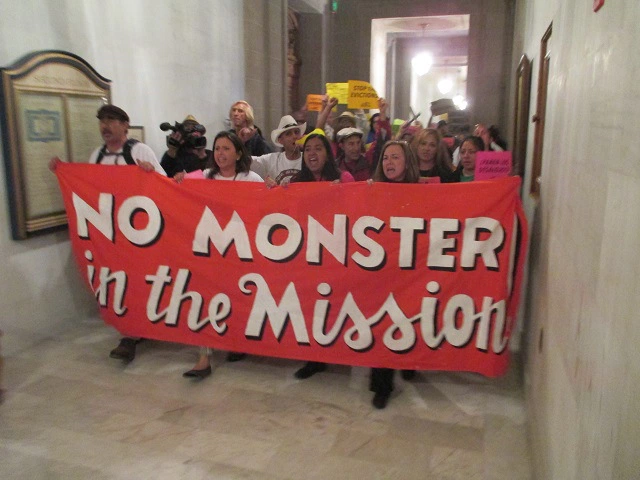 I was out of town when the latest chapter of the Monster in the Mission fight took place. As Mission Local reports, the developer (Maximus, which also owns Park Merced), tried to hold a meeting with local merchants. It was closed to the press — maybe because the last time Maximus tried to hold a community meeting, it didn't go so well.
We don't know how well this one went, either. We do know that Joe Arellano, a spokesperson for the project, told Mission Local that "advocates and staff had been gathering the support of thousands of people who have signed a petition backing the project."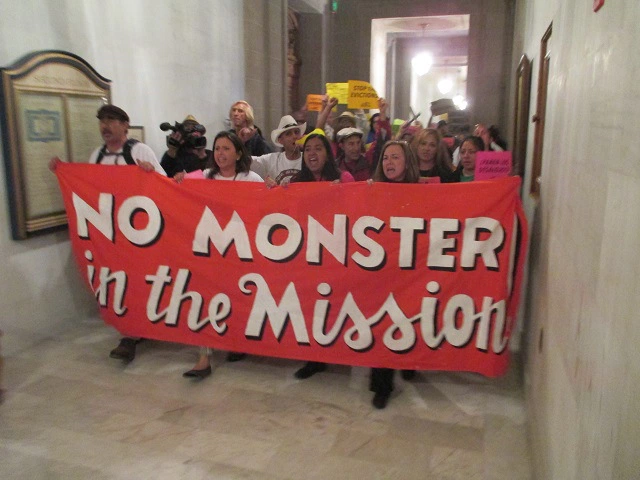 That's clearly part of the new strategy for this project: Build what the developer can say is a significant amount of community support for a development that has been unpopular in the community.
But it's important to understand a little about where that "grassroots" support is coming from. And thanks to some recent amendments to the SF ethics laws, we can get a bit of a sense.
The recent event — and the lobbying effort — has been paid for by Mission For All, which is not a nonprofit or a political organization. It's a Limited Liability Company, chartered in 2016 in California. Documents at the Secretary of State's Office show its address as the offices of Nielsen, Merksamer, a San Rafael-based law firm that specializes in campaign finance.
Mission For All is entirely owned and funded by Maximus, the documents show.
Mission For All filed the required disclosures with the SF Ethics Commission, and as of August 11, 2017, the LLC has spent a total of more than $300,000 — just in the past four months — on lobbying, and most of that has gone for paid canvassers to gather signatures in support of the project.
Larry Del Carlo, who lives in Concord, Gene Royale, who lives in Daly City, and Charles Goss, a Sacramento political consultant, have also been paid as consultants.
Now: There's nothing wrong with hiring paid political canvassers. Campaigns do it all the time. You rarely see this kind of money, in this short a period of time, though, unless someone is trying to gather signatures to put something on the ballot.
That's not what's happening here. Instead, Mission For All, LLC is spending hundreds of thousands of dollars sending people door-to-door to try to drum up support for a project that many of the existing grassroots political groups in the Mission oppose.
Again: I see nothing illegal here. I see nothing that hasn't been done by others, on all sides of issues, many times. (I've worked as a paid canvasser myself, way back when, for Connecticut Citizen Action Group and Greenpeace.) I think people who do political work should be paid.
But the scale is pretty dramatic; there's ton of money going into this effort. And the grassroots opponents of the project have nowhere near this level of resources.
So when Arellano talks about the "thousands of people" who have signed petitions for the project, just remember that his boss has spent more than $300,000 in four months in one neighborhood to get those signatures. 
I don't think I've ever seen that before in San Francisco politics.