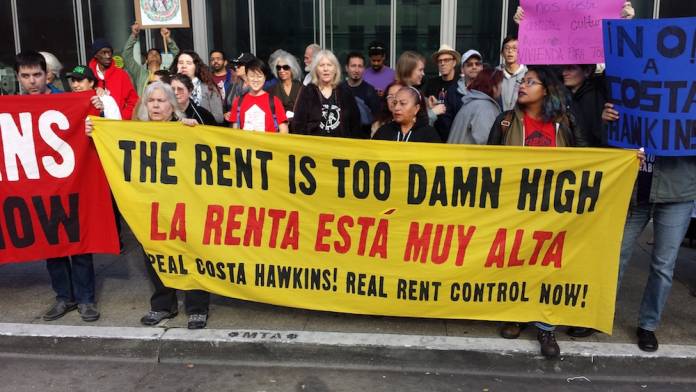 A group of San Francisco tenants and advocates delivered an eviction warning to Assemblymember David Chiu today, urging that he help push a repeal of the notorious Costa-Hawkins bill through the Legislature.
Chiu is the chair of the Assembly Housing Committee, the first stop on the path toward bringing the repeal bill to the floor.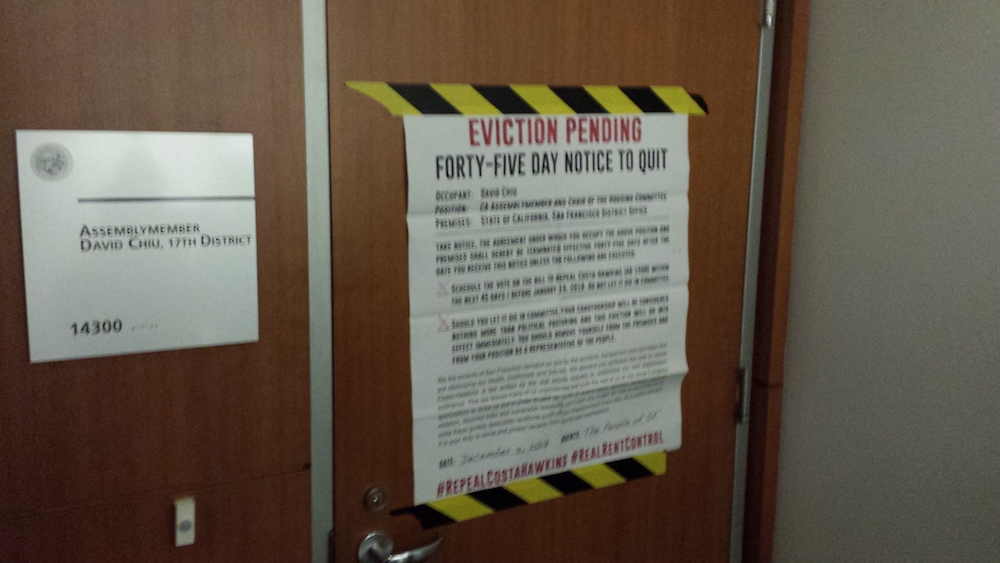 The author of the bill is Assemblymember Richard Bloom of Santa Monica. Chiu is listed as a co-author, but tenant advocates say he has not made the measure a priority.
Costa Hawkins, passed in 1995, bans cities from extending rent controls to vacant apartments. Vacancy control would radically reduce evictions. When rents rise to market rate after a tenant moves out, it gives landlords a huge incentive to get rid of long-term renters who are paying below-market rent.
A large group began a rally at City Hall, while a smaller group walked over to the state building, where Chiu has his district office.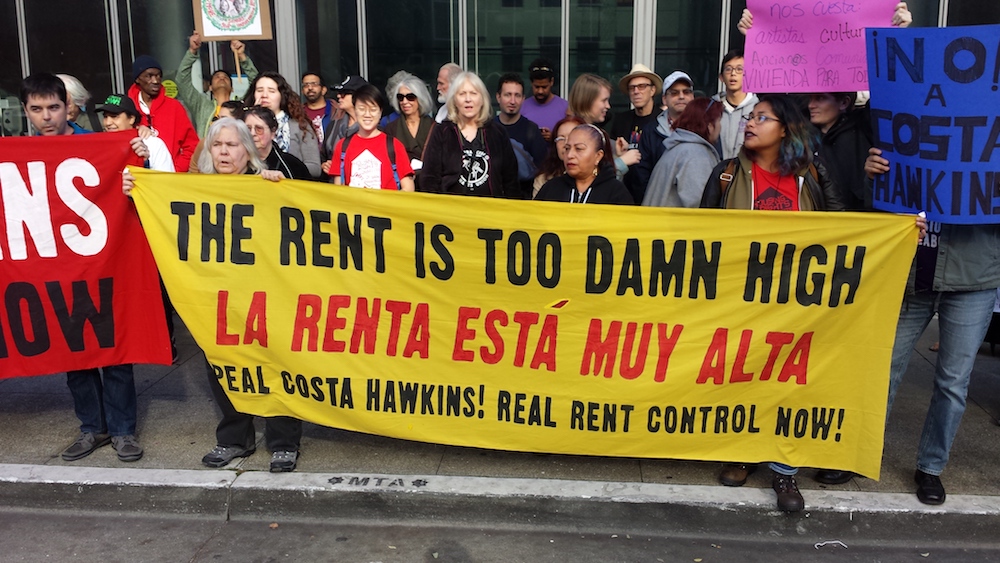 Chiu wasn't there – he was at a fundraiser in a bar in the Twitter Building. But Judson True, his chief of staff, met the protesters, many of whom are now facing or recently faced evictions.
"We are sick of politicians telling us that they are on our side and then not taking action" Fred Shrerburn-Zimmer, director of the Housing Rights Committee, told a crowd outside the building.
Inside, the group taped a 45-day notice to Chiu's office door and repeatedly asked True whether Chiu would schedule the bill for a hearing before later January, when the measure would be dead for the year.
True kept saying that "tenant bills in Sacramento are challenging," which is a polite way of saying that the real-estate industry owns the state Legislature. He said that if Bloom wants a hearing, he will get one.
I asked True what possible downside there would be to bringing the bill to committee. He said that for some of the other committee members, this would be a "hard vote," and that Chiu might not want to force his fellow Democrats to vote on a bill that might offend powerful interests if it had no chance of passing on the Assembly floor.
In other words: Don't make Democrats who are sucking up to landlords actually take a stand on a key tenant issue unless they really, really have to.
Here are the members of the committee. Five are Democrats; two are Republicans. The current leadership of the Assembly and the Democratic Party have no made tenant issues a priority, and apparently don't want to put pressure on anyone to vote to help renters.
I called Bloom's office, but they didn't get back to me.
What's happening here is a strategic decision, the kind of thing that happens all too often in Sacramento. Chiu votes the right way on a lot of bills – but he doesn't want to be the progressive leader who is willing to push the envelope, to call out his colleagues. Tom Ammiano played a very different role when he had the same Assembly seat – and in the end, earned the respect of other members for his political courage and consistency.
Tenants groups never had to demonstrate at Ammiano's office — he was always on their side.
The tenant organizers in the room told True that they wanted the committee members to vote – so that they could be held accountable, possibly through primary challenges. That's not how the leadership in Sacramento – which includes David Chiu – likes to work.
The emergency is here.
"I've been living in my apartment at 634 Powell for 25 years. When Veritas, the largest private landlord in SF, bought it, many long-term tenants, including myself, began feeling harassed. We shouldn't feel targeted just because we have roots in our city, decades of life, and, because of rent control, affordable rents," said Amina Rubio, one of the tenants who went to Chiu's office. "These corporate landlords are ruining our homes, health and lives. We need to repeal Costa Hawkins and implement vacancy control to discourage speculative landlords like Veritas from buying rent-controlled properties to squeeze out millions in rent."
True said Chiu wants to meet with the tenants, and that's fine. But what we have here is a very different philosophy. Chiu has endorsed Sonja Trauss, the build-at-all-costs candidate who no tenant organization would ever support, in District 6. He doesn't look to the Tenants Union and the Housing Rights Committee for direction; he looks to what's good for his relations with the rest of the Assembly Democrats, who are often real-estate shills.
That's what today's demonstration was about.