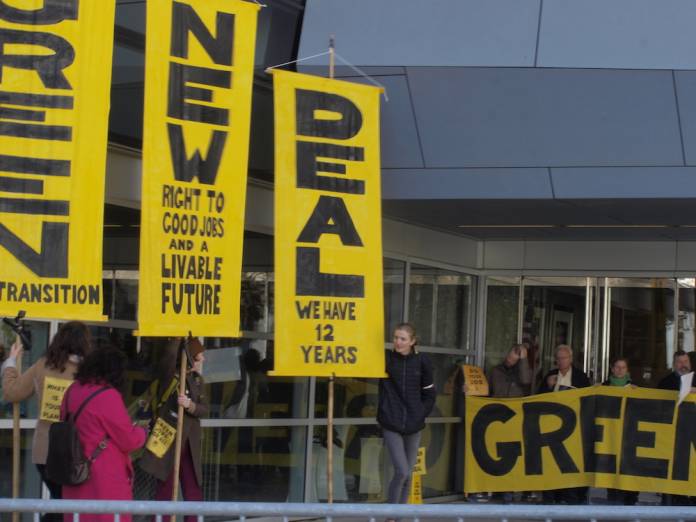 While Rep. Nancy Pelosi jousted with President Trump over a government shutdown and the border wall, about 250 climate activists demanding a Green New Deal shut down entrances to Pelosi's district office in San Francisco today for nearly four hours. Even as Pelosi gained national praise for her tough stance against Trump, demonstrators pressured her to join 35 congressional representatives who have now endorsed creating a select committee to craft Green New Deal legislation in Congress starting in January 2019.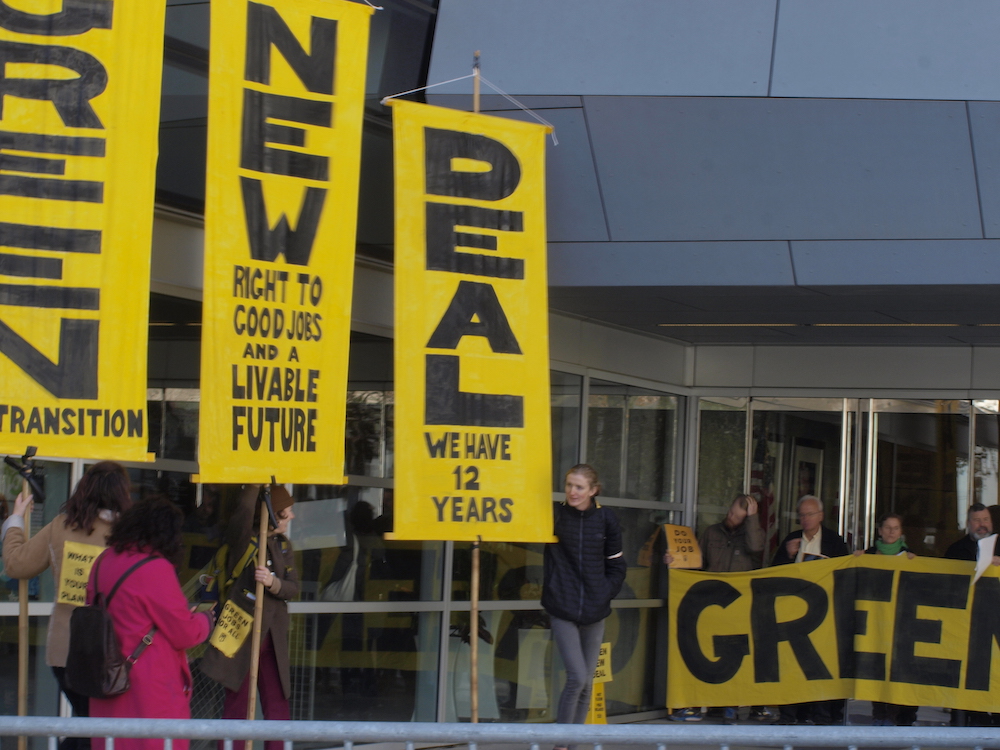 Lined up in front of federal building entrances, climate demonstrators held up a large yellow "Green New Deal" banner and, as one young speaker put it, urged Pelosi "to do the right thing and show real moral leadership. She has refused to do that, and we are here in a way that she cannot ignore, saying she needs to take bold climate action to protect our future."
Today's actions—organized by a host of groups including Sunrise Movement, Idle No More, 1000 Grandmothers, No Coal in Oakland, and a 350.org group called Youth vs. Apocalypse—come on the heels of sit-ins Monday by 1,000 young people at Democratic Leadership offices in Washington.
Monday's mass effort persuaded 13 new representatives to endorse the Green New Deal select committee, including Rep. Barbara Lee, Rep. Jim McGovern and Congressional Progressive Caucus co-chair Pramila Jayapal. Packing congressional hallways, the climate activists occupied the offices of top-ranking Democrats Nancy Pelosi and Steny Hoyer (D-MD), and 143 demonstrators were arrested, 61 of them at Pelosi's office.
Activists say they plan to visit congressional offices to keep the pressure on this Wednesday and Thursday before representatives depart for holidays Dec. 13.
Proposed by newly elected Rep. Alexandria Ocasio-Cortez, the bipartisan select committee (nine Democrats and six Republicans) would be charged with crafting a 10-year Green New Deal to "put millions of Americans to work transforming our society away from fossil fuels to a clean energy economy on the timeline demanded by science and justice," advocates say.
Although Pelosi has yet to endorse Ocasio-Cortez's proposal, other congressional backers "are starting to pour in," said Sunrise activist Morissa Zuckerman. "They are seeing that this isn't going away. The continued pressure is working… We hope when the legislature starts up again in 2019 there will be enough pressure" for a vote on the Green New Deal committee, she added.
Rep. Pelosi's office was not available for comment, however in earlier statements Pelosi has supported renewing a committee on global warming and energy independence that she launched in 2007. But, as Rep. Alexandria Ocasio-Cortez and others have pointed out, that committee had no authority to create legislation.
In a previous interview for 48 Hills, Pelosi communications director Taylor Griffin told me that any new committee "has to be discussed in a full caucus setting so all committees of jurisdiction can hear it." Griffin added, "I don't believe her statement was meant to be an endorsement of the Green New Deal writ large." On Monday, Pelosi agreed to meet with activists from the Sunrise Movement, Vice News reported.
Sunrise activists insist the new committee is essential, to move from education and hearings to legislation and action. "We know that the time for discussion on climate change is over, and we need action now," said Zoe Cina-Sklar. "We need her to be stepping up. The time for dialogue is over and the time for a Green New Deal is now."
As Ocasio-Cortez describes on her website, the new select committee would "have authority to develop a detailed national, industrial, economic mobilization plan…for the transition of the United States economy to become carbon neutral and to significantly draw down and capture greenhouse gases from the atmosphere and oceans."
According to a 2018 report by Data for Progress, a green new deal could create 10 million jobs over 10 years, through employment and training programs in renewable energy and other sectors. "In 2017, there were 800,000 Americans employed in low-carbon emission generation technologies, and 2.25 million employed in energy efficiency. This compares to only 92,000 for coal-fired generation." Solar industry jobs "have grown 168 percent over the past seven years."
A Green New Deal could create a wide range of high-wage and living-wage jobs, including "clean energy technology, energy efficient goods and appliance installation services, zero-emission vehicles and charging infrastructure, building construction and retrofits, environmental remediation and restoration, agriculture, forestry, tourism, and recreation," the report said.
As Cina-Sklar explained during Tuesday's actions, "a really powerful element of this select committee is that it is breaking down this idea of a dichotomy between climate action and jobs, that we can have climate action that's stimulating the economy, providing a jobs guarantee, and providing an opportunity for people who have been left behind."
While the attention and movement are new, the idea of a Green New Deal has been around for a decade in various forms. The Green Party first proposed a Green New Deal in 2008, and again in 2016, to "transition our energy system and economy to 100 percent clean, renewable  energy by 2030, including a complete phase out of fossil fuels, fracked gas and nuclear power." As the Green Party described, such a program could "revive the economy, turn the tide on climate change, and make wars for oil obsolete – allowing us to cut our bloated, dangerous military budget in half."
At Tuesday's protest, when I asked Zuckerman how a Green New Deal might be funded, she replied, "we have the money to pay for this, it just depends on how we prioritize our budget. Trump is spending it on tax breaks for the rich, and more money for the military. We spend tons of money subsidizing the oil and gas industries. The cost of paying for this pales in comparison to what we pay for climate disasters."