The stars shone bright on the City by the Bay last week when Amy Adams, Steve McQueen, and Boots Riley turned up to be honored at the 2018 SFFILM Awards Night, at the Palace of Fine Arts.
The Vice actress, Widows director, and Oakland-bred Sorry to Bother You writer-director were respectively presented with awards from Vice director Adam McKay, Widows actress Michelle Rodriguez, and Bay Area literary legend Ishmael Reed.
Each year, SFFILM Awards Night recognizes those in cinema whose work embody Bay Area values of innovation, diversity, and social relevance. The annual star-studded gala also benefits SFFILM's year-round youth education programs.
I spoke to Amy Adams, Steve McQueen, Boots Riley, Ishmael Reed, and SFFILM's executive director Noah Cowan about the movie industry's growing inclusivity, just three years after the #OscarsSoWhite controversy shone a light on prejudice in Hollywood.
Amy Adams on a growing diversity in Hollywood:
"Making diversity part of the conversation of every filmmaking group that I'm in is how we can introduce diversity into every project we have.  That's a conversation that's been a long time coming and I hope it continues and I hope it's something that becomes part of the norm."
Steve McQueen on how "Widows" exemplifies a more inclusive cinema:
"Women being women on their terms—they don't necessarily get reflected in cinema. But they're out there in the world that we know. We see them everyday, and they should be reflected on the big screen in a real way. Not just playing the wives or girlfriends, but being themselves and being viewed on their own terms is very important.
It also speaks to diversity in the way that it reflects the audience who comes to the movies, in general. It's a reflection of the broader, wider society."
Boots Riley on the changing face of Hollywood:
"Right now, there are movements happening out there in the world where people want to change the way things are. Those movements are challenging artists and the people who put out art to question how relevant the films they are making are. That ends up calling  for filmmakers from different sorts of experiences and also calling for filmmakers to address things they haven't been addressing before and for certain political outlooks to come out that evenly represent the way people are thinking.
I'm always striving to tell things that show the way things are and part of the way things are has to do with a real analysis of how we can change things. So I'm always looking for ways to do that, whether I'm talking to someone on the street, making a song, or making a movie."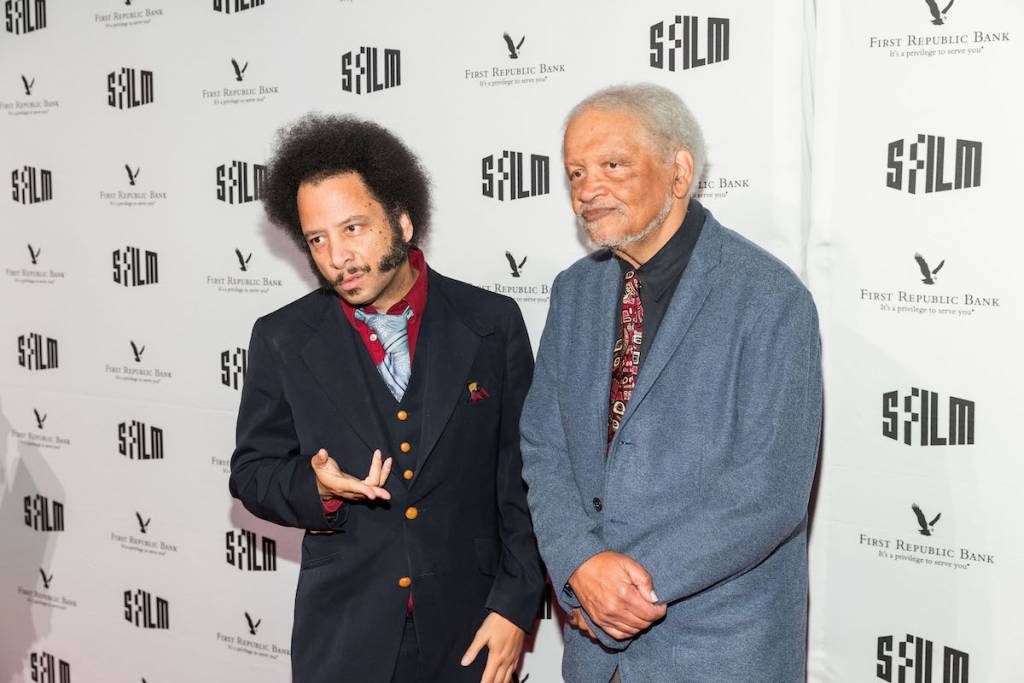 Ishmael Reed on how Boots Riley is shaking up the studio system with "Sorry to Bother You":
"I think we're all interested in a fresh way of telling a story and [Boots Riley] has accomplished that here.
I think it's very postmodernist in the sense that it mixes genres. You get science fiction and a reminder of the films made in the 1930's before McCarthyism. They're union organizing, whereas most of the films I see now in Hollywood side with management. This movie shows the diversity of Oakland, too.
When I saw that the film was done in Oakland, I thought it was going to be a shoot 'em up, but the only character in this movie who has a gun is a white guy. That's novel."
Noah Cowan on how this year's honorees jibe with SFFILM's core values:
"We see our role around diversity to be an all-year role. So we really champion this idea called 'Bay Area values,' where we're really looking at what this community imagines itself to promote and what we can help champion on a national level.
So we see these three awardees tonight, Amy Adams, Steve McQueen, and Boots Riley, as people who've taken risks to talk about where we are as a society and who we are as a people.
What we're looking at here with these three films, Vice, Widows, and Sorry to Bother You is that they're movies that just took serious risks that put their actors and directors on a pathway to something new. We actually think that's a Bay Area value, too, because it's a value of innovation; it's a value of challenging people creatively to imagine their best.
So this night is a gentle boost for them as the awards madness starts to grow across the planet to say, 'There are some people out there fighting the good fight. Let's support them.'
And it's so important to connect this to the education work that we do at SFFILM. What we're doing here is raising money to ensure that the next generation is empowered to own their own creative voice and have the media literacy tools to say what's to come."