LIT World AIDS Day, marked every December 1, is usually a solemn occasion, a reminder of how far we still have to go to end the global crisis. But even while we mourn the lives we've lost, it's humbling to also realize how remarkable so many of them were, and how much was achieved in such a short time before AIDS claimed them. 
This is especially true in the case of artist Keith Haring (1958-1990), whose massive output of drawings and paintings was matched by his community activism and drive for gay visibility and representation. You can't help but smile through the tears when thinking of his vibrant, iconic art and life. Despite basing most of his life in New York City, Haring was a true global citizen—and a patron saint of San Francisco, where his art is one of our public mainstays and has been celebrated with huge exhibitions (and giant parties) in the SFMOMA and De Young museums.
Now his sister Kay Haring has written a book for kids about him, Keith Haring: The Boy Who Just Kept Drawing, with illustrations by Robert Neubecker. The book is such a fabulous reminder of Keith's genius for living (and the illustrations so lovely), that it's great for any age, even cynical mid-lifers (cough cough). 
Kay's coming to San Francisco Sat/8 for a special Keith Haring: The Boy Who Just Kept Drawing extravaganza, noon-4pm at the LGBT Center, also featuring DJs, art activities for all ages, storytelling by drag queen Honey Mahogany of RuPaul's Drag Race, an art sale of Haring-inspired works created by international artists, and a kid's fashion show by Emily Payne, designer of Devon Rose & a Project Runway alumni. I spoke with her via email about Keith's art, legacy, and meaning today. 
 48HILLS Why did you decide to write this book about your brother? How did it come about?
KAY HARING I had this idea more than a decade ago. I had drafted numerous outlines and storylines over the years. "But it wasn't until six years ago, when I joined a writer's group and needed something to present to the group, that I resurrected those drafts I had made over the years. I knew this was a project that had to come to fruition. I started to explore the process to publish, and joined SCBWI (Society of Children's Book Writers and Illustrators). I found an agent the first time I made queries about the project, and within three months we met with four publishers and had two offers. It's taken three years to get to print. Much of this time was spent on carefully integrating Keith's artwork with Robert Neubecker's illustrations, and selecting artwork and obtaining permissions to publish Keith's work.
The actual content of the story was easy to write. I wanted to give children an example of Keith's generosity and his easygoing, fun-loving personality. There were dozens of scenarios I could choose from where he gave away his artwork or his time to benefit others. Over the years, there were a few situations that stood out to me as hallmarks of Keith's dedication and his care for other people. The difficult part of a story like this is to edit it down to a reasonable length! Many scenes had to be cut or trimmed back and with the help of my editor we selected the final content which best demonstrated Keith's personality. 
48H What do you want people to know about your brother?
I always wanted to tell my brother's story emphasizing his generous nature. Keith was an extraordinary person and gave away countless drawings and an inordinate amount of his time and money. He was always drawing when he was out in public, and it was not unusual for dinner guests or complete strangers to go home with an impromptu drawing on their clothing, a napkin, or a spare piece of paper. 
My book tells the story of how Keith kept drawing, no matter who questioned what he was doing or why. I hope the passion he had as an artist is apparent to the kids who read it. I also want to highlight his philanthropy and hope that it inspires children to give back in their own community.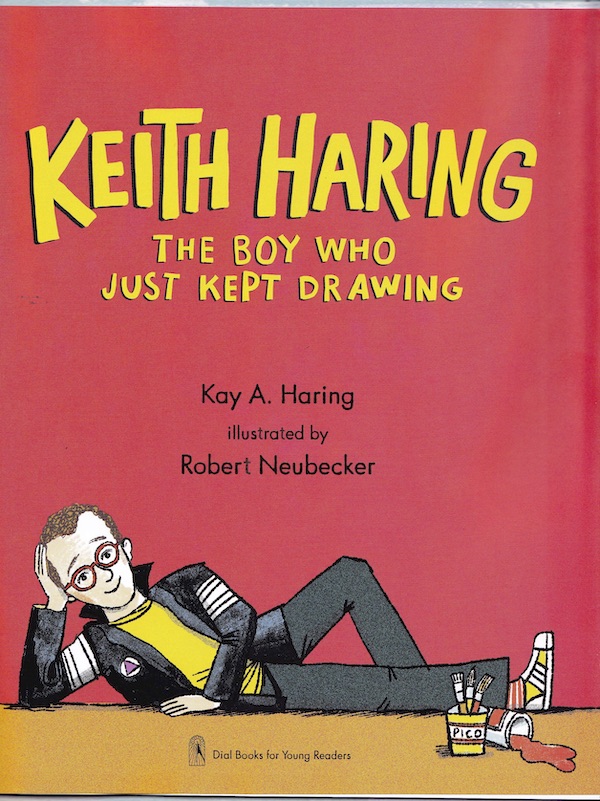 48H What do you want kids, in particular, to take away from this book?
KH Dream big, work hard, give back! 
Keith's drive to share art with people, to paint and draw where all people could experience it, is demonstrated by the murals he did on the streets in New York and in the subway and the six-story building he painted at the Necker Children's Hospital in Paris, France. He did these, as he often did, for no compensation. And in the early years, he painted without permission and often was fined or criticized. But that didn't stop him. 
I also want children to know that success comes with hard work. At Keith's first big exhibit in New York I remember hearing from many people on opening night that Keith's work was so different, vibrant and fun, but they also raved about how hard he worked to paint the walls and hang as much artwork as the space could hold. They had not seen another artist work with such a sense of obligation. Keith was so humble and accommodating—he signed autographs and talked to people all night long. He never turned anyone away. 
Keith used his work as a tool for organizations to raise money, to raise awareness and to disrupt society norms. He bequeathed most of his estate to the Keith Haring Foundation in 1989 to expand and sustain his artistic and philanthropic legacy through the preservation and circulation of his artwork and by providing grants to underserved youth and those affected by HIV/AIDS.
To highlight his philanthropy and inspire youth to give back in their own community, I am donating 25% of my proceeds to a youth organization in our family hometown in Pennsylvania, the Berks County Community Foundation Youth Advisory Committee.  I encourage parents to challenge their kids to find ways to donate their time, energy, and creativity in ways that will make their neighborhood a better place.
KEITH HARING: THE BOY WHO JUST KEPT DRAWING
Sat/8, noon-4pm, free (donations requested)
LGBT Center, SF. 
More info here.