Nationally, comedian W. Kamau Bell is known for his multiple Emmy-winning CNN show "United Shades of America," his Netflix comedy special "W. Kamau Bell: Private School Negro," his many podcasts, and-or his tell-all book, "The Awkward Thoughts of W. Kamau Bell: Tales of a 6′ 4", African American, Heterosexual, Cisgender, Left-Leaning, Asthmatic, Black and Proud Blerd, Mama's Boy, Dad, and Stand-Up Comedian."
But from Berkeley to San Francisco, Bell says he's just as well-known, if not more, for being 86'd from the since-closed Elmwood Cafe on College Avenue in Berkeley, for merely approaching and conversing with his Caucasian wife. The restaurant employee who shooed him away assumed he was a stranger harassing her.
"I jokingly say that when I die, if there's an obituary written about me somewhere, it'll say, 'Emmy winner, stand up comedian, kicked out of The Elmwood Cafe,'" Bell said. "I have accepted that especially in the Bay Area, if I'm out in crowds for a few hours, someone's gonna bring up the Elmwood Cafe. It's a part of my Bay Area story."
The comeidan will no doubt touch on this incident when he sits in conversation with longtime friend and colleague Hari Kondabolu at Bell's upcoming SF Sketchfest tribute (Marines' Memorial Theatre, January 13, 4pm).
But first, the socio-political comedian and East Bay resident chatted with me about the changing Bay Area, R. Kelly, Kevin Hart, and Bell's main interest outside of politics.
48 HILLS In "Private School Negro", you joke about how people in Berkeley today are more concerned with getting kale or getting to the nearest Whole Foods than with fighting right-wingers. How would you say Berkeley and San Francisco have changed since you first came out here in 1997?
W. KAMAU BELL A lot of the people outside the Bay Area have this idea of what the Bay Area is, but it's probably 30 years off from what the Bay Area currently is.
When I came out to San Francisco in '97, people were like, "It's already over. You missed it. It used to be so cool." So now, 20 years later, with people coming to town, I say, "Now, it's really over. You really missed it."
48 HILLS How are things different now?
BELL I feel like I got to be there at the tail end of when artists could afford apartments to live in San Francisco. When there was a grit, when you could go into the Mission and say, "This is fun, but I might get stabbed." There was an independent, underground spirit that I was a part of back then that I hear people saying now is gone.
I'm not trying to be a part of that now because I've got three kids and moved to the East Bay, but the thing that made me want to move there as a comedian was that it was a weird city that encourages you to let your freak flag fly. Now, when I walk through the Mission, I'm thinking this area is slowly being broken apart, piece by piece.
Then one of my first day jobs was in Downtown Berkeley. So I remember when me and my family moved to New York for two years and we came back and were living in Berkeley, and I was thinking, "Why is Berkeley looking like Brooklyn?"
48 HILLS You didn't paint the prettiest picture of the "liberal utopia" known as Berkeley after coming forward about being kicked out of The Elmwood Cafe in 2015 for being black. Now that the cafe is closed, thanks to your CNN op-ed piece and the subsequent public outcry…
BELL Then the reopening; let's not forget the reopening. It reopened under a new name, and if you pass by, it looks exactly the same. Apparently, the manager of The Elmwood Cafe now owns the new cafe called Baker & Commons, but she would not disclose at the time to the press how she got to take over the restaurant. So I don't have to be a forensic accountant to figure out that the old owner still owns it, and he transferred the business to her.
48 HILLS Are you tired of being asked about the Elmwood Cafe incident?
BELL I don't mind people asking me about it, because ultimately the reason my wife and I talked about it in the first place was that nobody would know anything about it if we hadn't made something of it. We knew that if I'm getting kicked out of this place, that's happening to other people who don't have the big voice to call attention to it.
Growing up as a black man, specifically in Chicago, I've had times where I was kicked out of stores also for no reason. But what happened for me at The Elmwood Cafe is that I had convinced myself that I'm a Bay Area resident, live in Berkeley, and everybody knows me.  I'm a hero [laughs]. But I was really comfortable and forgot, "Oh no, you're still a black guy. Relax Kamau." But meanwhile, I realized we have to do something about this rather than holding onto it ourselves.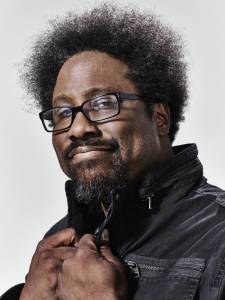 48 HILLS Last spring, after Kathy Griffin called out Kevin Hart for not telling Trump jokes, you tweeted that she was "policing black people's behavior." With the latest Kevin Hart controversy, I have to ask; are we policing Kevin Hart, or has he made homophobic jokes and comments that are unforgivable?
BELL For me, the issue with Kathy Griffin is that she was having a problem with something because she wants him to do something that she wants him to do when there's no evidence that if Kevin Hart makes a Trump joke that it's gonna matter. No artist should feel pressure to do something a different way just because another artist feels that that's better.
Now that's different from your saying things that I find offensive that are hurting a lot of people. If you make fun of things that people get upset about, then either own it or apologize. I think that finally last night he came through with a more full-throated apology because he realized that the guy who made the jokes back then does not make sense to the guy now who's trying to be everybody's favorite comedian.
48 HILLS You're brave for raising awareness about racism in your comedy routines, on "United Shades of America," and in your advocacy work. But I think a lot of people are still afraid to have these conversations. How do we encourage them to do that?
BELL It depends on who you're talking to and when you're talking to them. So on any given day, there can be anything that'll make me feel like, "Oh, we need to have this hard conversation." If every man isn't talking about R. Kelly, then we've sort of missed the point. Right now, I want to talk to everybody about that R. Kelly documentary. That's the only conversation I want to have.
So we have to take advantage of the moments when those conversations come up and lean into those conversations. Don't let the moment pass when you suddenly start thinking about new things.
But more importantly, Americans as a whole need to take a hard look at the institutions and structures that run this country and figure out how to dismantle the ones that aren't working. Cause now, the way politics work in this country, there's only so much that can be done over a period of time because we're basing it on what dead white men thought 200 years ago.
48 HILLS You're so known as the socio-political comedian. What interests you outside of politics?
BELL I'm not that interested in politics [laughs], but that's definitely my brand — political discussion and oppression.
It's funny. My wife said, "Did you see? 'Deal or No Deal' is coming back," and I was like, "Yay, that's my favorite game show of all time." This past week, I introduced my four-year-old and my seven-year-old to "Deal or No Deal" and now they're obsessed. Every now and again, I think, "Should I tweet about how excited I am about 'Deal or No Deal'?" Then I think, "No, this R. Kelly doc is probably worth tweeting about more."
If peace reigned all over the world and everybody had what they needed, I'd be a dude sitting on a couch binge-watching episodes of "Deal or No Deal" and random Netflix documentaries. It's just when I step into the public spotlight for a moment, I think, "OK, I should probably talk about the important stuff and not spend a half hour talking about 'Deal or No Deal'."
48 HILLS You've recently made your directorial debut with Chris Rock's "Bring the Pain" on A&E, launched your first Netflix comedy special, and put out your first book. You also have a new season of "United Shades of America" coming up in April. What else are you working on?
BELL For the first time, I'm looking big picture, because now that I know that we're coming back for season five, and I don't have to be so focused on this immediate moment. I'm actually pitching other projects that are not so politically focused and with other people on camera.
The thing I learned in the Bay Area as a comedian when I came up is that you're supposed to open the door and let other people through who you don't think can get through otherwise. It's really exciting because I always say that if it all relies on my face for my whole career, then I've done something wrong.
SF SKETCHFEST TRIBUTE: W. KAMAU BELL IN CONVERSATION WITH HARI KONDABOLU
January 13, 4pm, $35/$25
Marines' Memorial Theatre, SF
Tickets and more info here.