After a contentious meeting earlier this month about a homeless navigation center coming to the Embarcadero, a group of residents from the wealthy area launched a GoFundMe campaign, aiming to raise $100,000 to hire a lawyer to fight it. Even Mayor Breed is frustrated by the efforts of the group, who are calling themselves SF Residents—and whose list of "facts" on its website, when accurate, mostly sound good to us. (More than 200 beds, for starters, in a part of the city that could use them—built on a city-owned parking lot.)
Nevertheless, the anti-navigation center fund—launched "for Andrew Zacks," a prominent real estate litigation lawyer—has so far raised $64,000. Its roster of donors includes "real estate brokers, HR VPs, senior tech professionals, hedgies, doctors, even Stanford professors. It's raised seven times what our last tent drive did," according to Shanti Singh of Yes to Affordable Housing and the Democratic Socialists of America.
if you look up the names on this heinous GoFundMe, it's all wealthy condo owners: real estate brokers, HR VPs, senior tech professionals, "entrepreneurs", hedgies, doctors, even Stanford professors.

it's raised seven times what our last tent drive did. eat the rich https://t.co/VC3dEzfkhF

— provisional dsa #SB529🌹 (@uhshanti) March 27, 2019
"No matter where the location is, folks say this is not the right space. Not in our community. So they are going through that right now in the Embarcadero," Kelly Cutler of the Coalition on Homelessness told the Guardian about the Embarcadero group's GoFundMe. "We really are talking about a life and death issue," she added, saying that 240 people homeless people died in the city last year. "The issue is impacting the community as a whole."
That issue inspired SF resident William Fitzgerald to start a rival GoFundMe to help the Coalition on Homelessness, called "Safer Embarcadero for All" and combat the Embarcadero group's anti-homeless efforts. "I live in the Outer Richmond and I know the resistance to homelessness that can happen in areas like this, where there aren't any places for the homeless to get help. There's a homeless couple living out of their car here near Ocean Beach, and people on the NextDoor app are complaining because they 'haven't paid for the view.'"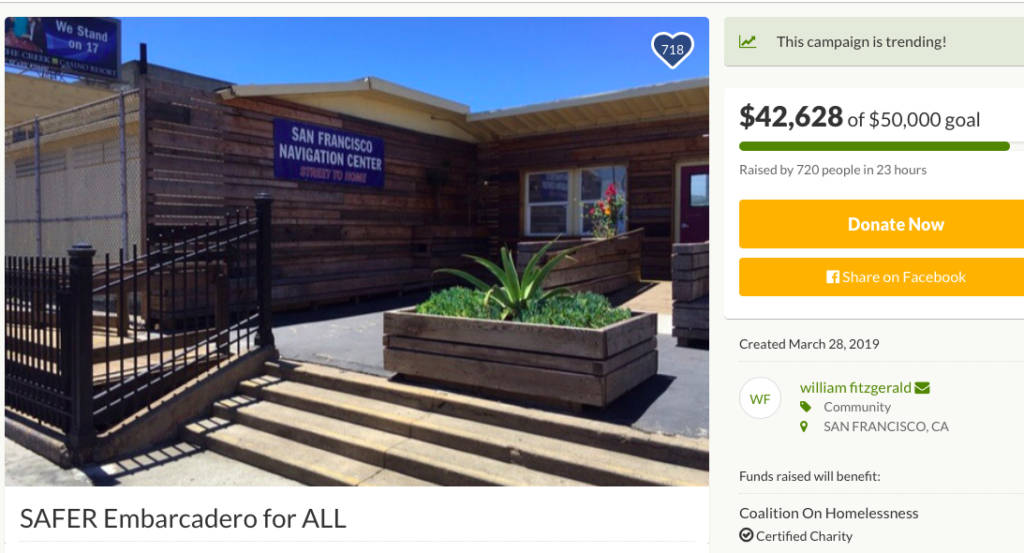 Fitzgerald says he's talked to Supervisor Sandra Lee Fewer about getting more resources in his own area, and has an idea about freeing up the mostly unused stables in Golden Gate Park for sheltering people, but they've met a wide variety of resistance.
"When I saw the Embarcadero group's GoFundMe to fight the navigation center, I thought of activist Charlotte Clymer," Fitzgerald said. "When a fundraiser went up for Trump's wall, she launched a rival one for ladders to go over the wall, and it raised tons of money for Raices, the organization that helps immigrants. "I thought we could do something like that here." (Clymer's fundraiser ended up raising  more than $100,000.)
Fitzgerald started small, setting things at $10,000, but a swarm of donors, including GoFundMe employees who contributed $5000, soon pushed it over the top. Now, the goal is set at 50,000, but donations have already reached $43,000. "We have matching funds coming in from some tech industry people," Fitzgerald said. "So it's even more."
"The best part," Fitzgerald told me, "is that we have about 600 donors, while they only have about a hundred. 600 people is a lot, we can be a force."
Fitzgerald's SAFER Embarcadero for All GoFundMe is here.