ONSTAGE Carey Perloff started off as a playwright. Then she was named artistic director of the Classic Stage Company in New York, before coming to San Francisco to be the artistic director at American Conservatory Theatre. 
Perloff kept writing plays though. Now she has a lot more time, having recently left ACT. after 26 years. The San Francisco Playhouse commissioned her latest play, The Fit, and it's premiering at The Strand (through June 29) with the SF Playhouse's artistic director, Bill English, directing. 
Perloff says she's spent her whole life wrestling with gender politics and how women are seen in leadership roles. So when she heard the story of Ellen Pao, whose gender discrimination suit against Kleiner Perkins Caufield & Byers went to trial in 2015, it hit her hard. Pao was chief of staff to a partner at the firm, became a junior investing partner, wasn't promoted to senior partner, and was fired in 2012.
Some friends of hers attended the trial, Perloff says, and they told her how Pao's lawyer laid out how Pao, who had both a law degree and an MBA from Harvard and is fluent in Mandarin, was treated. For example on a trip to Shanghai, asked to sit in the back of the plane and babysit the CEO's children. 
The CEO's response at the trial was that it wasn't about gender—it was just that Pao wasn't a good fit. 
"I went home and wrote the first three scenes," Perloff said. "That's such incredible code that language. It's such an amazing excuse to get rid of people, and we know for women, not a fit often means they didn't laugh at the right jokes or didn't drink enough."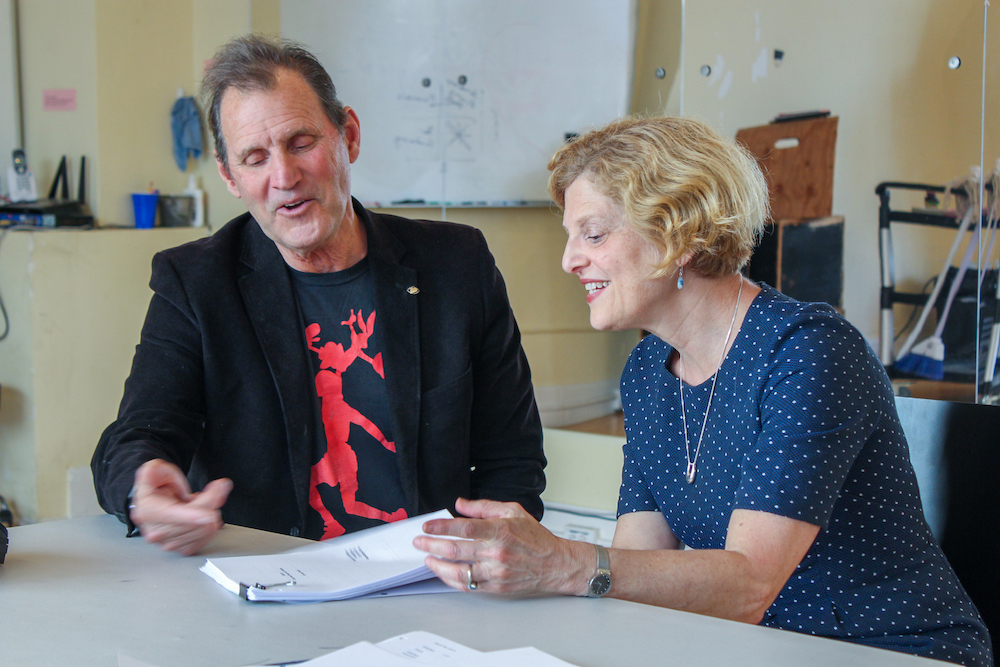 The Fit tells the story of Sakina, a venture capital associate, who is trying to finance her idea for a fabric that is bio-receptive. Writing about Silicon Valley and finance wasn't a long-held dream of Perloff's, but the tech industry has become so huge and so much a part of how we live our lives that she wanted to ask questions.
"You start writing something because something niggles at you, not because you have the answers, but because you wonder 'What does that mean?'" she said. "With AI, for example, it's only as good as the people who input stuff, and there's a lot of racism in facial recognition. It matters who's making this stuff and how it gets used is a huge question in our culture today."
It wasn't just technology that interested her. Perloff says she and English were recently talking about the obsession in the culture with speed and winning. 
Perloff has been thinking a lot about Boeing 737 MAX, for example, the jets which crashed twice in the last several months killing hundreds of people and leading to the planes being grounded and an investigation into the regulatory process. 
"If Boeing hadn't been in such a hurry to beat Airbus to market, that wouldn't have happened," Perloff said, talking about Boeing's competitor. "Think of the number of people who died and what if that had been someone you loved. In politics too, there's no compromise and no nuance. It's all about winning."
The Fit premieres at the Strand, a theater that Perloff was instrumental in building. Having a smaller theater is necessary, she says. 
"The Geary Theater is truly the most beautiful playhouse in America, but it has 1,000 seats, so it's challenging to do new work there. It's critical to stage new work; it needs an incubator. Also we needed a home for the MFA program at ACT," Perloff said. "I'm so happy doing The Fit at the Strand with the SF Playhouse. That's why we built the Strand, so theaters could share it. I love working with Bill English there—he's a remarkable producer and director."
Perloff has one more thing to add about the play.

"I know some of this is so heavy," she said. "The play's also really funny. It's a comedy."
THE FIT
Through June 29
ACT Strand Theater, SF
Tickets and more information here.