San Francisco District Attorney candidate and Deputy Public Defender Chesa Boudin stood alongside criminal justice reform advocates today to announce a racial bias policy that he said would fundamentally reshape San Francisco's criminal justice system as we know it.
"In every facet of American life, we have racial prejudice and racial bias. It is infecting our country. And the place where it's the most tragic, damaging, and obvious is the criminal justice system," Boudin declared.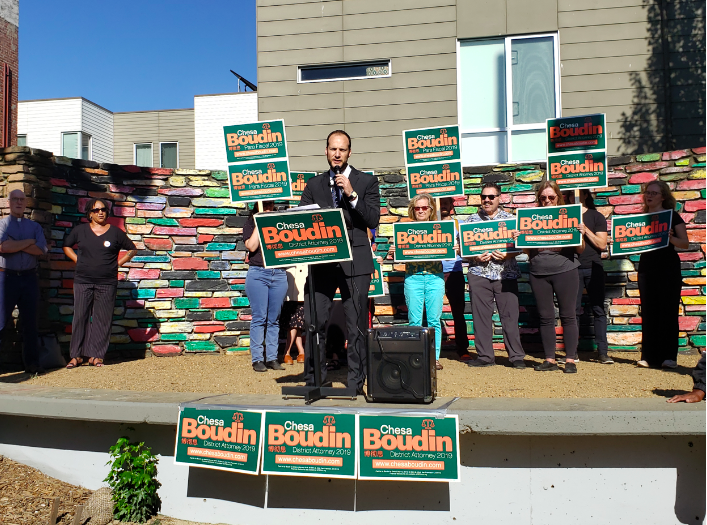 Activist and former Oakland mayoral candidate Cat Brooks spoke shortly before Boudin announced his plan to emphasize the importance of pushing for radical and systemic reform as well as looking at people's track records to see if they have lived up to progressive values.
"As California goes, so the country goes… We've got to get it right," Brooks said.
Boudin was also joined by Phelicia Jones (Justice for Mario Woods Coalition), Kevin Ortiz (Vice President of SF Latino Dems), Maria Cristina Gutierrez (Mothers on the March), and John Crew (former director of the Police Practices Project for ACLU NorCal). All the featured speakers highlighted the urgent need to create more accountability as well as reform our broken, punitive, and racist criminal justice system, as it disproportionately harms Black, Brown, LGBTQ+ and other vulnerable communities.
According to Jones, African American residents make up about 3 percent of the total population of San Francisco, yet make up 50 percent of the population in San Francisco's jails.
Boudin's campaign also highlighted some striking points to show how racial bias is deeply entrenched in our criminal justice system. According to the campaign, Black San Franciscans are more than seven times more likely to be arrested than their white counterparts and are 11 times more likely to be booked into county jail. Additionally, Black and Brown people are more likely to be stopped by the police and searched without their consent, and are more likely to be harmed at every stage of the criminal justice system process.
Ortiz has firsthand experience with the traumatic, costly, and drawn-out criminal justice process that impacts so many Black and Brown communities not only in San Francisco but across the country. He disclosed that he is a survivor of police brutality at the hands of the SFPD, but has used his experience with the system to become active in his community and fight for more transparency and equity for communities that are overpoliced and over-incarcerated.
"No one talks about the trauma of having to deal with these cases. For me, it took three years. In order to make the system more fair, it has to be transparent," Ortiz told us.
Though Boudin's plan is more elaborate and extensive, he emphasized the following steps to eradicate racial bias from the criminal justice system:
Transparency: Boudin promised to publish every data point in the possession of the DA's Office, which may include the demographics of people stopped, arrested, jailed, convicted, and sentenced to increase the transparency and accountability of every agency involved in the system in order to reduce racial disparities.
Require a racial impact statement:In open court and before the judge, Boudin said, prosecutors should be required to state on the record the racial bias statistics relevant and appropriate to the stage of the case being addressed.
Implement race-blind charging and plea bargaining:Building off of Gascón's recently introduced policy, prosecutors should not know the demographic information of people before filing charges. Boudin wants to take this policy further and extend this same process to plea bargaining.
Stop prosecuting racist gang enhancements:When a person is convicted of a felony, they may be sentenced to prison time. However, according to Boudin's campaign, California law (Penal Code 186.22, as part of the STEP Act), allows prosecutors to seek additional prison time beyond the felony when the person accused of the crime is found to be gang-involved. Boudin said wants this mechanism stopped, as he believes it is racist and overly punitive.
Building the most diverse DA's office in the country: The DA's Office, Boudin said, should reflect the diversity of San Francisco and the people served by the Hall of Justice, which includes people personally impacted by the criminal justice system.
Boudin said he hopes that this plan will achieve two broad goals. "The first goal is to significantly and measurably decrease racial disparities at every step of the system. The second, which is critical and related to the first, is to rebuild and restore the trust between over-policed communities and those who are supposed to be serving them," he told us.
With a little less than two months left until November 5th, the race for District Attorney is shaping up to be one of the most pivotal races in San Francisco's election.
Boudin is running against former Police Commission President and prosecutor Suzy Loftus, as well as the other two contenders, Leif Dautch, a deputy state attorney general, and Nancy Tung, an Alameda County prosecutor.