For decades now, legendary house DJ, remix master, and Sublevel label head Doc Martin (spinning Fri/11 at 1015 Folsom) has wielded his unique mix of deep house, funky tribal bass, and acid house at major clubs and festivals around the world.
But there's no place like home for the San Francisco native, who first built a following at SoMa nightspot 1015 Folsom's earliest dance nights like Martini, Colossus, and Boogie Buffet, in addition to residencies at DNA Lounge and the long-extinct Club Townsend.
"Doc is a local hero and he helped build the whole sound in San Francisco," Ira Sandler, 1015 Folsom's longtime owner, told 48 Hills. "He had success at 1015 Folsom [among other clubs] and he really pushed hard to develop a serious House music crowd in San Francisco. He was a leader of that sound here."
Martin continued to DJ at 1015 Folsom sporadically, even after moving to LA in the early '90s. He most recently appeared at the warehouse-style venue with Berlin-based DJ-producers Tale of Us this past April.
Now he returns for a deep house and techno mega-party headlined by international stars Dixon, Magdalena, and Eagles & Butterflies and featuring local notables like Vin Sol, Honey Soundsystem's Jackie House, and "Release" veterans M3, Julius Papp, & Mauricio Aviles.
This is just one of a dozen DJ nights marking 1015 Folsom's 30-year anniversary. Electronic artists including Justice, Bicep, Black Coffee, and Honey Dijon are expected to appear there later this month.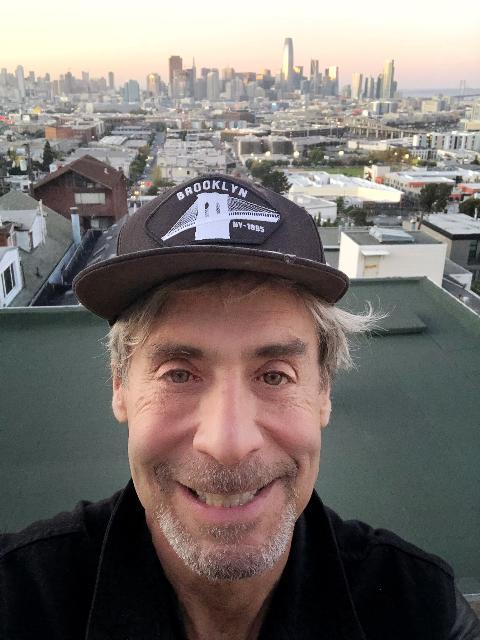 I spoke to Doc Martin about 1015's amazing longevity, the DJ-producer's fondest memories of the landmark club, and what makes San Francisco's dance music scene so unique.
48 HILLS Why are you excited to be a part of 1015's 30-year anniversary month? Who, of the other artists you're playing with, are you most excited to see and hear?
DOC MARTIN 1015 has been a part of my life since the '80s when it was called Das Klub. We used to come on Sundays for the Hip Hop nights and to see Stuart Levy and Eric Lacey on Saturdays. It made sense to do the 30-year anniversary as I'm one of the only DJs from the original school who is still active on the scene.
It will be good to be on the bill with Dixon there, as we've been on the same bills all over Europe, but not in the US. It's always great to play with Eagles & Butterflies, M3, and Julius Papp. So when [1015 promoter] Noah Bennet asked, it was a no-brainer.
48 HILLS How would you describe your style of DJing? How have the styles or genres you play changed over the years? Can you tell us anything about your upcoming set at 1015?
DOC MARTIN Being born and raised in San Francisco was great, because I was always exposed to all kinds of cool and different music — everything from reggae, rock, soul, funk, and everything in between. My family was involved in music, theatre, and the arts. I think that rubbed off on me. I would say, for me, it's more of a vibe than one particular style of music. I will be putting together a special collage of sounds for this night.
48 HILLS You've played all over the world. What's it like coming back to San Francisco?
DOC MARTIN It's always great to come back home to San Francisco. It's got its own unique energy and vibe. I get to see the people I grew up with and the people who are hearing me for the first time. The thing that makes it so special to me is the melting pot factor there.
48 HILLS Could you take me through your history with 1015 Folsom? What made it stand out in comparison to the other clubs of the time?
DOC MARTIN I think the first time I played there was in late '86 or '87. I used to go to Ira's Noh Club parties at the Kabuki Theater, which were always good. 1015 became a regular for me on Friday and even Colossus on some Saturdays for Gus Bean's boys' nights. I did play there over the years. I came back to play with Tale of Us this year and it reminded me of how much I liked playing this room.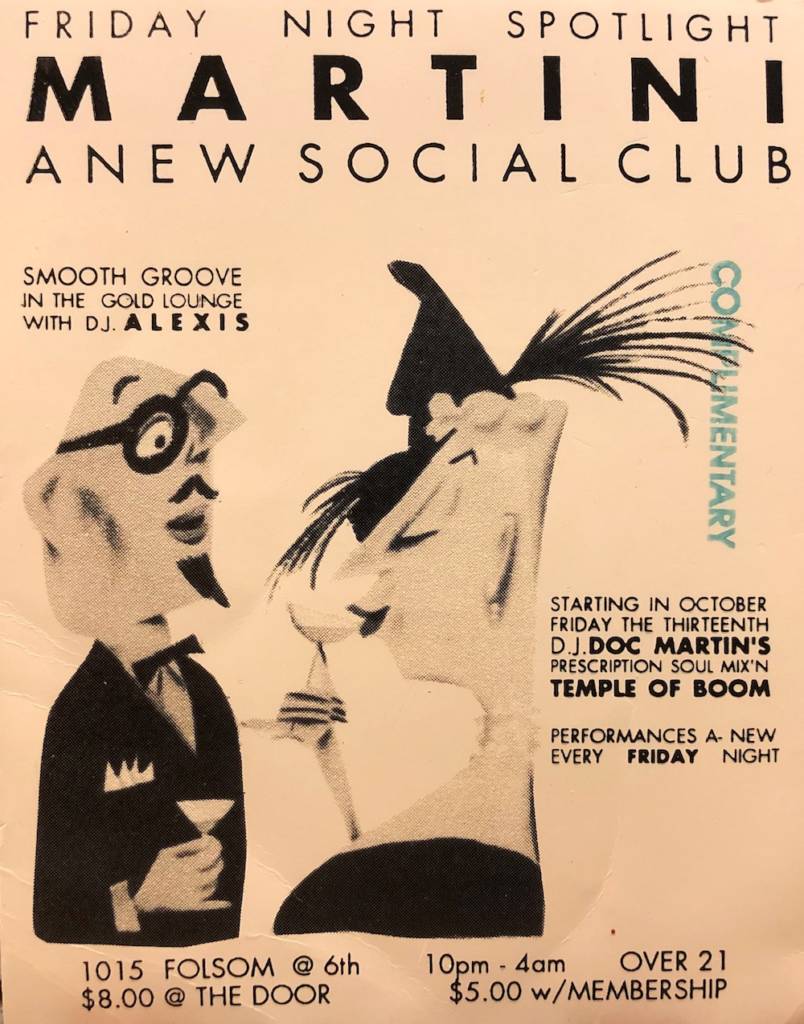 48 HILLS How is 1015 Folsom different today than it was back in the day?
DOC MARTIN Of course things are different because everything progresses in its own way. Even though there's been a big gap for me with the club, it seems to have survived the ups and downs. It also seems to be having a renaissance. Being there for 30 years is no small feat in itself. I've watched it go from a cool New Wave club with [singer] Sunshine Jones as the doorman to a club bringing in world talent.
48 HILLS What encouraged you to move from San Francisco to Los Angeles? How often do you return?
DOC MARTIN I left San Francisco in 1990 to go to LA. I had been in SF my whole life and had done pretty much all that I could have at that time. I moved to LA and then the rave hit, but that's a whole other novel for another time.
I started playing in New York City on the regular in '91, then in England in '92, Ibiza in '94, and so on. I still play San Francisco often and it never gets stale for me.
48 HILLS To what do you attribute the longevity of 1015 Folsom?
DOC MARTIN I think even through the ups and downs, you just have to push through. I've been there for Hip hop, New Wave, House, Techno, Acid Jazz, and gay nights. At the end of the day, it's just a good room to dance in. Even through all the changes, that will always stay the same.
1015 30-YEAR ANNIVERSARY: DIXON
WITH MAGDALENA, EAGLES & BUTTERFLIES, DOC MARTIN, JACKIE HOUSE, VIN SOL, AND MORE SPECIAL GUESTS
Fri/11, 10pm, $20-$85
1015 Folsom.
More info here.