With its 40th birthday fast approaching in 2020, the MOMIX dance company is excited to bring a vibrant "compilation album" of its "greatest hits" to San Jose (Sun/20-Mon/21 at Hammer Theatre Center) and Berkeley (Sat/26-Sun/27 at Zellerbach Hall) this month.
Entitled Viva MOMIX!, the two-act performance includes highlights and segments from eight full-evening works from the prop/mixed-media-oriented modern dance group, including Botanica (about the seasons), Lunar Sea (the moon), and Opus Cactus (the landscape of the American Southwest), set to rock and classical music.
Nature, which permeates many of these works, has been a major interest of MOMIX Founder & Artistic Director Moses Pendleton, since growing up on a Northern Vermont dairy farm in the 1950s. His curiosity about the natural world peaked in the summer of '69 after the then Dartmouth college student spent the season in San Francisco putting flowers in his hair, dancing naked for local psych band Quicksilver Messenger Service in Golden Gate Park, and taking part in marathon encounter groups in Big Sur.
Since the multiple award-winning choreographer for ballet companies and special events (most recently, the Opening Ceremony of the 2014 Sochi Winter Olympics) looks back on his years of shoveling manure and exhibiting his family's dairy cows at the Caledonian County Fair with great fondness, it made sense to him to name his widely acclaimed Pilobolus Dance Theater, which he co-founded in 1971, after a barnyard fungus and his current dance company, MOMIX, after a milk supplement fed to veal calves.
I spoke to Pendleton—who creates his shows with his wife and MOMIX's Associate Director Cynthia Quinn at their 22-room Victorian house and converted horse barn studio in rural Washington, Connecticut — about Viva MOMIX!, drawing inspiration from Mother Nature, and how his shows take on an added importance as the debate over global warming continues to heat up.
48 HILLS How would you describe your current show?
MOSES PENDLETON It is a nice cross-section of the aesthetic of MOMIX over almost 40 years, so there are three to four fairly new pieces from the last couple years and some that go back before you were born. So it's a fast-moving surreal vaudeville attack showing off MOMIX, which is very funny and visual and tells stories.
But each piece is a haiku or a little single on an album, if you think of it as a musical evening. There's a side A and side B of these relatively short but intense pieces that have an overall musical curve to the evening without really telling a story. It's not a full-evening work, but it is a full-evening experience of MOMIX.
48 HILLS You've described each production as concentrating not only on "the beauty of the human form, but also the beauty of nature…"  Where does your interest in nature come from?
MOSES PENDLETON I'm very influenced by nature. The plant, animal, and mineral and how the human relates to it all has always been an interest of mine. I find a lot of inspiration in growing tens of thousands of marigolds and sunflowers, and the company is based out in the country where we have access to that kind of energy, so the illusion, magic, mystery, and energy of nature from making those contacts will reflect itself in the show.
I'm a Naturmensch, or someone who found my soul in the soil, so I do a lot of exploring with photography and paying attention to very close workings of nature and that's kind of what the essence of the show is.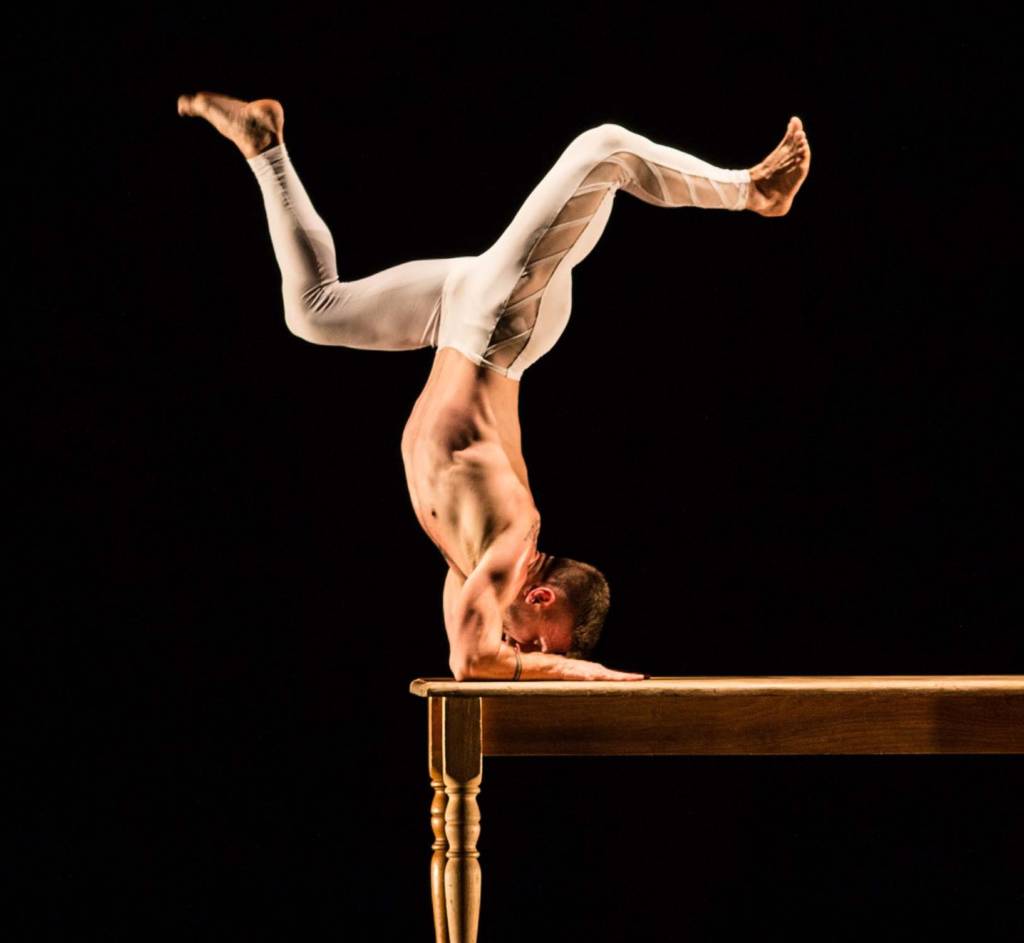 48 HILLS You also grew up on a Vermont farm and named your first dance company, Pilobolus, after an active fungus known for its ability to grow very rapidly.
MOSES PENDLETON Yes, I spent most of my time as a young boy shoveling manure, so I'm very familiar with the pilobolus, and I used to sprinkle MOMIX on it to grow even more energetically, so there's an agra-organic theme to everything, even back into the Pilobolus days. MOMIX was something you also gave to veal calves as a milk supplement.
Being out and playing in the great outdoors is also how we entertained ourselves. But it's something that's always been very important to my well-being, so I've been fortunate enough to have a dance company and create where I live and make a living in urban environments.  But we have a studio here that we call "The Barn" for obvious reasons, and we make and work out in the country, so I haven't changed that much.
48 HILLS How do your natural surroundings influence your productions?
MOSES PENDLETON I grow like Monet, who said that it gave him more inspiration to actually grow the flowers before he painted them. First you grow them and then you show them. We have one example in the show, which is an excerpt on our full-evening work on plants called Botanica. It's a wonderful quintet with the MOMIX girls, packed in orange tutus made to look like marigolds, dancing. That was totally inspired by the garden that I'm looking at right now, which is 30 thousand bright orange puffball marigolds in 16 rays to shape a giant sun, if you can picture that.
So some of the ideas and visions come from outside of the dance studio. They might come from the marigold garden with its magnificent bioluminescent orange or the back oakwood or an ice storm or a morning sunrise — lots of things that stimulate the eye and the brain. So there's plenty of information out here for me to stay creative and enthusiastic. I can't really say why that excites me, but that's what turns me on.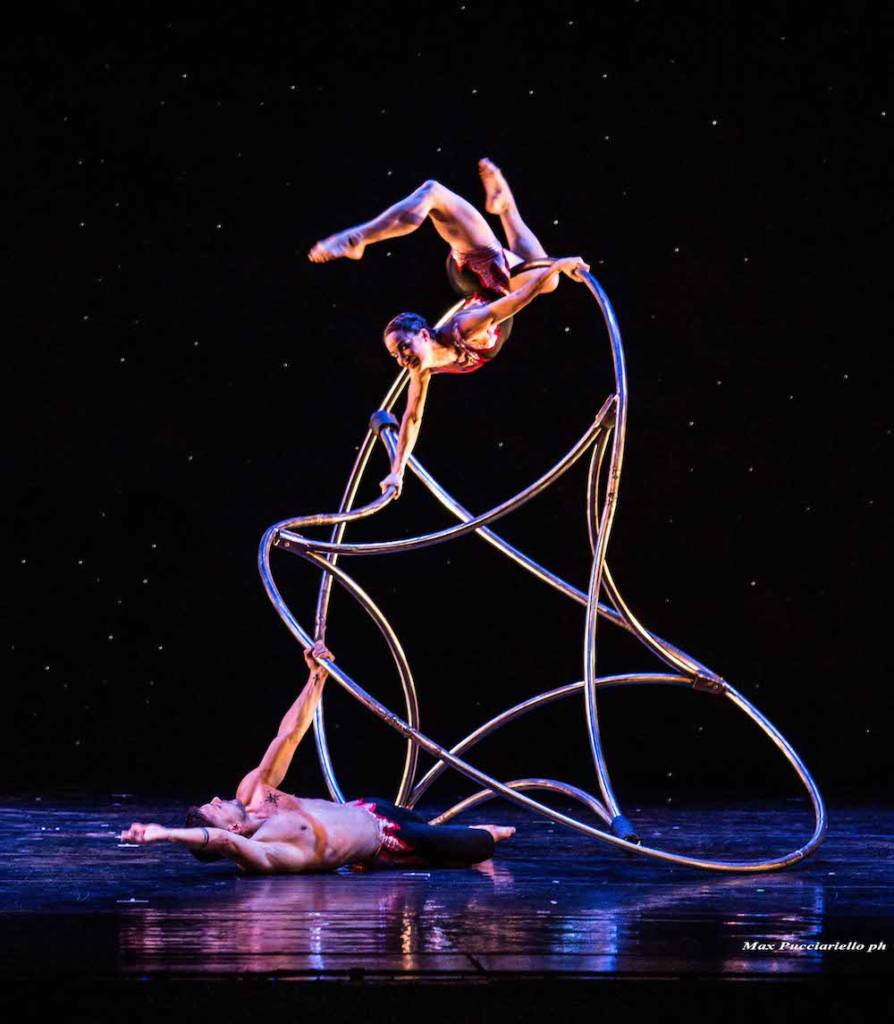 48 HILLS Does the emphasis on the wonderment of nature in your shows take on an added importance as the world begins to wake up to the perils of climate change?
MOSES PENDLETON Yes, it's kind of like a Native American principle where you make dances about the things that you venerate and celebrate—flowers, rock formations, and tree forms, for example.
Not that we literally go out and try to tell people about global warming, but I think in the material, itself, there's a sense of the awareness of something beyond us that is important in any ecological idea — that if you don't see the connection, then how are you going to maintain that connection and how are you going to even help global warming?
At Dartmouth, when I was getting my BA in English Literature, I brought my professor out into this sacred glade in Hanover, New Hampshire at six in the morning and did this little piece about bodies moving in and out of trees creating optical illusions. My thesis was an environmental idea that if people could come out and sense the contact with the natural world, then there might be some hope in protecting it. This was my thesis 50 years ago.
VIVA MOMIX!
Sun/20, Mon/21 7:30 pm, $45-$60
Hammer Theatre Center, San Jose.
More info here.
VIVA MOMIX!
Sat/26 8pm, Sun/27 3 pm, $30-$76
Zellerbach Hall, Berkeley.
More info here.