In its ongoing quest to bring virtually all immigration to a halt (and monetize global strife), the Trump administration proposed last week raising the citizenship application fee by 60 percent, from $725 to $1,170, while jacking up the fee for Dreamers from $495 to $765. People requesting asylum will have to produce $50 for their application to be considered, effectively turning desperation into a revenue stream.
It is obviously the xenophobic government's desire to see fewer asylum claims. The sprawling nature of Immigration and Customs and Enforcement (ICE) goes far beyond the humanitarian crisis people are experiencing at the Southern border, of course. Individuals with legitimate asylum cases who have lived and worked in the country for years have been swept up, too.
Restaurant worker Oumar Yaide, who arrived in the United States with his cousin in 2009 after fleeing persecution in the central African nation of Chad, has been in ICE custody since late August. Having worked at places like Mission Bowling Club, Gott's Roadside, Hog Island Oyster Co., Belcampo Meat Co., and PizzaHacker, Yaide was arrested at his home by agents claiming to be looking for someone who no longer lived at the address. (This is a well-documented ruse, and there were no collateral arrests in this instance.) Since Aug. 30, Yaide has been 125 miles away in Yuba County Jail, a facility with which ICE's San Francisco office has a contract.
Edwin Carmona-Cruz, a paralegal and the Director of Public Engagement at SF's Pangea Legal Services, offered a little background on Yaide's case.
A Muslim, Yaide "is a member of the Gorane ethnic group [also known as the Toubou or Dazaga] and his family are political dissidents," Carmona-Cruz said. "They suffer persecution on this basis, so that's why he left to seek asylum in the U.S. and has been fighting his case since then. He and his cousin both came to Dulles at the same time. His cousin basically applied for asylum on the same grounds, and was granted asylum—versus Oumar, who was denied. He's been appealing since."
The capricious nature of the immigration-court system is no secret, and one former judge has said that immigration is like a traffic court that can send people to their death sentence. Yaide's case wound through the system until coming before the Ninth Circuit Court of Appeals, which handed him his final defeat in 2018.
That might have been the end of it, except that Yaide identifies as a gay man, and Chad became the 77th country to criminalize homosexualty in late 2016. Returning to the country he fled would be very dangerous. Yaide is out in San Francisco, where he's lived for more than seven years and has strong ties—including volunteer work with the African Advocacy Network to help fellow migrants get settled and find housing and employment.
"I got a lot of support in the community," Yaide said by phone from Yuba County Jail. "I have visitors every Saturday, even though it takes six hours of their life: four to drive, an hour to visit, and an hour to process."
While his biological family is far away, Yaide has plenty of chosen family. He boyfriend, though, has DACA complications of his own, making visits to the jail prohibitive. And making his sexuality public also compounded the loneliness of lock-up.
"I came from a very religious family and society, and it's really hard," Yaide says. "I came out, and it has not been easy. When I was telling all my closest friends, I can see their facial expressions. Sometimes, when I call them and they don't pick up, I have all this stuff going on in my head: 'Is that why they're not picking up?' "
ICE has total discretion over who to detain and who to let go pending the resolution of their case, Carmona-Cruz says. So there is tentative hope for Yaide's release.
"The change in Chad it gives us an opportunity to reopen his case," he said, "but there's absolutely no reason why someone like Oumar should be detained while they fight their case out in the community. The motion to reopen was sent to the Board of Immigration Appeals, but it could take six to 12 months."
In addition to a crowdfunding campaign, Carmona-Cruz and Yaide's lawyer, Sean Lai McMahon, have worked to build support for Yaide's release by reaching out to Sen. Kamala Haris and organizing a call-in campaign. That last tactic may have been almost too successful, as Carmona-Cruz says ICE blocked the campaign's number after receiving so many supportive calls.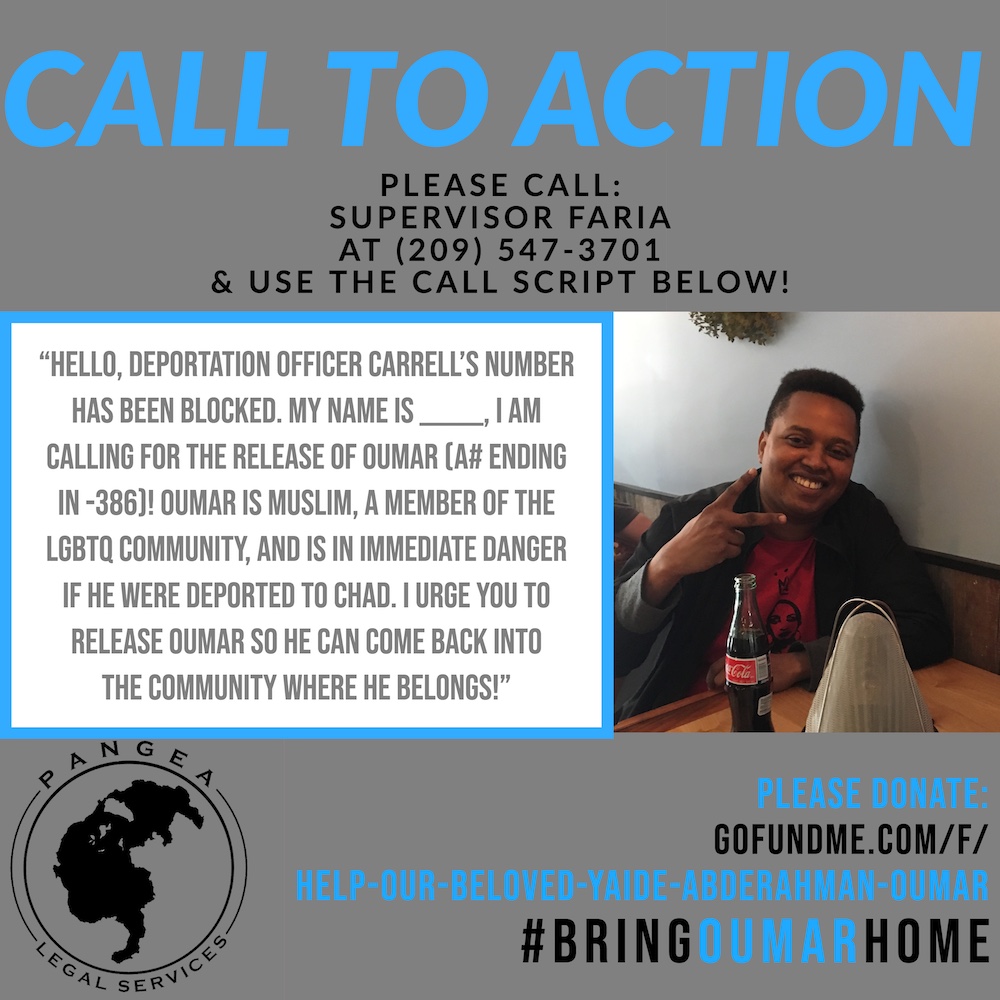 Support from Yaide's former employers is equally fervent.
Jeff Krupman of PizzaHacker said that although Oumar worked there for only a few weeks, "everyone was an immediate fan.
"He has a super positive attitude, is a hard worker, and is obviously a genuinely wonderful person. Oumar being detained is just a little more evidence—as if we need it—that Trump is an 'Insane Clown President.'"
Molly Bradshaw, the owner of Mission Bowling Club, offered 48 Hills a statement she co-wrote with several of her employees:
He was great to work with and we all got to experience Oumar in different ways, but we all saw how kind he was. He is hard-working and dedicated to his friends and family. Right off the bat, you can tell he is an authentic person. His ability to create a positive work environment and connect with his coworkers was a lasting impression. To see the level of support that he has from friends and the community that he was able to build is inspiring. (We wish everyone in his situation had support, because no one deserves this). He is an asset to this community. We here at Mission Bowling Club are all lucky to have crossed paths with such a good person."
The venue will host a fundraiser for Yaide on Sunday, Nov. 24 from 7-10 pm.
While there's a chance that a judge may look askance at Yaide's recent disclosure of his sexual orientation, McMahon firmly believes the case is solid.
"This is an independent basis for seeking asylum, and he never had the opportunity to present it before an immigration judge. It's a way of saying, 'You haven't seen all the claims this person has.' "
It is also possible that, as a gay Muslim, Yaide is an opportunity for the federal government to brandish its bigoted tendencies before its more rabid supporters. As Carmona-Cruz notes, between the executive order banning travel from several Muslim-majoirity countries and the rollbacks in anti-descrimination protections for LGBTQ people, ICE may want to make an example out of Yaide's case. McMahon strikes an optimistic tone, however.
"He is just a person who there's no reason to hold," he says. "I've been doing this for a while, and what is unfortunate and surprising to me is that in addition to having a significant human toll on Oumar, it doesn't make sense for the immigration system, either. Nobody needs to be detained by ICE, but particularly for Oumar it's especially out of bounds."
More than 100 miles away, Yaide sounds worn but determined.
"I don't know where I would be without their help," he says. "It's really hard to keep going without having negative thinking. I don't have family here, but all my friends are family."