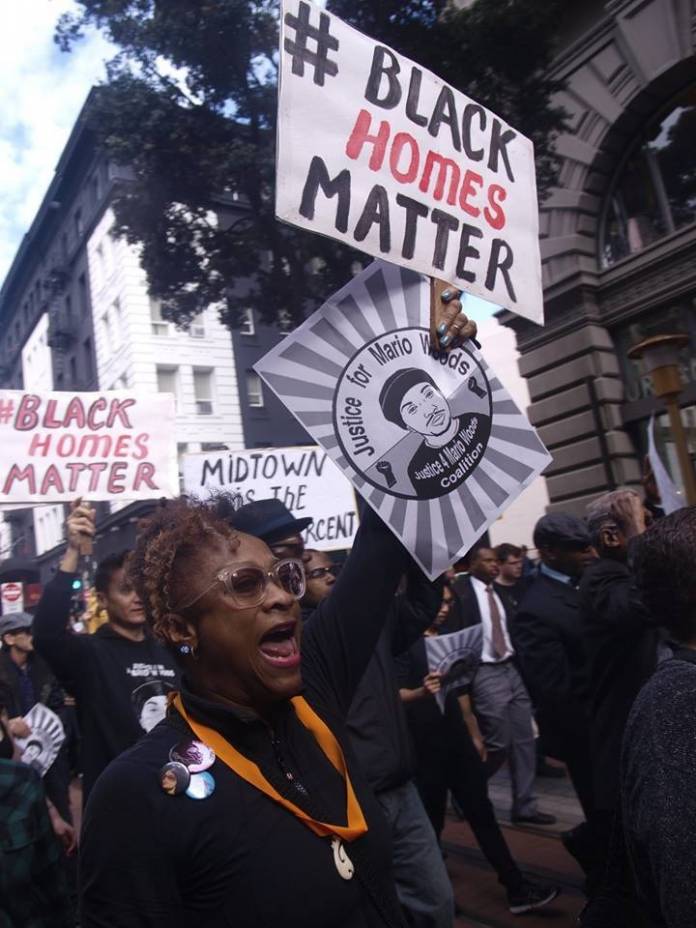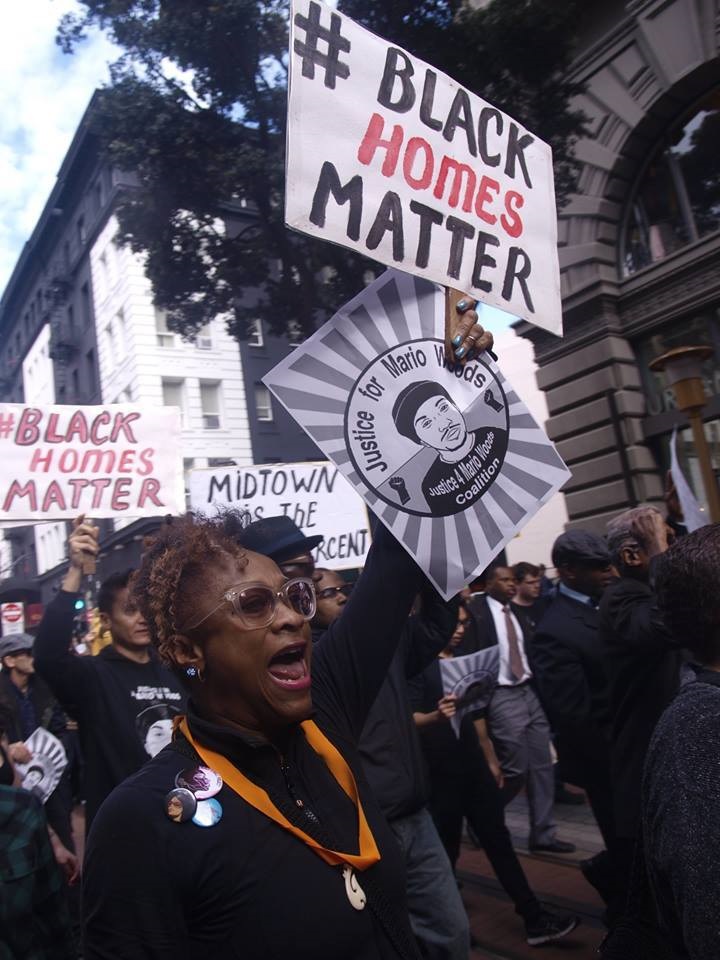 Five years into the ongoing campaign for tenant ownership and self-management at the Midtown Park Apartments, residents have won two major victories.
Earlier this year, the Mayor's Office of Housing and Mercy Housing informed tenants that their joint plans for demolition at Midtown were being taken off the table permanently.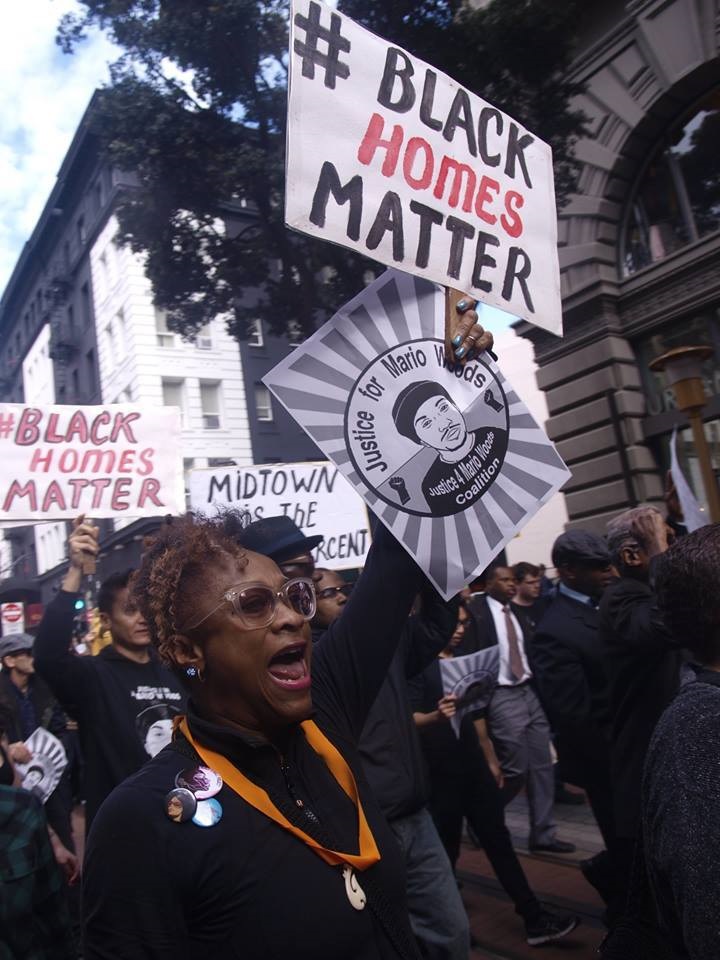 And outgoing District 5 Supervisor Vallie Brown has now announced that Mercy Housing, the property manager and project developer at Midtown since 2013, will be stepping down from its role at Midtown by the end of this year.
With tenant lawyer (and Midtown advocate) Dean Preston taking over Brown's seat, it's also possible that the housing complex could see a return to rent control.
Last year, Midtown tenants presented Mayor London Breed with petitions indicating that a majority of residents stood in opposition to any demolition at Midtown. Although the city says demolished buildings would be replaced, residents have consistently opposed plans for demolition at Midtown, citing the city's legacy of demolition resulting in mass Black displacement from the Fillmore Western-Addition that led to the creation of Midtown in the first place.
Many tenants are long-term African American residents of the neighborhood who experienced the era first-hand. "We've been through that before, and we know there is no precedent for demolition without displacement in this neighborhood," said Donald Griggs, retired postal worker and Midtown resident.
The tenants have also been pushing to get rid of Mercy Housing. Mercy is the city's largest affordable housing developer and in recent years was granted contracts to redevelop and manage numerous public housing sites formerly operated by HUD. Midtown tenants have lodged frequent complaints over Mercy Housing's role and management style at Midtown, from restrictive "house rules" and a failure to address basic ADA-accessibility, to a fundamental conflict of interest arising from Mercy's potential long-term interest in owning the square-block property that Midtown occupies.
Midtown is an apartment complex built in 1967 to provide relocation housing for victims of the city's Redevelopment-era policies that bulldozed of much of the Fillmore-Western Addition. Midtown was founded with the intention of returning the property to the tenants under a cooperative ownership model once the tenants paid off the HUD mortgage.
In 2007, Midtown tenants completed the final payments of the property's 40-year mortgage and awaited the city's participation in a transition to tenant ownership. Instead, the city gave Midtown to Mercy Housing to manage and develop.
Now with Mercy and its development plans out of the way, Midtown tenants see the opportunity to finally fulfill the promise of transforming Midtown into a tenant-owned and managed property.
"The last six years of Midtown under Mercy have not only been a traumatic experience for residents, but just a huge waste of our time. We could have been in this position so much sooner," said tenant Phyllis Bowie at a recent meeting.  "But we're glad to be here, and we're ready to put in the work to transition Midtown into the tenant-owned housing it was always intended to be."
While the Mayor's Office of Housing is making its own recommendations for replacements for Mercy Housing, Midtown tenants have expressed that they expect an open and thorough RFP (Request for Proposals) process that will allow tenants to select a management and development organization that is committed to supporting the goals of the Midtown Tenants Association.
"What happened with the city giving our homes away to Mercy—that is not going to happen again. There will be no sweetheart deals this time," says Midtown resident Donald Griggs.
And while the city says that the replacement developer and manager must be able to come up with the funds necessary for rehabilitation, tenants are adamant that those funds most come from the city itself. The extent of the rehabilitation work required is in large part due to the city's years of deferred maintenance as Midtown's absentee landlord.
"We paid off the mortgage for this property ourselves. We are owed equity,"says Midtown resident Pat Smith. "Whatever the city believes needs to be done in terms of rehab… the city needs to pay for."
Significantly, there is now also a historic opportunity for tenants to return to the rent control that the property lost when Mercy took over management of Midtown and imposed a "rent modification program" (through which a majority of tenants have experienced rent increases as substantial as 400 percent).
Midtown could petition the City through the Board of Supervisors to reinstate rent control. Dean Preston, a tenant's rights lawyer who has consistently supported the tenant struggle at Midtown and has recently won the District 5 supervisors seat, has indicated that such a return to rent control would be legally possible, and that he would champion it himself. A successful effort to reinstate rent control at Midtown could set a historic precedent in San Francisco for reversing the recent erosion of rent controlled housing.
Many Midtown tenants see this as a chance for the achievement of Midtown's longest-held vision: for tenants to own and manage their homes and continue their vital role in the Fillmore Western-Addition's historic community.
The Midtown Tenant's Association has recently begun meeting back at their on-site Community Room, where they had historically met since the inception of the tenants' association in the early 1970s—Mercy Housing changed the locks on the room when they took over, and has denied tenants access to the room for the past five years.
And that in itself feels like a victory.
"Midtown is one of the remaining holdouts of the Fillmore-Western Addition," says Pat Smith, who has lived at Midtown since 1970 and has raised eight foster children here. "We arethe Western Addition. We can't allow city government make us disappear and become ghosts of the past, so we continue to take a stand. We are here!"