Harmony Becker, the creator of the comics Himawari Share, Love Potion, and Anemone and Catharus, was at her booth at an indie comic arts show in Brooklyn when Leigh Walton, with Top Shelf Productions, approached her and asked if she was interested in illustrating a book on the Japanese American experience. 
Becker didn't know at the time the book was going to be about the Japanese internment—when 120,0000 Japanese Americans were incarcerated without due process during World War II. Specifically, the graphic memoir, They Called Us Enemy, was actor and activist George Takei's story. 
"I think it was partially because of my style," Becker said about why she was asked to do art for the graphic memoir. "One of the writers called it kind of Peanuts manga."
San Francisco's Cartoon Art Museum will have a show of Becker's work from the book, along with some of her research and preliminary drawings. The show, They Called Us Enemy: A Graphic Memoir, which opens January 18 and runs through May 17, will also feature some original artwork from the Cartoon Art Museum's permanent collection, including comic strips and animation from the 1940s. 
In They Called Us Enemy, Takei (along with co-writers Justin Eisinger & Steven Scott) tells the story of Takei's family being ordered to go to a "relocation camp" when he was four years old. In February 1942, a couple of months after the bombing of Pearl Harbor, President Franklin Roosevelt signed Executive Order 9066, forcibly removing people of Japanese descent from their homes on the West Coast and putting them in hastily built camps where they were incarcerated for the remainder of the war.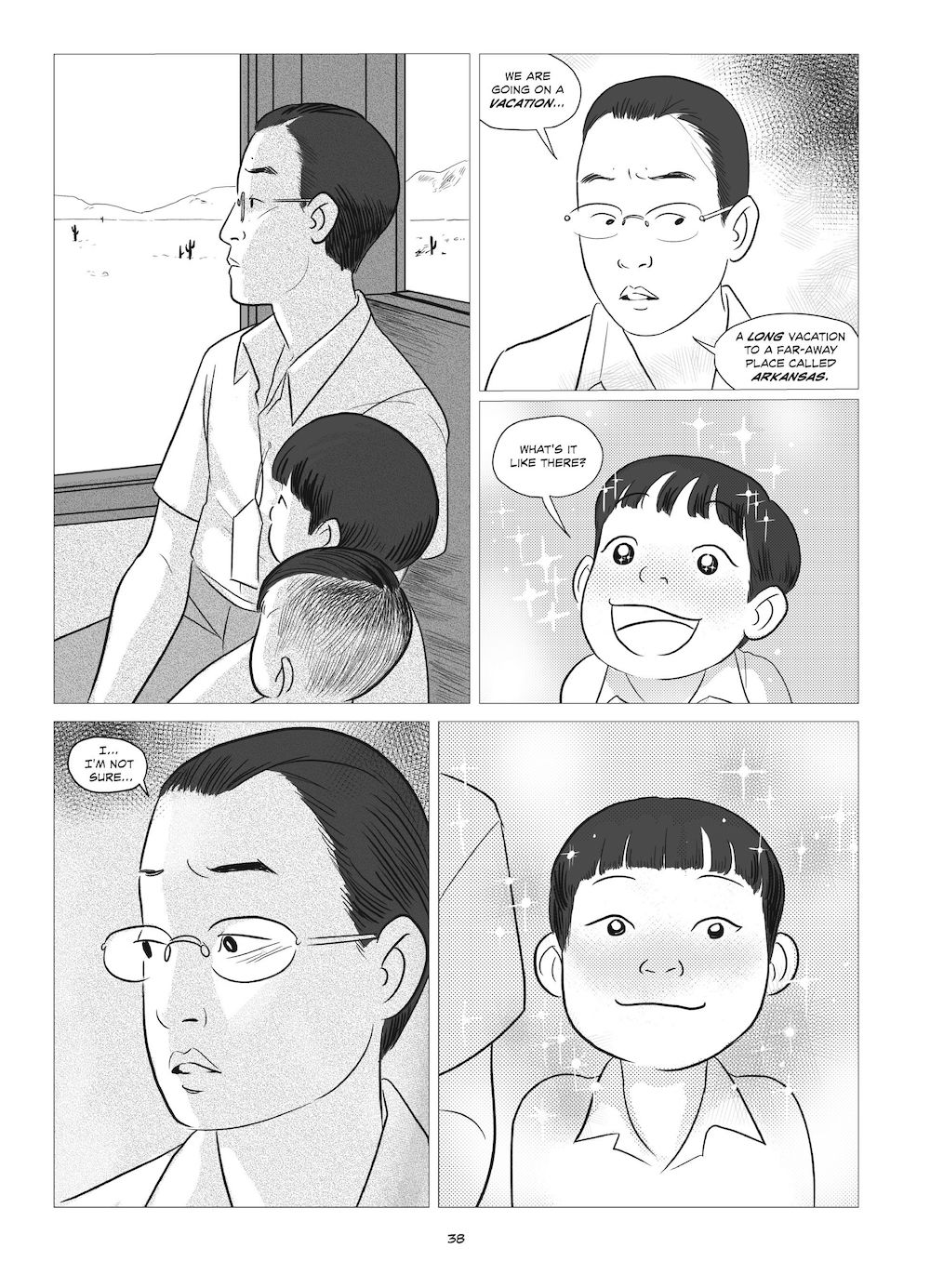 After a few months housed in horse stalls, the Takeis took a train to Rohwer in Arkansas, the most eastern of the 10 internment locations. Then when his parents answered no to two questions on the government's loyalty oath — about swearing allegiance to the United States and serving in the US military — they were sent to Tule Lake, a maximum security camp encircled by extra strands of barbed wire with 24 guard towers.
In his book, Takei also shares details about the politics of the time and in the camps with some people wanting to fight in the war on the US side, while others became more radicalized due to their horrible treatment by the US government. Takei takes pains to tell how his parents tried to shield him and his younger brother and sister, and how he and his father had many discussions about politics when he was a teenager. Takei takes the story all the way through to his studying acting at University of California, Los Angeles, and getting involved with Civil Rights to his getting the role he's best known for, of Hikaru Sulu on Star Trek.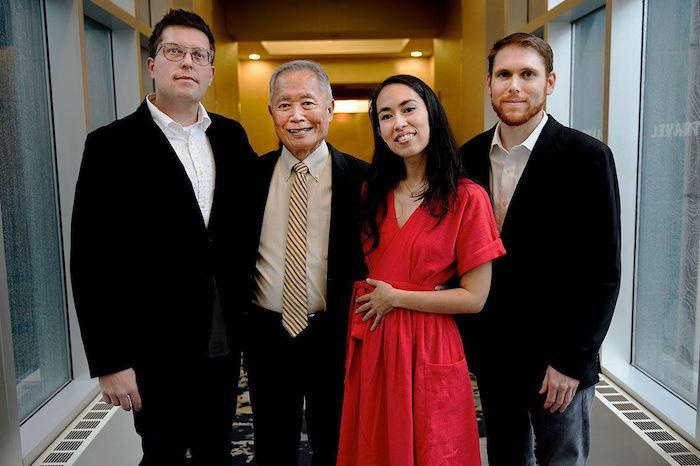 Becker only had a few photos of Takei's family to work from. Writing for comics it's very clear what you need to do, she says, with directions about who is in a panel, and where they are standing. She met with Takei three times, and she says he has an excellent memory about that time in his life, remembering, for example, the exact layout of the two rooms his family lived in at Tule Lake. 
Becker says she was surprised how much research she needed to do to find out things like what canteens and radio looked like in the '40s. She looked at Dorothea Lange photos of the internment, and did Google searches, creating a Pinterest board. She also got a documentary from the Japanese American National Museum in Los Angeles that she found helpful.  
The book got the top spot on Publisher's Weekly annual Graphic Novel Critic's Poll, and Becker's art was singled out for making it special and capturing the confusion of a child removed from his home. One reviewer wrote: "The art is simple, but very effective, capturing the struggles and bright small joys of a fragmented childhood."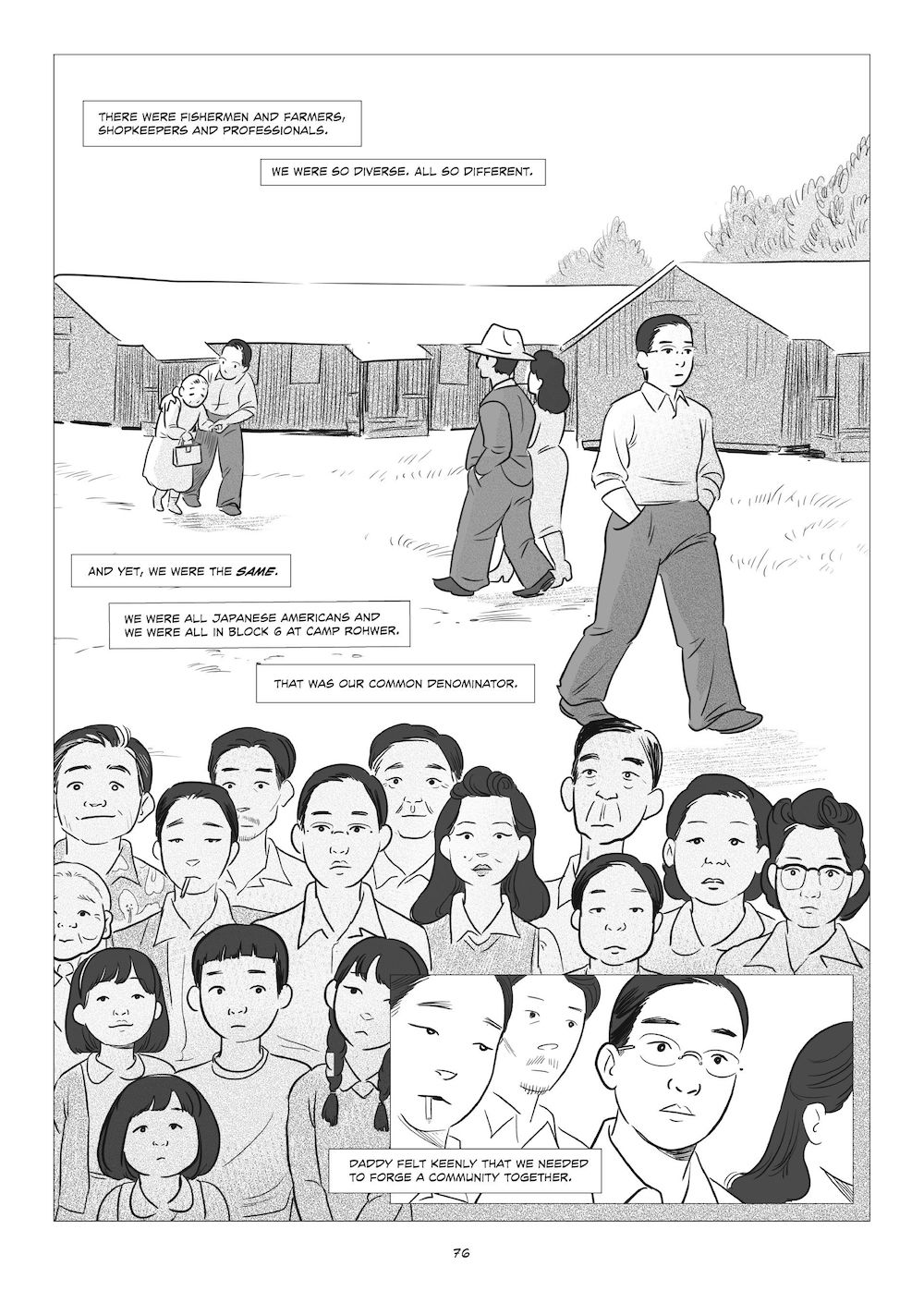 Becker says she's most pleased that Takei was satisfied with her drawings and that he told her she got his mother's expressions right. 
Becker is Japanese American, and she had read about the internment as a child. She says what struck her most about Takei experience is his belief in America- even after everything he and his family went through. In the book, Takei writes about Ronald Reagan apologizing for a grave mistake and signing an act to give internees a $20,000 redress. After dinner talks with his father informed his belief that even with constant outrages such as migrant camps at the border, the United States is a democracy of the people, and people can do great things. 
"When I first started, I was almost a little cynical," Becker said. "But George is so stubbornly patriotic that after spending time with him and hearing him speak multiple times, I was very inspired by his patriotism. He makes me feel proud to be American, which is not something I would usually say."
THEY CALLED US ENEMY: A GRAPHIC MEMOIR
January 18-May 17, 2020
Cartoon Art Museum, SF.
More info here.