When his theater company starts working on a show, says John Collins of Elevator Repair Service, members don't necessarily know–or want to know–where they're going to end up. Maybe, for example, while doing research into one project, they'll surprise themselves by coming up with something completely different than they originally intended.
When they started thinking about adapting The Great Gatsby back in 1999, they weren't planning on Gatz (February 13-March 1 at Berkeley Rep), a play that has every word of F. Scott Fitzgerald's novel.  
But talking about The Great Gatsby and the idea of staging it, the discussion quickly became about literature and how to adapt a play. The experimental theater company do not consider themselves text purists, Collins said, but The Great Gatsby presented an interesting problem to stage. 
"When we tried to figure out what to cut and what to keep, it seemed impossible," Connors said. "What's so great about the novel is it's very taut. His achievement was writing something so lyrical and beautiful and touching and tragic that every word feels necessary. It felt like doing violence to try and cut anything."
So the challenge became to just do the entire book. The result of that, Gatz, tallies up at a cool six hours, with intermissions and a dinner break.  
Since 2005, the play has been all over the world, including to New York, Lisbon, Los Angeles, and Abu Dhabi. Gatz has won multiple awards, including an Obie. Critics can barely come up with enough superlatives, with the New York Times calling it "one of the most exciting and improbable accomplishments in theater in recent years," and London's The Independent writing "every aspect of the production is so brilliantly conceived and executed that all doubts are overcome."
At the beginning of the play, a man comes into an office and begins to read the book, which he finds in his desk. At first, he is stumbling through it, then he starts picking up speed. Eventually, he and his co-workers become characters from the novel. 
Members of the Elevator Repair Service like to give themselves impossible tasks, Collins says, and since they felt like they couldn't take anything out of Fitzgerald's novel, the challenge became to just do the whole thing. One day Collins (now Gatz's director) and Scott Shepherd (Nick Carraway or the narrator) were meeting in the offices of the Wooster Group on a weekend and trying to figure out what to do.
Collins remembers thinking they needed a rationale for why he would be reading this book—especially the first few paragraphs, which are not narrative. So they thought maybe Shepherd could be in an office like the one they were in, waiting for his computer to get fixed. They played around with it, Collins says, until it became a half hour show, and eventually the very full-length play it is today. 
Collins gives a lot of credit for the success of the show to Fitzgerald's writing. Also he thinks there's a sort of contract with the audience—they know what they're in for. 
"We have good transparency that we're going to do every word of this book, and there's a general agreement that this is a good book. The play is long, but it's only as long as it needs to be," he said. "The other thing that works in our favor is sitting for an entire novel sounds crazy, and people are naturally skeptical, but by the end, they lose themselves watching the actors become the characters and there is a special resonance."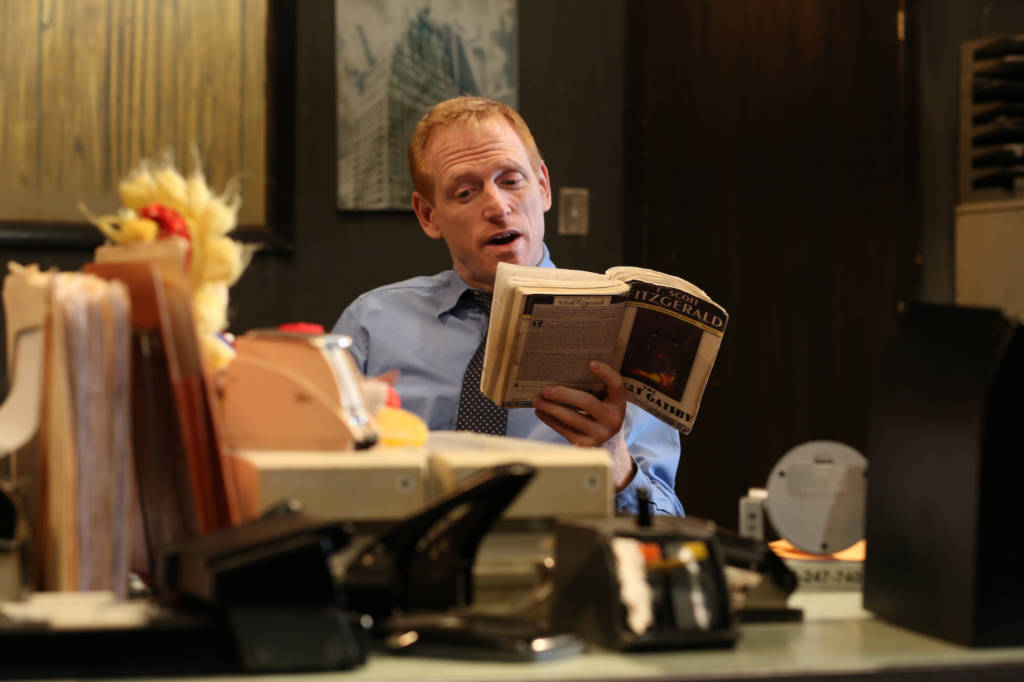 And company members are conscious of the length—Shepard has been in every performance except four in 15 years. Collins hasn't missed one yet. With breaks, the longest you're ever sitting is two hours, he says. 
Being at every show gives him an opportunity to see what can be changed and to start fresh every night, Collins says. He thinks they have learned to trust themselves and the work more and to not rush. Also, he's come up with ways of suggesting the world of the novel outside the stage- like a car tire rolling by when a car accident happens offstage. 
Collins says at first they tried doing it in episodes, with the long version on the weekends, but found people sitting through the whole thing had the best experience. 
"It's daunting, but it's also rewarding, and they felt transformed and blown away," he said. "There's such beautiful writing and people find it's not what they remember from high school. This is a story about Nick more than about Gatsby, and his getting to know himself.
"When you hear it out loud the humor comes out in a way that surprises people. In Chapter 5, when Gatsby and Daisy meet, it's almost slapstick, they're so awkward. In a way, we made it easy for ourselves by doing the whole thing. We're comfortable with theatrical challenges. I'm less comfortable with trying to match F. Scott Fitzgerald's writing."
GATZ
February 13-March 1
Berkeley Repertory Theatre
Tickets and more info here