UPDATE: The book release party has been postponed, but you can still buy Fiebre Tropical at Booksmith.
When I met San Francisco author, artist, and historian Juli Delgado Lopera on the patio of Atlas Cafe in the Mission last Friday, they had exciting news to share. After we air-hugged, they told me that the New York Times was publishing a review of their first novel Fiebre Tropical the next day—and it was wildly positive. "It's a dream come true, something I've imagined since I was little" said Lopera. "Especially for a first-time Latinx author with a book full of Spanglish, published on a feminist press." (The book is literally published by Feminist Press.)
Lopera will be celebrating the book's publication with a reading and drag show, 6:30pm-9pm at The Bindery in the Haight. The bright, enthralling Fiebre Tropical follows a 15-year old girl named Francisca as she immigrates to Miami from Bogotá, Colombia, with her mother, discovers the world's workings, explores her sexuality, and watches as her family becomes increasingly involved in a cult-like evangelical sect. It's driven by Francisca's narrative voice—a startlingly lush, humid mix of visceral imagery and wondrously inventive language that mixes Spanglish slang with poetic observation. An example:
A few days before the baptism, Mami arrived with a huge yellow dress for me. Yellow is such an ugly color. Plus I hated dresses. Mami knew I hated yellow—and red and orange and all warm colors. You know what was yellow? My Catholic school uniform. Freaking pollito yellow with orange stripes and a green sweater embroidered with the initials of the school and a tiny brown cross. The nuns made sure there wasn't the slightest possibility of prov- ocation or desire that could awaken the evils of boy temptation, which only existed outside of school, while we respectable teenagers—an endangered species—were protected by the tackiest, most unfashionable piece of clothing ever invented. As if someone's barf had become the color palette of choice. Men didn't piss on us to mark territory, we had the nuns to thank for that. And now here it was, that dreaded color popping up in my life again in the form of a baptismal dress inside a Ross bag coming to me via Mami's exhausted joy.
Le dije, Mami ni muerta am I wearing that dress—
I talked to Lopera about how they wrote the book, their own Latinx experience of immigration, and the playfulness of language.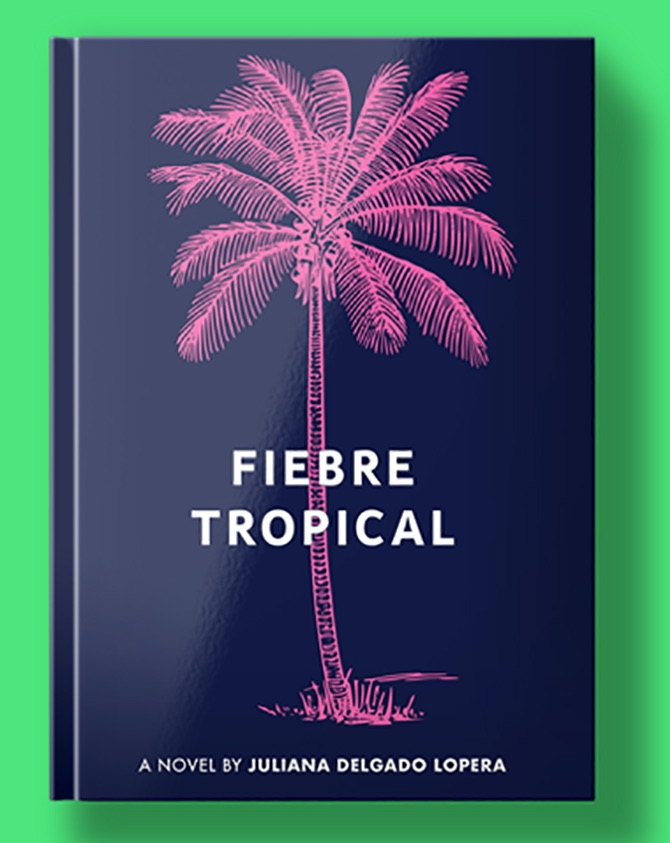 48 HILLS This is your first novel, yet I know you as a writer and historian. 
JULI DELGADO LOPERA I've written a book of oral history [¡Cuéntamelo!, which won a Lambda Literary Award], and we know each other form our work at the GLBT Historical Society. I've also published a chapbook of essays. But yes, this is my first novel. I've always wanted to write fiction. Being able to conjure up worlds of imagination is totally my thing. This book specifically has been seven years in the making. It was a long time!
48H The descriptions of Miami neighborhoods and of leaving Bogotá behind are so hyper-vivid. How much of your personal story is in the book?
JDL I feel that the writing always comes from you, because anything that you write is going to have a relationship to you in terms of memory, or a glimpse of something from your experience, or a story that you heard. Some of the blueprint of the book definitely comes from my own life. I did move from Bogotá to Miami when I was 15 years old, I did live with my mom and my sister.
We lived in really close quarters with my aunts, and my mom did join an evangelical Christian church which was very culty. I pulled a lot of the imagery from the rituals in the church. I was obsessed with that part because it had such an impact on my life and the relationship I had with my family. That episode was really the shattering point for me, of really starting to see things in the world for what they were.
But most of it is made up—the houses, the details, the specific situations and reactions, these are all fiction.
48H What were some of writers or influences you looked to as you were forming this first novel?
JDL The voice is the narrative force of the novel, and for inspiration I drew a lot from Junot Diaz, of course. Jennine Capó Crucet writes about Miami, she's also really good. Pedro Lemebel is one of my favorite writers, I read him a lot for helping to form the voice.
But I think a lot of the inspiration is mainly from listening to people talk. For the longest time I've had little notebooks where I'd write down things that just captured my attention, not necessarily in terms of content, but phonetically. I did that with my mom and my aunties. This took a long time to take shape, my grandmother was still alive at the time, and I would just write down a bunch of the stuff she and my family would say. I always thought it was incredible how they shifted and molded language.
Spanish is way more flexible and playful to say things in. I tried to translate some that playfulness into the voice and into English.
48H I love the sheer amount of Spanglish in the book, and the fact that the rush of language carries you on without English-speakers necessarily needing to know the exact translation of every phrase.
JDL I did get a lot of pushback from writing workshops about the amount of Spanish in the book. A lot of white people were like, "Oh, I can't relate to this, why are you doing this?" There was a lot of questioning around the choice. But when I started writing it, it just felt like that was the voice that was there. I actually write everything in Spanglish.
This book definitely had that specific kind of energy because of the character's consciousness. Francisca is an irreverent, jaded teenager from a specific time and situation. She has an intense voice that takes in everything around her.
48H Francisca really is such a perfectly realized voice and character—how did she come to you? 
JDL I was witting a short story for my MFA program at SF State, which revolved around the baptism scene now in the novel, when Francisca begins to see how this evangelical church is very different. I remembered conversations in the church around baptizing unborn children. And then the characters started growing and growing, and I realized they couldn't be contained within the short story. So I started calling it a novella and then it just kept growing and I was like, OK, this has to be a whole, full-on thing.
48H One of the most striking things to me in the book is the conflict between the Catholicism that came with Francisca and her mom from Colombia that then melted away into evangelical Christianity in Miami, which is what the aunts they lived with practiced. It seemed very symbolic of Latin American life versus contemporary American culture. 
JDL That was a lot of personal experience, definitely. But I think that it's important to note that it's not literal. There's a whole world between what actually happened in the novel. Some of the themes I was thinking of when I was writing was my fascination with the baptism and the church rituals, this world I felt was invisible to other people.
When I left Miami and came here to go to school in Berkeley, I really started thinking about how people were not exposed to this type of religious thing. The church was deliberately insular. I was in awe of how much people didn't know was going on in these small religious communities.
48H The novel is almost totally composed of women's voices and presences, which really seems to power it.  
JDL I grew up in a matriarchy—and there can be some really fucked-up, toxic dynamics in a matriarchy. As a feminist, the impulse is to uplift the matriarchy as the ideal. But I wasn't interested in making something that would conform to certain ideals and standards of what a novel like this should represent. I just wanted full, complex human beings, which is what happens in a matriarchy. They are allowed to be really flawed.
Assuming a matriarchy is always going to be exemplary is misleading, though. I thought about it when looking at my own family, and how toxic some things were. And they were women. Of course, a lot of that is reaction to patriarchy, but I wasn't interested in writing a moral story that embodies how to be a woman. I was interested in exploring the dynamics of that specific family and their relationships.
48H This is a very charged moment for immigrant narratives, considering the kerfuffle around Jeanine Cummings' American Dirt and the subsequent conversation around "authentic" voices and how he publishing industry ignores Latinx voices, even when it comes to immigration stories.    
JDL I don't want to link this book to that at all—I don't think it's an "immigrant book," I was much more interested in the language play—although I and other writers did do events at the time that aimed to uplift Latinx immigrant voices. We do get dismissed because we're never really given a chance. We're just assumed to be inferior. Not only that, but we also have to perform the kind of "Latinization" imposed on us because of the way the US views us.
I am not from here, but  when I am in the US I exist within this powerful framework that defines who I am according to presupposed criteria of what a Latinx person is supposed to be. When I leave and go to Colombia, I feel like a full human being. I get to experience my full cultural heritage without the burden of also feeling inferior.
Right now it's really an exciting time because people are actually paying attention to immigrants, and it feels like we're also supporting each other and creating stronger networks. We're advocating for ourselves and the right to define ourselves. We're saying we want to make our own decisions.
FIEBRE TROPICAL BOOK LAUNCH (POSTPONED)
Thu/12, 6:30pm-9pm, free
The Bindery, SF. 
More info here.