The forthcoming 11th annual Burger Boogaloo festival, held in Oakland's Mosswood Park and originally planned for July 11 and 12 has been rescheduled for Halloween weekend due to the unprecedented circumstances related to the coronavirus pandemic. According to organizers, the festival's lineup will remain the same and even include more artists ike Shannon Shaw, Hammered Satin, and The Rubinoos. All previously purchased tickets will be honored for the new dates.
"A virus may scare the punk rock world out of Oakland in July but we'll scare it right back on Halloween weekendʻ said John Waters, Burger Boogaloo host and iconic filmmaker. "Trick or treat, we can't be beat! Burger Boogaloo2020: a Monster Mash to top them all!"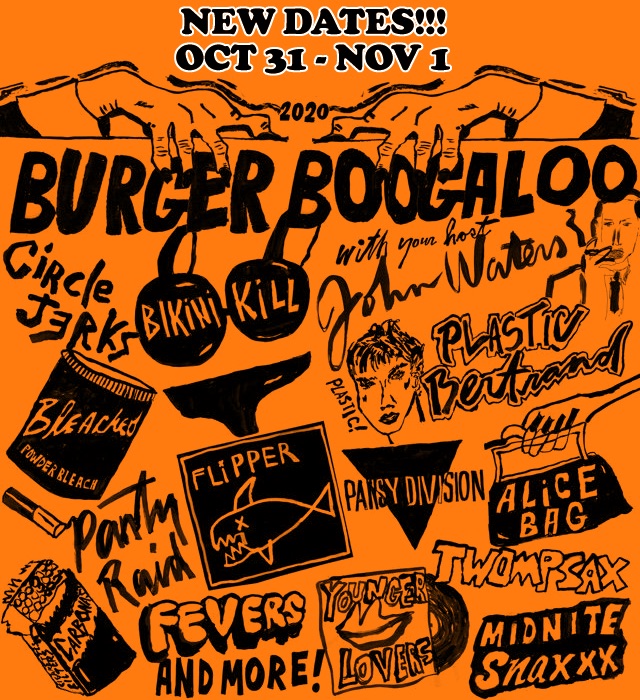 Punk legend Alice Bag, along with Bikini Kill, Circle Jerks, Carbonas, Bleached, Plastic Bertrand and San Francisco queercore band Pansy Division were the first round of artists announced for this year's edition. Bag, who fronted first-wave LA punk band The Bags and appeared in Penelope Spheerisʻ eye-opening 1981 documentary The Decline of Western Civilization, adapted to modernity by blogging and writing about her band, ensuring the pioneering POC outfit would not be omitted from history.
MUTEK San Francisco, the US outpost of the critically acclaimed experimental music festival series, scheduled for May 2-5, is presently considering new festival dates in the fall according to facilitators. (The lineup may change a well.) Sprawling across several (now shuttered) venues, the festival also showcases art and innovative technology. For a decimated scene, it may be a strengthening tonic. "As more and more festivals become mere money-making ventures, MUTEK has consistently stayed true to its purpose of providing a platform for creatives outside the mainstream," says its website.
BottleRock Napa Valley music and wine festival, originally set to take place on May 22-24, will be moved to October 2-4. (Itʻs now the same weekend as this year's Hardly Strictly Bluegrass Festival held in San Franciscoʻs Golden Gate Park.) Several of the BottleRock festival's previously announced acts will appear at the rescheduled dates, including Red Hot Chili Peppers, Stevie Nicks, Dave Matthews Band, Miley Cyrus, Khalid, Anderson. Paak & The Free Nationals, and Zedd. Details on the rest of the lineup will be revealed at a later date.
"We made this decision with the safety and best interests of our fans, musicians, partners, employees, and community being paramount," BottleRock festival organizers said in a statement. "We are committed to putting on the festival to not only share great music and the incredible Napa Valley hospitality but because it's vitally important to the livelihood of all those who make BottleRock Napa Valley the festival it is." Tickets for BottleRock's postponed weekend will be honored for the rescheduled dates. Further information on exchanges and refunds will be detailed in the next few weeks at the website.