The streets around City Hall were filled with the sounds of cars honking, wooting, and chants of "housing is the cure!" on Friday evening as roughly 50 cars participated in a caravan protest calling for the city to house San Francisco's homeless population in hotel rooms as well as increase their focus on acquiring long term affordable housing for the homeless.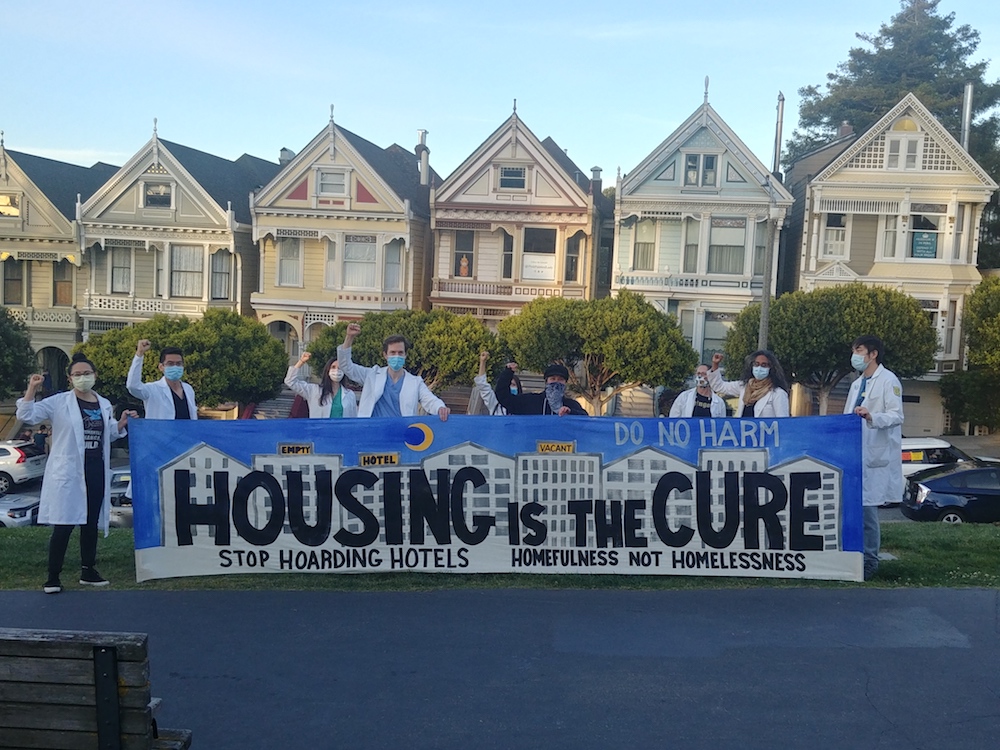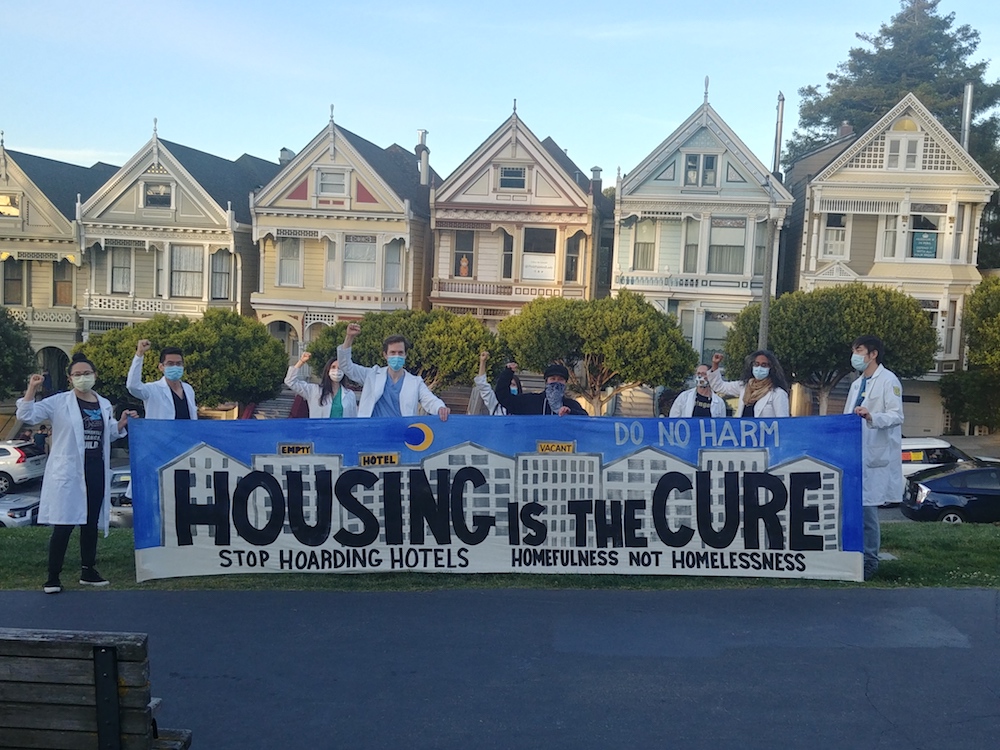 The cars passed by city hall, the Painted Ladies, and along Pierce St. near Mayor London Breed's home. The caravan protest was organized by homeless rights advocacy organizations the Coalition on Homelessness, the Do No Harm Coalition, and Faith in Action.
"We're coming from different directions but we have one common goal which is to house the vulnerable for moral reasons, for health reasons, and it's for the benefit of us all," said Reverend Sadie Stone, a pastor at the United Methodist Church on Sanchez St and a member of Faith in Action.
Stone told me that Faith in Action sees housing people in hotels as a moral choice that the city must make because it has thousands of empty hotel rooms, and the group believes that the city should purchase hotels for them to be converted into affordable housing units.
"As faith leaders we come at it from a moral perspective, everyone has a right to human dignity, everyone has a right to housing and basic human needs…there are thousands of empty hotel rooms, and it seems like one of the most crucial and moral opportunities to house people not only right now but also towards a long term solution for housing folks," said Stone.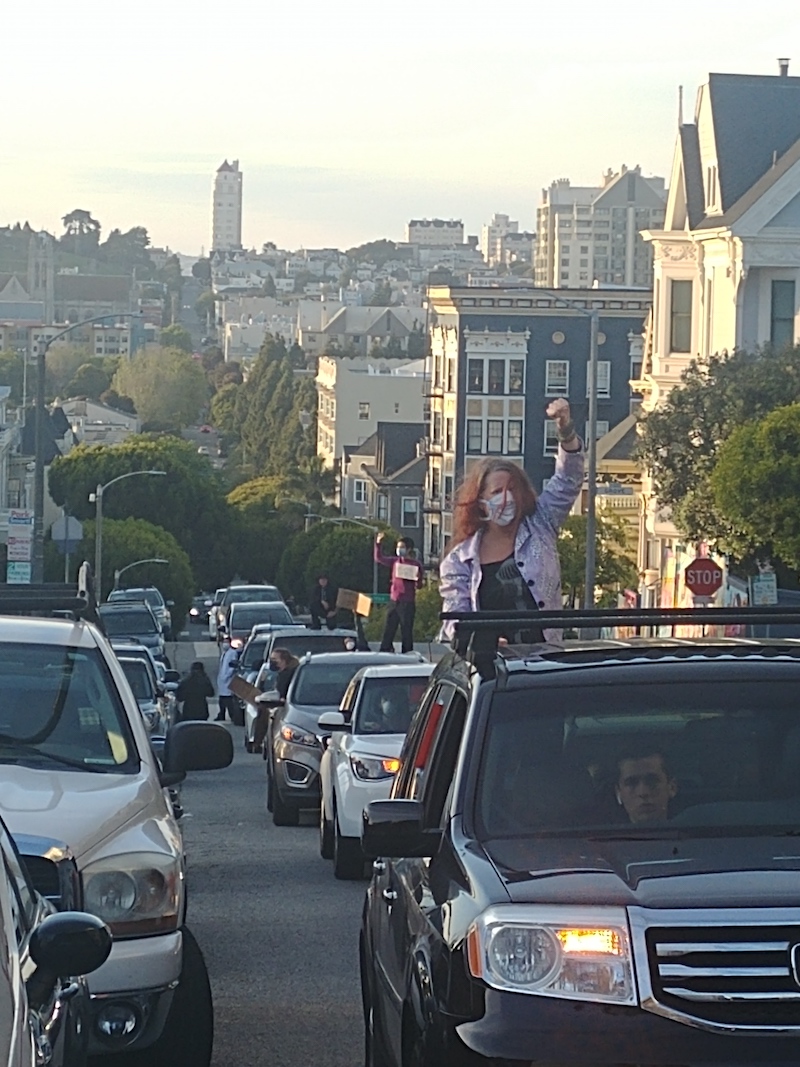 The Coalition on Homelessness demanded that the city use vacant hotel rooms to allow the unhoused to shelter in place as well as purchase hotels to be converted into affordable housing for unhoused folks. These hotels could be used both for transitional housing oriented towards homeless youth and permanent housing for elderly homeless people, according to Cristin Evans, a homeless rights advocate who collaborates with the Coalition on Homelessness. Evans said that with the economic downturn caused by COVID-19, hotels and new housing developments may not survive due to the decline of the tourism economy and more reluctance to purchase realty property from buyers made more frugal by economic hardship brought on the pandemic.
"The housing situation has always been a crisis, but with the economic shock there's also an opportunity… to create longer term solutions for people currently being put into hotels and safe encampments. For these housing projects which are going to be finished, will there be the same appetite for people to buy them or rent them with the economic shock? New developments and hotels may not survive the decline in tourism rates," said Evans.
Members of the Do No Harm Coalition also called for homeless people to be placed into hotel rooms, saying that it is impossible for them to safely shelter in place without access to private rooms with separate bathrooms and hygiene facilities.
"Everyone should be offered hotel rooms where they have the resources they need to protect themselves from COVID-19. Beyond that, permanent solutions need to be put into place to maintain housing access. This pandemic reveals the inequities that existed well before COVID-19," said Annie Le, a family medical resident at UCSF and a member of the Do No Harm Coalition.
Le told me that physicians are often pained by having to discharge homeless people knowing that many have no option to shelter in place safely, putting them at great risk. Le told me about one of her patients last month, a woman in her 70s who was severely malnourished due to being unhoused and had "several co-morbidities," making her particularly vulnerable to COVID-19.
"It is really worrisome after someone being hospitalized and us taking care of them for them to have to go back to the street. There's only a fraction of what we can do to help someone maintain their health when they're put into this situation," said Le.