Artist Vida Kuang grew up in San Francisco's Chinatown. The anti-Asian racism that ramped up at the beginning of the year followed by the lockdown due to the COVID-19 pandemic that sparked it, make her worry about the survival of the neighborhood.
Kuang is one of the artists participating in Restore 49, a project of Artivism. She will paint a mural that will be installed at the Sun Sing Theatre on Grant Street, and she says she's happy her work will be at such a historic spot.
"Chinatown used to be a theater district and there were Cantonese opera and kung fu performances there," she told 48 Hills. "Because of development and gentrification and the housing crisis, a lot of theaters and banquet halls have been shut down there."
Ten of 49 planned murals all over the city have been finished, and Artivism founder Tony Garnicki hopes they will bring relief to artists, storeowners, and the people of San Francisco, looking for some bright spots in a bleak time.
Artivism is far from the only entity involved in this colorizing process on SF streets. Business owners have reached out to artists directly to take on the ugliness of boarded-up shops, and artists like fnnch and BiP (via Art For Civil Discourse's #PaintTheVoid project) have taken on the gloominess of the COVID-era capitalist upheaval that has left streetscapes feeling empty.
"Restore 49 takes boarded up stores and beautifies them," Garnicki said. "This brings joy to community and helps the artists who are in a dire situation and every store owner gets the benefit."
Artivism's other projects have included Public Hotspots, which brings live music and performance into highly-frequented "transit corridors", and Unused Spaces, which aims to transform empty commercial and residential properties into temporary work spaces for artists.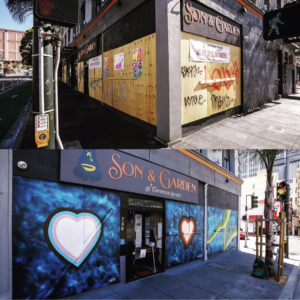 Artivism's project coordinator Justin Charles Hoover was using an empty garage as a print-making studio to work with youth before the pandemic shut that down.
With lots of connections to the art world, they decided a project like Restore 49 would be a way for art to bring people together when they can't gather physically.
"We wanted to see how we could use our networks to create something beautiful and meaningful now," Hoover shared. "Maybe one person sees it and they tell a loved one—it's a way to keep the city active."
For people walking, driving, cycling, or riding buses through the streets of San Francisco, seeing some art satisfies a longing, Hoover says.
"The city needs it," he surmised. "Psychologically as well as physically, we could use a splash of color."
The team at Artivism goes through the city looking for businesses who might want to have art on their buildings. Store owners have begun to contact them through the website, Hoover says, looking to support artists, beautify their building, and discourage tagging.
Artists, many of them Black, Latino, Chinese American, South Asian, and LGBTQI+ identifying individuals, get a place to express themselves, but also something perhaps even more important in these troubling times—money.
Sadly, many artists have found that paycheck isn't a given.
"A lot of cities are doing this are not paying the artists," Hoover said. "They're professionals, and they need to be paid professional fees."
Going forward, the team at Artivism hopes to bring more young people into their projects. 
Kuang doesn't have a specific image in mind for her mural, but she knows she wants something intergenerational, probably a grandparent and a grandchild.
"Chinatown has a large elderly population, and there are a lot of youth," she said. "It's a working class community, so a child with grandparents is a very common image in Chinatown. Because of the pandemic, we're worried about grandparents, and schools are closed. It would provide a sense of hope to see two different generations thriving."