About 70 drivers rallied outside Uber's headquarters on Market Street on Thursday, decrying Uber and Lyft's threat to cancel rideshare services in California in retaliation against an injunction order issued August 10 that ordered them to immediately classify their drivers as employees.
Uber and Lyft claimed that the shutdown would be necessary in order to restructure their companies' business models to work using employee drivers.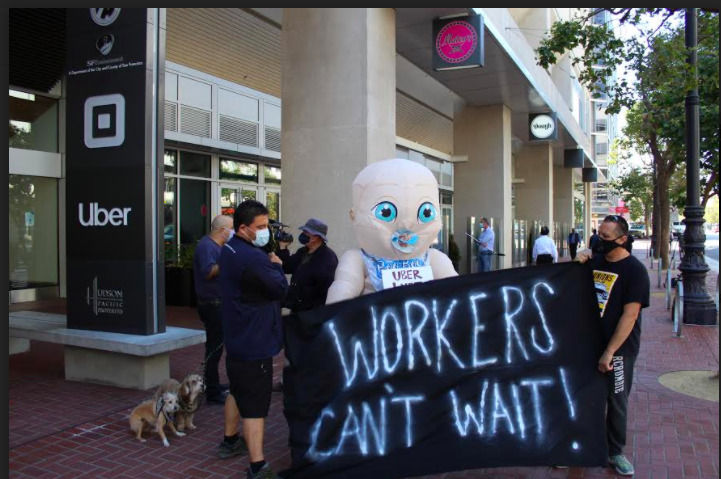 District 3 Supervisor Aaron Peskin criticized the companies' threat, calling it a scare tactic to sway voters in favor of Prop 22, a ballot measure the companies sponsored that would exempt their drivers from classification as employees.
"Let's be clear. This is the most cynical kind of politics you could ever imagine," Peskin said. "This is about Uber and Lyft trying to freak out the people of San Francisco, Los Angeles, San Diego, to make them vote for Prop 22."
But Uber and Lyft's imminent shutdown was abruptly canceled, as a California appeals court granted a temporary reprieve on that injunction order, giving them until August 25 to agree to expedited appeal procedures. Such procedures involve the requirement for the CEOs of both Uber and Lyft to issue legally-binding written statements to the court by September 4 swearing to comply with the injunction order within 30 days should their appeal be denied, as well as a very prompt date for oral arguments to be heard at the appellate court—October 13.
"That's light-speed compared to the way these appeals normally work," said Rey Fuentes, a legal fellow at Partnership for Working Families, an organization that does advocacy work for gig workers misclassified as independent contractors.
According to Fuentes, part of the reason that the appellate court is pushing for these expedited appeal procedures may be to prevent the possibility of Uber and Lyft of dragging out the appeal process until after the election results for Prop 22. Instead, the court will hear oral arguments in October, and presumably, issue a ruling before the election.
"Those companies [Uber and Lyft] were betting on trying to get a stay on the injunction, and then drag this appeal on out past the election. The court said 'no you're not going to do that,'" said Fuentes.
If the companies don't agree to these procedures by the August 25 deadline, the stay on the injunction order will dissolve, and the injunction will immediately go into effect.
Rideshare drivers had mixed feelings about the stay being granted for Uber and Lyft. Edan Alva, an organizer with Gig Workers Rising, a campaign organizing for higher wages and employee protections for rideshare drivers, and who drove with Lyft for six years until March, said that the injunction order has prevented job loss, which is important to its full-time workers who often live paycheck-to-paycheck.
"Drivers on the one hand, are not shut down overnight, which is very good," said Alva. "Drivers are completely dependent on that livelihood on a day-to-day basis. They cannot wait two weeks to find another job when another company steps in.
Alva said he he hopes Uber and Lyft take this time to modify their business model to comply with AB5 and accommodate employee drivers. Other drivers were skeptical that Uber and Lyft would use the stay to classify drivers as employees.
"I don't think they are going to use the stay to align their business models to comply with the law," said Christopher Arellano, a longtime Lyft driver and organizer with Rideshare Drivers United, a driver-led organization with more than 18,000 drivers in the state of California. "They have a history of non-compliance with the law."
It seems then, that it is going to be business as usual for Uber and Lyft's drivers, who will continue to drive as independent contractors, but this could be a bit of a let-down for the rideshare companies' competitors, such as competing rideshare apps, which had planned to swoop in and take the marketshare for rides that Uber and Lyft have enjoyed.
But there may still be options for companies that already manage existing fleets of cars with professional drivers, such as taxi companies, should Uber and Lyft lose in court.
Hansu Kim, president of Flywheel Technologies and owner of Flywheel Taxi, the companies that manage the Flywheel app and manage a separate fleet of cabs, told me that if Uber and Lyft lose in appellate court, he thinks they could consider partnering with companies that manage their own fleets, such as cab companies.
Doing so would provide a way of allowing them to continue using drivers classified as independent contractors and allow them to better make the argument that they are just a software company which partners with drivers outside of their control, as they have already tried to make in court.
Traditional cab companies charge more for a ride than the ride-share companies, which have been using venture capital to artificially lower fares in the name of gaining market share, and the cab drivers earned a lot more money before Uber and Lyft came along.
"I think that Uber and Lyft would be well-served to look at existing fleets of legally-allowed professional drivers in some manner to service their demand," said Kim. "There are a lot of fleets – there's more than 200,000 taxis in the United States. That's a lot of supply."