In the James Brown bio-pic Get On Up from 2014, actor Chadwick Boseman presented the American composer and bandleader in the same manner life presented itself to Brown from a young age. Raw, conflicted, and grimly comical.
A young Black man single-handedly dealing with hardscrabble roots—parental abuse of the physical and emotional kind, and systemic oppression in the Jim Crow south. Born in Barnwell, South Carolina in 1933, these are the roadblocks Brown suffered, dealt with, and eventually escaped, without a handbook, before the music profession ever even entered his life. Brown's deep-crate polyrhythmic masterpieces such as "Mind Power" and "Escape-ism" speak directly to these extreme overcoming-the-odds situations.
Boseman (a South Carolina native himself) shows us, with trigger-happy discharge and macabre humor—aimed inward and at everyone else—why James Brown, who only had a second-grade education, jettisoned from an orphan to a global brand, by way of his contradicting nature. As a child, the future Godfather of Soul pulled shoes off of a lynched man's feet just to be able to walk safely, or run for that matter. Being opportunistic was a Tuesday. Relying on wits and hustle made him a survivor in the streets, not prey.
Once an American success, in the film we see Boseman's' Brown using a wink and a nod, breaking the fourth wall, hustling with swagger, accessing The White House, giving a holler in the ear of liberal and conservative Presidents. Independent of whether they wanted him there or not. He did not care. Brown's only allegiance was to the advancement of Black people. No matter if it was LBJ, Nixon, or Reagan whispering complementary lies right back to him in The Oval Office.
This access gained him the platform to perform live on television in Boston one day after the assassination of Dr. Martin Luther King Jr, leading 10,000 concert attendees to sing "Say it loud /I'm black and I'm proud." The film allows us to see Boseman's' Brown permit dancers to join him on stage—instead of having white police officers with their dogs attack them and start an indoor riot. But once everything gets out of control, Godfather lets his children know they are acting up. "You're making me look bad. Ladies and Gentlemen we are Black, let's represent ourselves now," sending them all back to their seats.
It's quintessential Brown, protector, scold, and authoritarian. Self-developed traits that came naturally since he had no steady parental guidance as a child. This role—this real-life journey, in fact, not a fictional creation hatched from the fertile mind of Stan Lee—was Boseman's first portrayal of a Superhero. The performance even moved his own father.
"I think the first time and probably the most meaningful time he did that was after he saw Get On Up," said Boseman in a 2019 interview with Heatworld. "He was standing beside me, and he actually just came out and said, 'Hey, I'm proud of you.' So that would probably be the one that starts to bring a little tear to my eye."
Boseman, who passed away last week, only 43, due to colon cancer, respected Browns' life so much as to give him a 'whole person treatment' not just a caricature depiction. With such a broad range of experiences from a full life, inventing funk, having run-ins with the law, creating iconic bands. Boseman peels off a performance—back to the flesh-behind the pain. Spotlighting where the conflict emanates from. No apologies.
When Boseman's Brown abuses women in the film, he transmits self-disgust through his eyes and the angle of his cheekbones, without sound. It's a delicate balance that many would have steered away from or just parodied, in the antiquated trope of the rock star bio-pic genre. 
A graduate of Howard University and later the British American Drama Academy, Boseman studied under Phylicia Rashad. Prior to graduation he was accepted into the Oxford Mid-Summer Program but didn't have the funds to attend. Rashad called a friend and secured the money in a five-minute phone call with Denzel Washington. Tuition aside, Boseman had angels—Black Royalty—within the acting community, co-signing on his future, indicating that these two prolific performers knew Boseman was Next. That's what's so heartbreaking about his passing way too soon.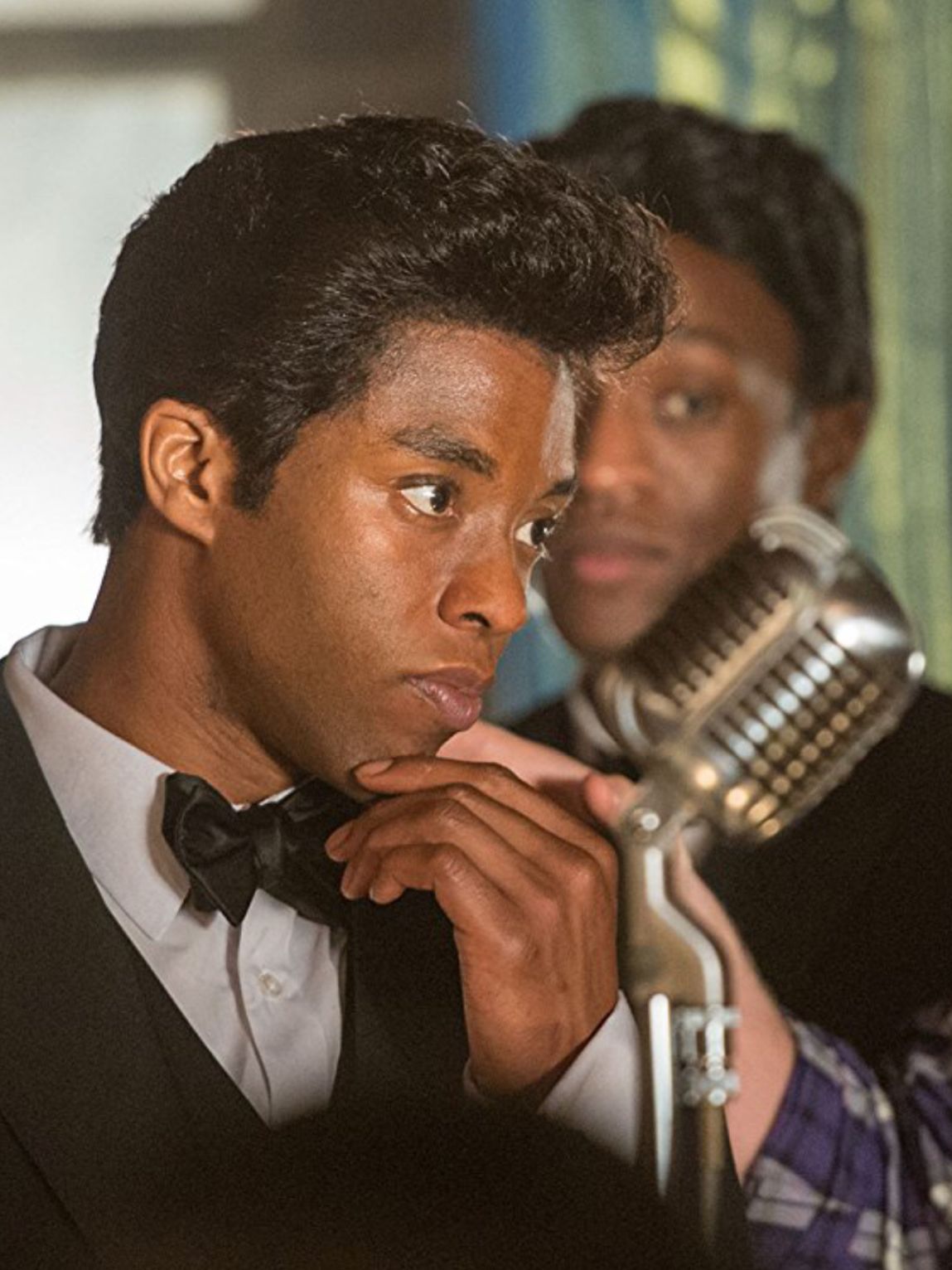 For some of us, James Brown remains a musical superhero. His style is ingrained in arrangements and compositions all over. Similar to the way people revere Mozart, Beethoven, Duke Ellington, Sondheim, Cole Porter—if you mention funk, James Brown comes next out of your mouth. Unless you choose to do it wrong. Anyone coming up in the golden era of hip-hop looked upon the Godfather of Soul as The Sun… His polyrhythms, his band, his vamps all pushed American music forward. He literally hid the vibranium in the Funk. Actually, hiding is the wrong description. Within a second you can decipher a James Brown Song. Check for the grunts, people. His genius helped raise other geniuses.
As Wendy and Lisa, former members of The Revolution, have said, James Brown's "Body Heat" was the song Prince had The Revolution play in rehearsals ad infinitum so he could not only rehearse and improve his moves, but also the band could pick up music cues from his movements. It's how Prince went from an awkward duckling "Mick Jagger thing" circa Dirty Mind into a clockwork showman for "Baby I'm a Star" and onward. "He would have us play it and over and over for four hours while he practiced his dance moves" Wendy said during a Questlove Supreme Podcast. " He'd just turn us on and press go, instructing us 'don't move. We were the machines, we were the loop."
It was James Brown that got the job done. His compositions leaned on rhythm sections, leaving the melody to be found later. By finding the "1" beat and massaging the intricacies of the groove, Brown discovered making people dance was easier than telling them to.
But making people connect with that uncertainty, that lack of familial guidance, isolation from success, was the soul of Boseman's portrayal of Brown. That Superhero had the same flaws we all battle with, and some besides. Boseman Marvel'd Mr. Startime for massive consumption, revealing his humanity throughout.