The unceasing sun did little to stop the latest edition of Carnaval (Fri/5 and Sat/6). In fact, the warm temperatures were just one more obstacle that the emblematic festival overcame this year.
With the theme, "Salud es Poder," or health is power, Carnaval organizers sought to remake the 40-year-old tradition of bringing art, music, and dance to the streets of the Mission to match the needs of the COVID era.
"We never thought that the virus would last this long," said Roberto Hernández, director of Carnaval. Traditionally, the festival takes place during May, but this date was quickly cancelled once the shelter-in-place order took effect.
"Seeing what was going on, we asked ourselves, how could we organize something for our community?" said Hernández. "We can't let our lives be absorbed by the crisis. We have to find a way to keep moving forward, and to improve our health today and for what may come tomorrow."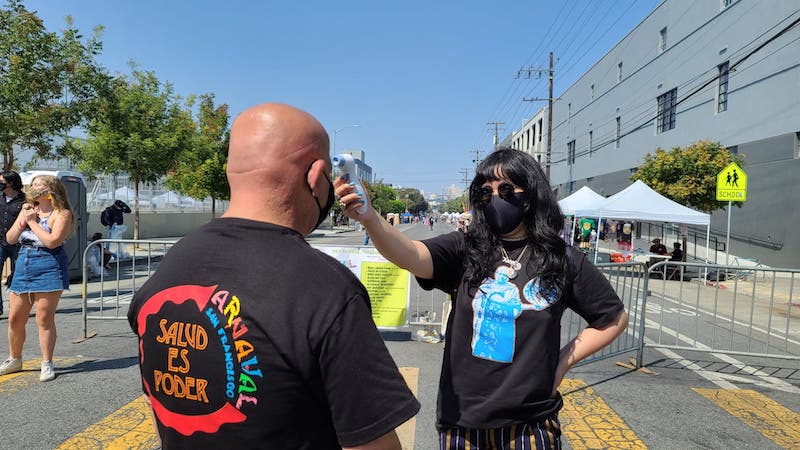 The organizers started making changes and reimagining Carnaval as a site to bring in as many resources as possible for low-income Brown and Black communities in the City.
No parade due to social distancing concerns? Then bring in hundreds of free boxes of food from the Mission Food Hub for attendees and a job fair with more than 15 employers. Among those hiring at Carnaval this year are Goodwill Industries, the San Francisco Sheriff's Office, and SF Municipal Transit Agency.
The festival space itself along Harrison Street is much smaller this year, only stretching from 18th and 20th Streets and using part of the John O'Connell High School campus. Doors were open on Sunday from 1pm to 6 pm. Only 30 people were allowed at the time, and all were screened at the entrance symptoms.
While you won't find elaborate floats this year either, a few small groups of musicians and dancers entertain visitors. Samba, salsa, merengue, and reggaeton could still be heard, at a safe distance of course.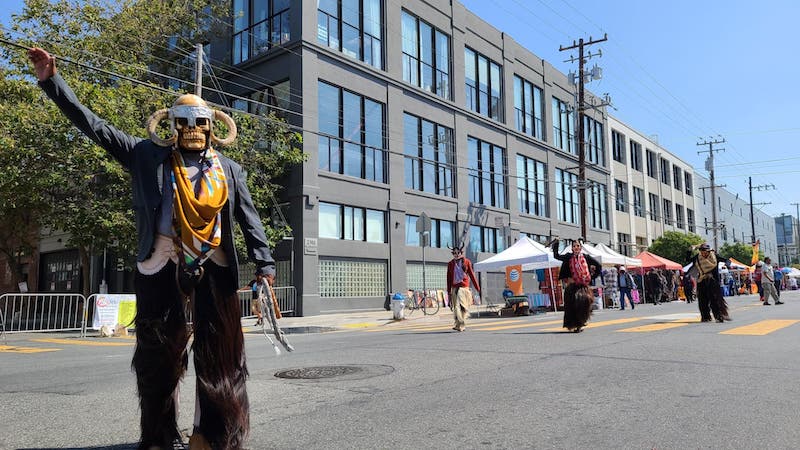 "All these changes didn't worry or disappoint us because we immediately understood that this is a crisis and we had to adapt to the circumstances," said Rodrigo Durán, director of the festival.
He revealed that the production team chose "Salud es Poder" as this year's theme not during the pandemic, but three years ago. "Maybe it's fate," he asserts, "We mainly focus on physical health, but then forget about spiritual health, and then mental health."
And the biggest question for his team was, "How do we want to heal our community?"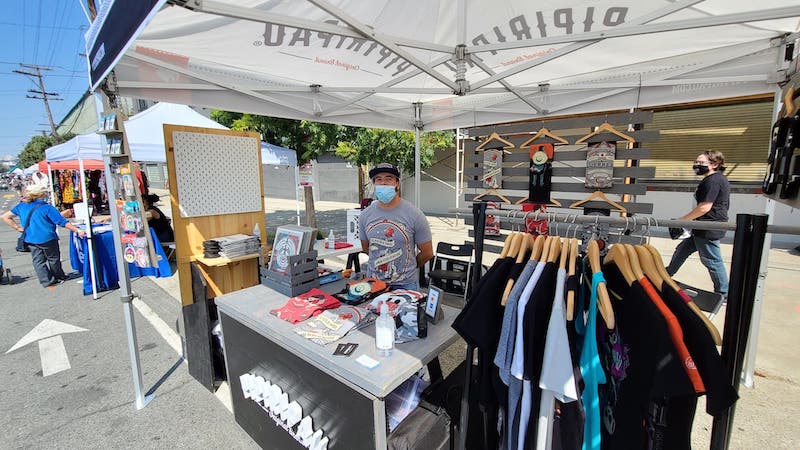 Taking advantage of the network built over 40 years of Carnaval, the organizers reached out to dozens of health and wellness providers and nonprofits to build a health pavilion that would address COVID concerns and other chronic health issues. The Department of Public Health arranged for hundreds of free coronavirus tests each day.
Both Western and holistic remedies are present, highlighting the organizers' belief that wellness transcends the physical. "Our people appreciate our traditions, our culture, like teas and herbs. It grants a sense or peace. Calms our mind," said Giuliana Martínez, who heads Latino Connect, the group that brought together the health and wellness pavilion.
"If the [Department of Public Health] doesn't do this, or the city doesn't do this, we can't wait for them not to do this, so we need to do this for our community. We need to take that leadership role and do this for our folks," Martínez said, pointing out that the nonprofit organizations doing this work were already overstretched before the pandemic.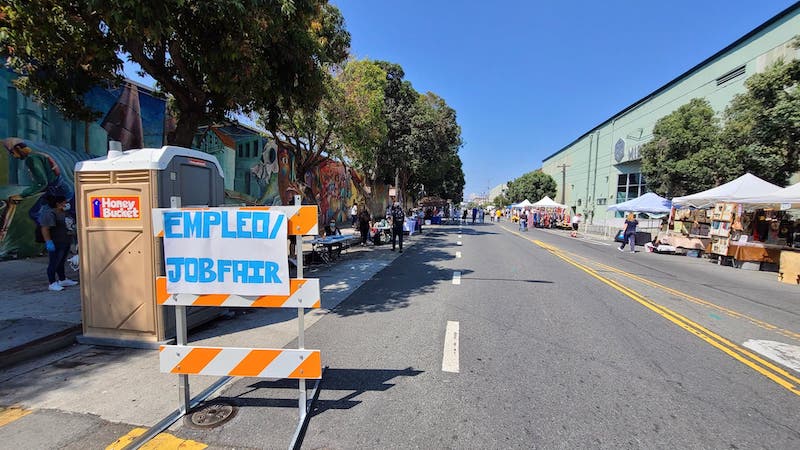 Working with both City Hall and the Department of Public Health has brought several opportunities for the organizers, but its own challenges as well.
"They need to trust the individuals and organizations doing the groundwork," said Durán. Throughout the process to apply for all the permits required from multiple agencies, Durán ran into several problems.
SFMTA, for example, charges $850 to just apply for a street closure. Other permit fees that come later in the planning process usually range in the thousands across several agencies. These fees have not been updated to reflect the drop in outdoor special events during the pandemic.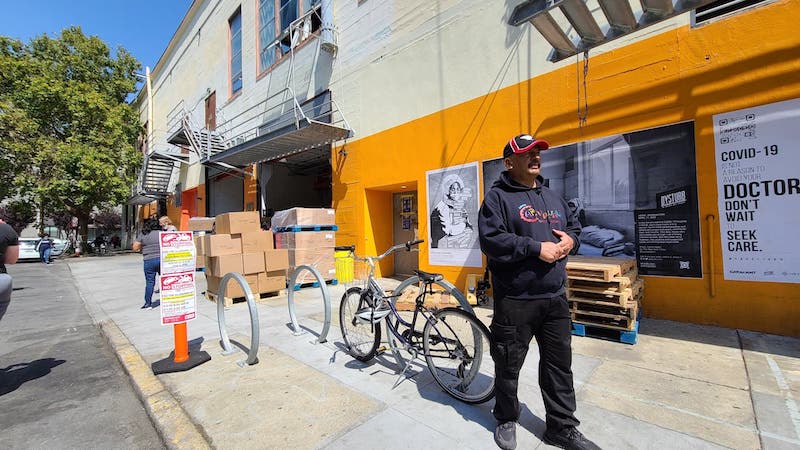 "There's not a tiered system for non-profit organizations or community organizations to put on special events," Durán argued. "It's all based on the amount of wealth that exists in San Francisco. But it's important that we ground department heads and city officials to know that there are different realities in one city like San Francisco."
Despite these challenges, Durán and his team always had present on their minds the crucial role Carnaval plays in the Mission, especially its economic impact.
"Because of the closure of all these festivals, Carnaval included, a lot of these small entrepreneurs that sell traditional bags, hats, jewelry, can no longer make a living out of that," Durán said.
For some of the artists and vendors, this is the first festival they've been able to sell at since the start of COVID. "Our main source of income comes from events and when events are cancelled, we can't sell. We can't pay bills," said Heriberto Rubalcava, owner of Peripau, a clothing brand present at Carnaval.
Rubalcava said he is hopeful that this edition of Carnaval can show that festivals can come back during the pandemic, as long as all precautions are taken. "We are searching for more events like these. Hopefully we get to a point we proceed with our work but in a safer way. We can't stand still," Rubalcava explained.
"We have to get back to work."