A group of several hundred protesters faced off with about 50 police officers on Market Street and Van Ness Avenue Saturday afternoon, after an earlier demonstration counter-protesting a small "free speech" rally organized by Philip Anderson, a Texan who has complained about censorship, particularly by Twitter, of right-wing views expressed on social media.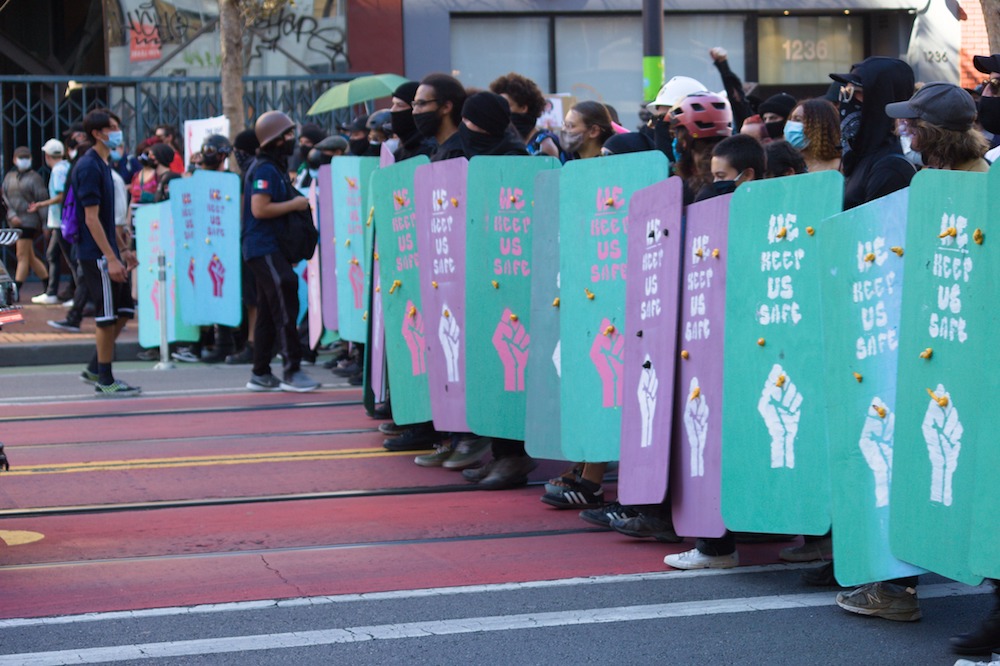 There were about ten people associated with the "free speech" rally, and 300-400 anti-fascist protesters, a small number of whom struck Anderson, bloodying his mouth and knocking out one of his teeth. Shortly after, SFPD shut down the event, deeming it a public safety risk.
"We knew that they would show up in light numbers, but we didn't want to take any chances," said Bianca Von Krieg, a protester who arrived at UN Plaza around noon. "There were three or four ally groups that were scheduled to protest today and out of sheer coincidence, the cosmic demonstration moons lined up, and we all just said 'to hell with it, let's just counter-protest these guys', and things just kind of snowballed together."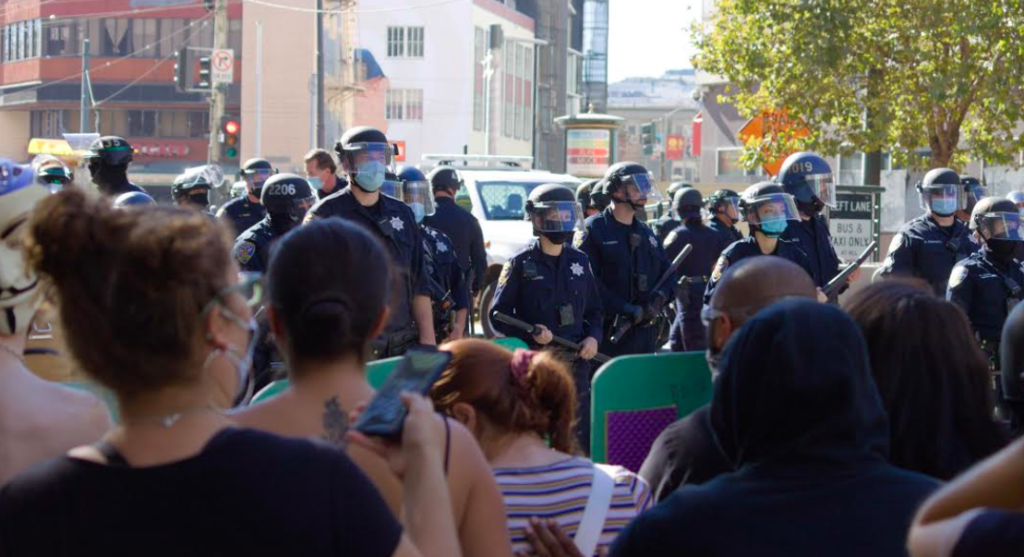 Berkeley Antifa social media also issued calls to oppose the "free speech" rally on Twitter.
Around 1pm, the counter-protesters at UN Plaza gathered painted shields with the words "We Keep Us Safe," which were constructed by the Oakland Builders' Collective, and marched from UN Plaza down Market Street, before stopping outside Twitter's headquarters on Market and 10th Streets, where Anderson had planned a "free speech" protest to take place at 4pm before their rally was shut down by police. There, Asmara Gebre, a demonstrator who was a midwife at Zuckerberg San Francisco General Hospital until going on strike in July, addressed the crowd, criticizing the police as systemically racist.
"These racist police have been murdering our people…For that reason we are standing here in solidarity," said Gebre. "This is not a conversation of good cop, bad cop, this is racist versus anti-racist, and the police system is embedded in white supremacy. It started with killing people who looked like me," added Gebre, who is Black.
Help us save local journalism!
Every tax-deductible donation helps us grow to cover the issues that mean the most to our community. Become a 48 Hills Hero and support the only daily progressive news source in the Bay Area.
At 2:32pm, a group of anti-fascist protesters on Market between 10th and 11th Streets pursued and punched two men, one of whom was wearing a MAGA hat. Several protesters alleged that the two men were "undercover," photographing and videotaping the counter-protesters and reporting information to the Proud Boys, an alt-right, male supremacist group founded in 2016 by Gavin McInnes, a co-founder of Vice Media.
There was a rumor that the Proud Boys would show up at the "free speech" rally earlier that day, but it was never confirmed that any members of the organization were actually present. Just seven minutes earlier, another protester got into an argument with Gebre, and shortly after a third person approached the two holding a screwdriver before being cast out from the protest.
At 2:44 pm, three men in black military-looking gear emerged from the crowd of anti-fascist demonstrators, moving west towards Van Ness, carrying a partially burned "Thin Blue Line" flag, attempting to re-ignite it. The police called for backup, with roughly 50 officers forming a line across Market Street and Van Ness Avenue.
At 2:50 pm, police pushed the demonstrators back roughly 40 feet, striking the demonstrators' shields with batons and pepper-spraying at least one protester on the left side of the shield wall. As they retreated towards the corner opposite Twitter's headquarters, anti-fascist demonstrators chanted "Who do you protect? Who do you serve?" and "All cops are bastards."
At 3 pm, demonstrators turned onto 10th Street, turning left onto Howard Street, and then onto Mission and 9th streets, before dispersing at 3:45pm on Mission and 7th Street.
Von Krieg, addressing the demonstrators as they began to disperse, promised that they would demonstrate against alt-right groups in the future should they return to San Francisco.
"We will come back as many times as needed to shut that shit down," said Von Krieg.