The fresh energy coming into office this week deserves some dazzling new ice cream flavors (as do your frazzled feelings), so it's a good time to pack the freezer with two just-released offerings that are dedicated to our new Vice President: MVP (malted salted vanilla with pecan pralines) by Smitten Ice Cream and Kamala Blossom (rose with lotus seeds and pistachio) by KoolFi Creamery.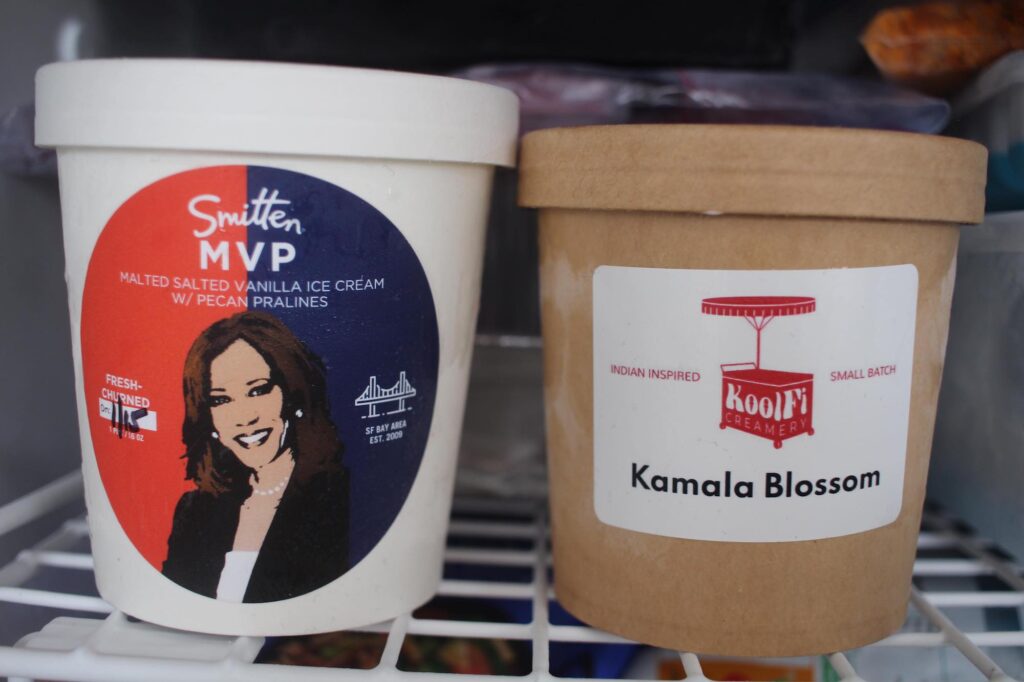 These flavors make for a gorgeous combo, if you're enthusiastic enough to get both! KoolFi, which is based in San Leandro, will deliver throughout the Bay Area if you order at least four pints of their ice cream (and is also available in seven stores in San Francisco and on the Peninsula), while Smitten is offering MVP for pickup or delivery at each of their locations in San Francisco, Oakland and San Jose.
Return of the macaron! With so many food businesses closing for good, it's especially sweet to learn that French macaron specialist Chantal Guillon will reopen its big SoMa location at 1309 Howard Street as well as the Palo Alto outpost at 444 University Avenue on January 20, which happens to be the 13th anniversary of opening the first location in Hayes Valley (which unfortunately remains closed). Here's hoping for more comeback news like this.
La Cocina's food hall is a go. The long-awaited La Cocina Municipal Marketplace (101 Hyde Street) has passed final inspections and hopes to start selling food to go in the first quarter of this year, the organization announced on the new Marketplace Instagram feed. The all-women-chef food hall will open with Creole classics from Boug Cali, Salvadoran dishes by Estrellita's Snacks, Mexican specialties by Los Cilantros and Mi Morena and African superfood creations by Teranga.
Vegans, Hoods and Mobs: The Vegan Hood Chefs will soon debut their brand new food truck at Speakeasy Ales & Lagers, which is San Francisco's only Black-owned brewery. Before the end of January, chef-proprietors Rheema Calloway and Ronnishia Johnson expect to be open from Friday to Sunday each week with an ever-changing menu (including brunch items), but they'll announce specifics on their Instagram feed when they're ready to go.
Meanwhile, Oakland's popular Vegan Mob (in the former Kwik-Way Drive-In) has also gotten some new wheels and will soon be slinging Soul Rolls, Pimp + Grits and other veganized soul food plates in San Francisco zip codes. Pro tip: try the Mob Juice, a terrific sea moss concoction made in-house.
Founder Toriano Gordon is also known as rapper Don Toriano, and his music video for "It's Da Mob!" featuring King Cydal and B-Legit currently puts him firmly in the lead for best local food theme song.
PS If you missed it from our article last week, check out this snack wrap hack using ingredients from La Palma Mexica-tessen: