The chair of the Board of Supes Government Accountability and Oversight Committee is formally asking City Attorney Dennis Herrera to explain how his office plans to handle the ongoing corruption investigations when he moves on to the Public Utilities Commission – which has been a part of the scandal.
"As you know, under the Charter, the Mayor will have the power to appoint your replacement. The fact that the Mayor will be appointing someone to head the office that is investigating her administration raises obvious concerns," Sup. Dean Preston said in an April 27 letter.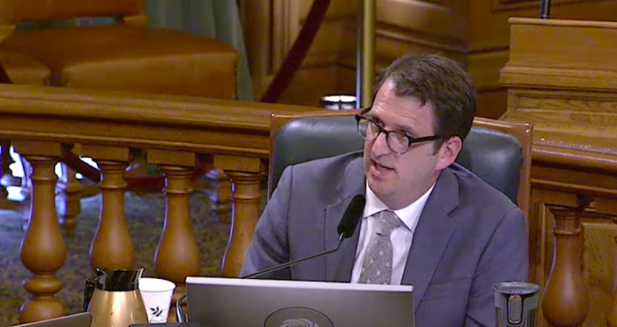 He notes that
Following the Nuru indictment last year, the Mayor announced on February 4th, 2020, that the City Attorney, and Controller offices would take the lead in "laying out a clear and comprehensive plan to investigate any departments impacted by these federal charges, and committing to fully investigate any related issues they come across." Over the last year, your office has conducted a public integrity investigation of various departments and agencies in the City. Your office and the Controller have issued numerous reports and made policy recommendations to address corruption. Meanwhile, six heads of major departments have now been charged or resigned due to alleged misconduct.
But now all of that is up in the air, depending on who the mayor chooses to replace Herrera.
The letter asks Herrera to give a detailed update on the status of his investigations – and also asks what he knows about who his successor will be.
Herrera's not going to answer that; he already told me that he doesn't know who the mayor is going to appoint. (In a sense, I almost wish there was a backroom deal – that Herrera had told Breed he would only leave if he had approval over her choice for his successor. If he did, we won't know until she announces her decision.)
Here's the list of questions Preston is asking – and depending on the answers, this may be the subject of a public hearing:
What is the current status of your corruption investigation(s) of the Mayor's Administration and its city agencies and departments?
2. What plan is in place to protect the integrity of any pending public integrity investigation of the Administration when and if the Mayor appoints a successor City Attorney.
3. Will the appointment by the Mayor of a new City Attorney create a conflict, or appearance of a conflict, requiring that the investigation be transferred to another office, agency, or department?

4. On what date do you plan to vacate your seat? Please describe any factors that might impact the timing, and describe any communications or agreements with the Mayor on the timing of your vacating your seat.
5. Who will be appointed to succeed you? Please describe your knowledge regarding possible successors, including any recommendations you have made, or agreements with the Mayor, about this.

6. Please describe the status of any City Attorney investigation into the SF Public Utilities Commission.

7. What steps is the City Attorney's office taking to avoid a conflict of interest, or the appearance of a conflict, with your anticipated transition to head an agency that is or was under City Attorney investigation?
John Cote, Herrera's spokesperson, told me that the office hasn't seen the letter yet and will respond when they have reviewed it.
As far as anyone at City Hall knows right now, Breed is going to appoint a political ally to the job. Top of the list, I'm hearing, is Assemblymember David Chiu.
He still has years to go in Sacramento before he hits terms limits, but he also has a young family and that commute sucks. So he might be angling for the job. And he would be hard to defeat in the next election.
That would leave open an Assembly seat, which would mean another special election, maybe on a different date than the Newsom recall special election. Actually, two special elections – an open primary, and then a runoff between the two top candidates.
And I suspect there could be quite a few candidates.
Then whoever won would have to run in the June 2020 primary, and again in November.
So the one year in the four-year cycle that doesn't have a lot of electoral politics going on in San Francisco has just changed.