I'm not sure when it's going to stop feeling surreal that San Francisco has officially "reopened" after the pandemic damn near wiped us out this past year and a half. Those first few months were beyond weird, with doors to every business being closed—including to those of our sacred watering holes. Then as we rode the shifting COVID waves, we started popping in and out of our bars however we were allowed to do so.
You were there … we all were. It was the thrill of that ever-shifting dance of just how far inside the door of your local bar you could go that helped maintain a sliver of our sanity.
As things start slowly moving back towards the normal pace of life in the city, I want to celebrate some of the bars I hit up when things weren't so "normal"; places that were there for us when we needed a drink somewhere besides home, and managed to make a memorable experience even when they were operating at a fraction of full capacity. I left these spots feeling that glow that only comes with a perfect night (or day) at a bar, and with the glorious illusion that maybe things could once again be normal, someday?
Peep the list and for God's sake, please support the absolute heck out of these establishments. Cheers!
Thee Parkside
My relationship with the Potrero bar and sometimes-music venue deepened big time during the pandemic. Always a prime spot for post-softball drinks—Jackson Park is just across the street—I remember going to Thee Parkside when it had just opened back up last September, sitting on one of their sidewalk tables, and watching the kitchen staff straight up split an order of their legendary carne asada tots into three perfectly-constructed smaller portions of Covid-safe tots, ready for pandemic sharing.
We felt so special eating our beloved tots over Lone Stars and Jameson shots, served in takeaway ramekins. On Sundays, I'd walk my dog to Jackson and then venture to Thee Parkside to order takeaway $5 drafts of Henhouse Pale or Harmonic Kolsch with a mochiko chicken plate, and walk back over to the park to enjoy the DJs spinning outside of the bar from my spot on the grass.
1600 17th St, SF. More info.
Casements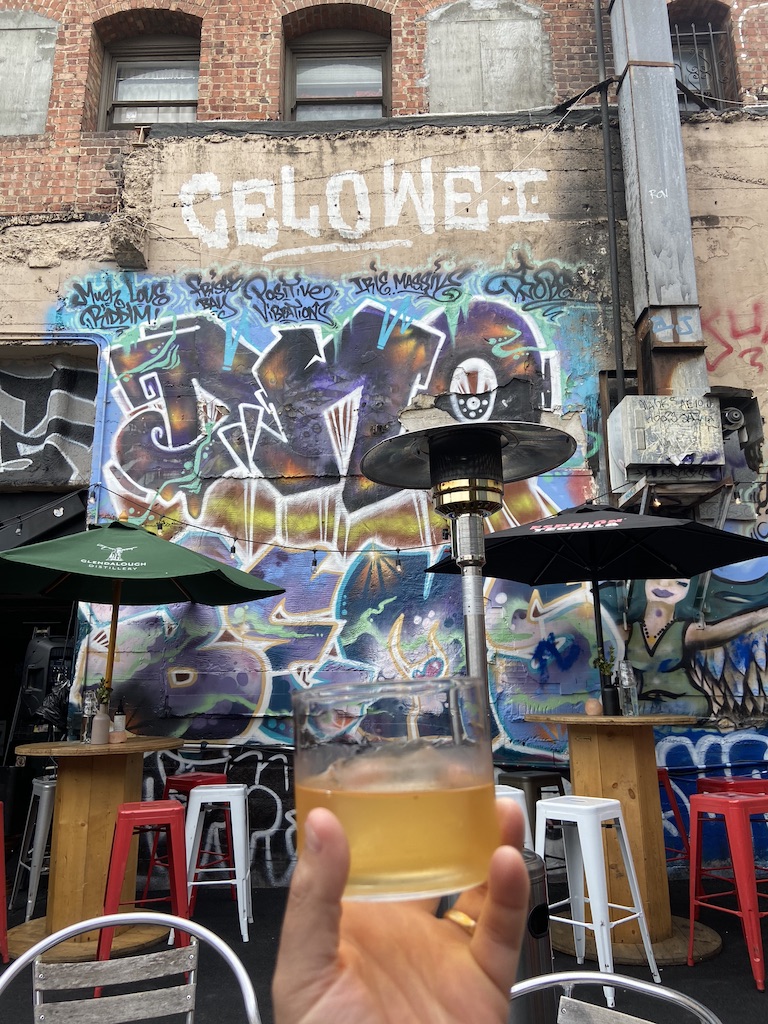 My "best back patio expansion of the pandemic" award has got to go to the classy Mission Street Irish pub. They fenced off part of the adjacent parking lot, and overlooking graffiti gave the new space a really cool edge. The food menu expanded beyond the limited menu offerings available when Casements opened shortly before the quarantine hit in March, and I really dug the Samhain Old Fashioned with cardamom bitters, as well as drinking too many pints of Guinness in the parklet. 
2351 Mission, SF. More info.
After Hours
Let's face it, for the most part, SF's late night dining options are THIN. Try to find somewhere to eat past 9pm and you'll likely resort to whatever's available. But one Monday night I found myself in the Outer Sunset, and a buddy of mine suggested we go to After Hours on Taraval and 40th Avenue. "You sure they're open right now?" I asked him. "Yup," he replied. "What about the kitchen? Are you sure?" I followed up suspiciously. "100%" he said.
Dammit, he was right. They had a killer bucket of whole wings, a tasty wagyu burger and fried chicken sandwich, and wonderfully-seasoned tots (can you tell I like tots?) There's over a dozen local craft beers on draft and we went there to watch the Lakers/Warriors play-in match-up to get into the playoffs (a very big game!) It was the first time I had watched sports at a bar in over a year and being a smaller establishment, you could basically communicate with everyone else at the bar shouting at the TV and having a laugh. I had so much damn fun and went back later in the week with some other friends and they were like "How'd you hear about this place??" "Just paying it forward y'all," I said. I really like it there.
3044 Taraval, SF. More info.
Knockout
It didn't matter who was DJing inside the doors at the Knockout, the music that was beamed to the speaker outside on the parklet made for the best little sidewalk party in town. The Knockout was a go-to Friday and Saturday pandemic night spot, drinking Fernet shots (yes, in those plastic ramekins with a lid again) and bottles of Bohemia Mexican lager. The music was always diverse, and the crowd felt like a meeting of heads from across the Mission in La Lengua every time. Bless this bar.
3223 Mission, SF. More info.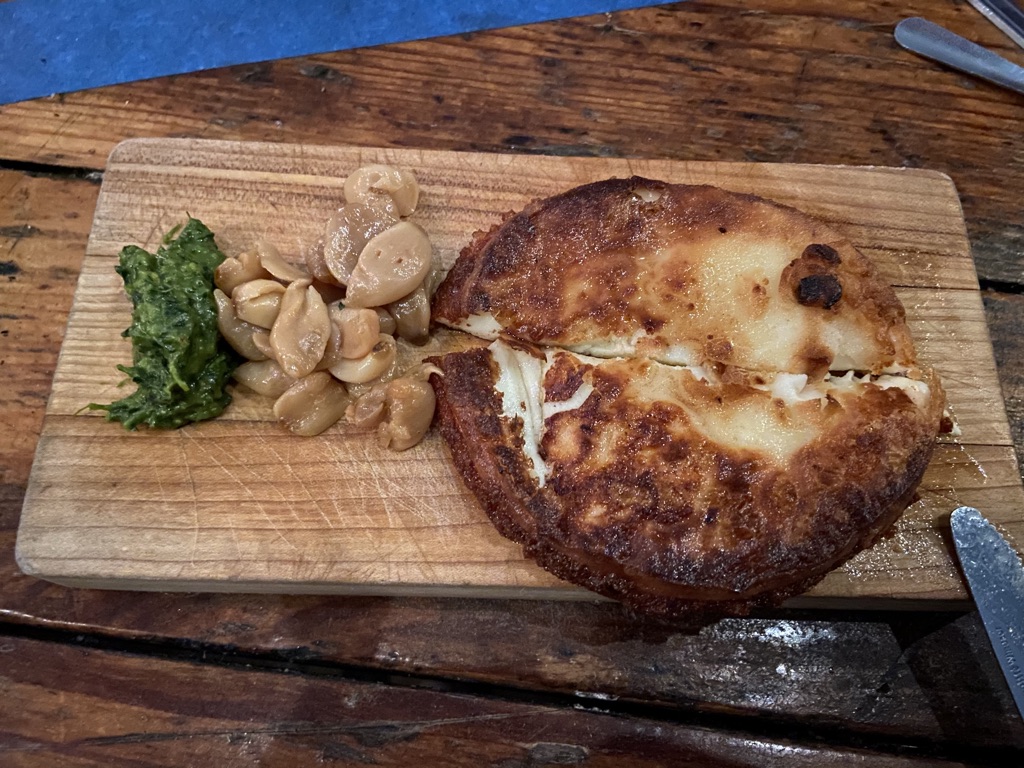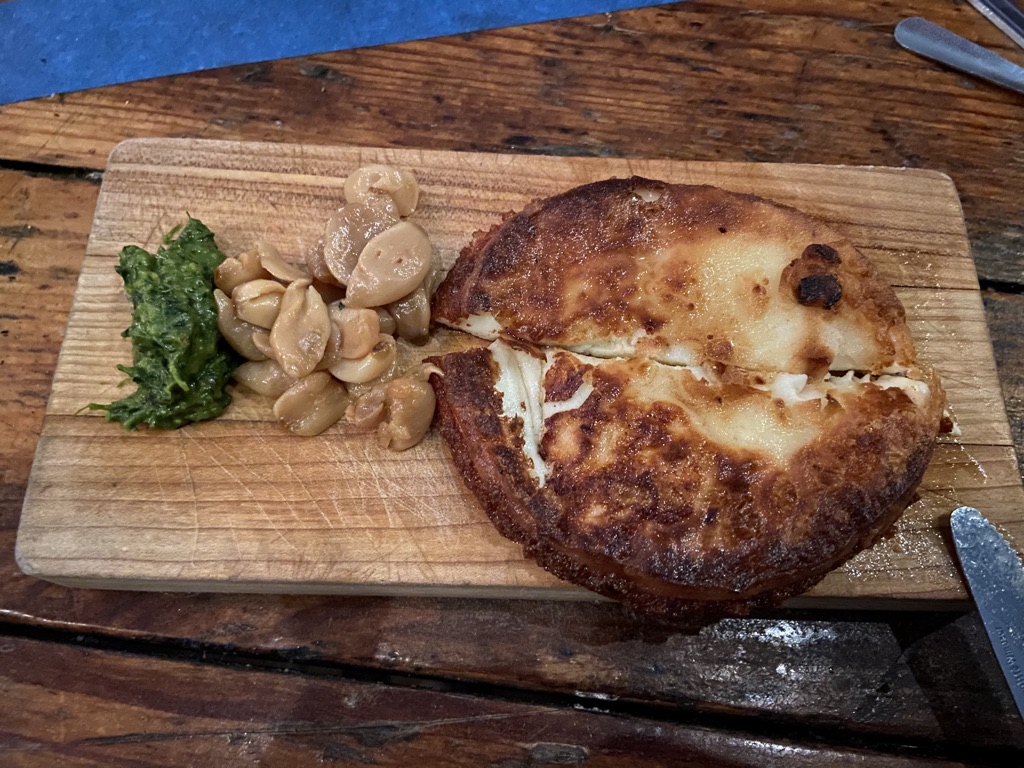 The Sycamore
Back on the late night food tip, I'm not sure if anyone does it better than this Sycamore Alley and Mission Street bar. Their tiny kitchen-that-could is open til 11 p.m. on weekday nights, and even later on weekends. We went there on a very psychedelic Tuesday night at like 10 p.m. and had griddled provolone cheese, housemade chicken fingers and fries, and a [bougie voice] really lovely beet, goat cheese, and walnut salad to go with our STS Pilsners and Underbergs.
We sat on the picnic tables on the back patio and there was a group of French guys sitting next to us who were going absolutely ham on Pliny The Elder bottles, while playing chess and talking about very sophisticated things (I think), and we felt like we had tapped into the perfect spot for the evening. Can't wait to go back on the late night tip for fried chicken sliders and their crucial pork belly-filled donuts.
Note: I also had a great time in the parklet at the Sycamore's sister bar, The Willows, drinking Coronas and very heavy tequila shot pours one Friday night. I went out with an old friend and two of his pals who I had never met and it felt incredible to be out again, getting to know new people.
2140 Mission, SF. More info.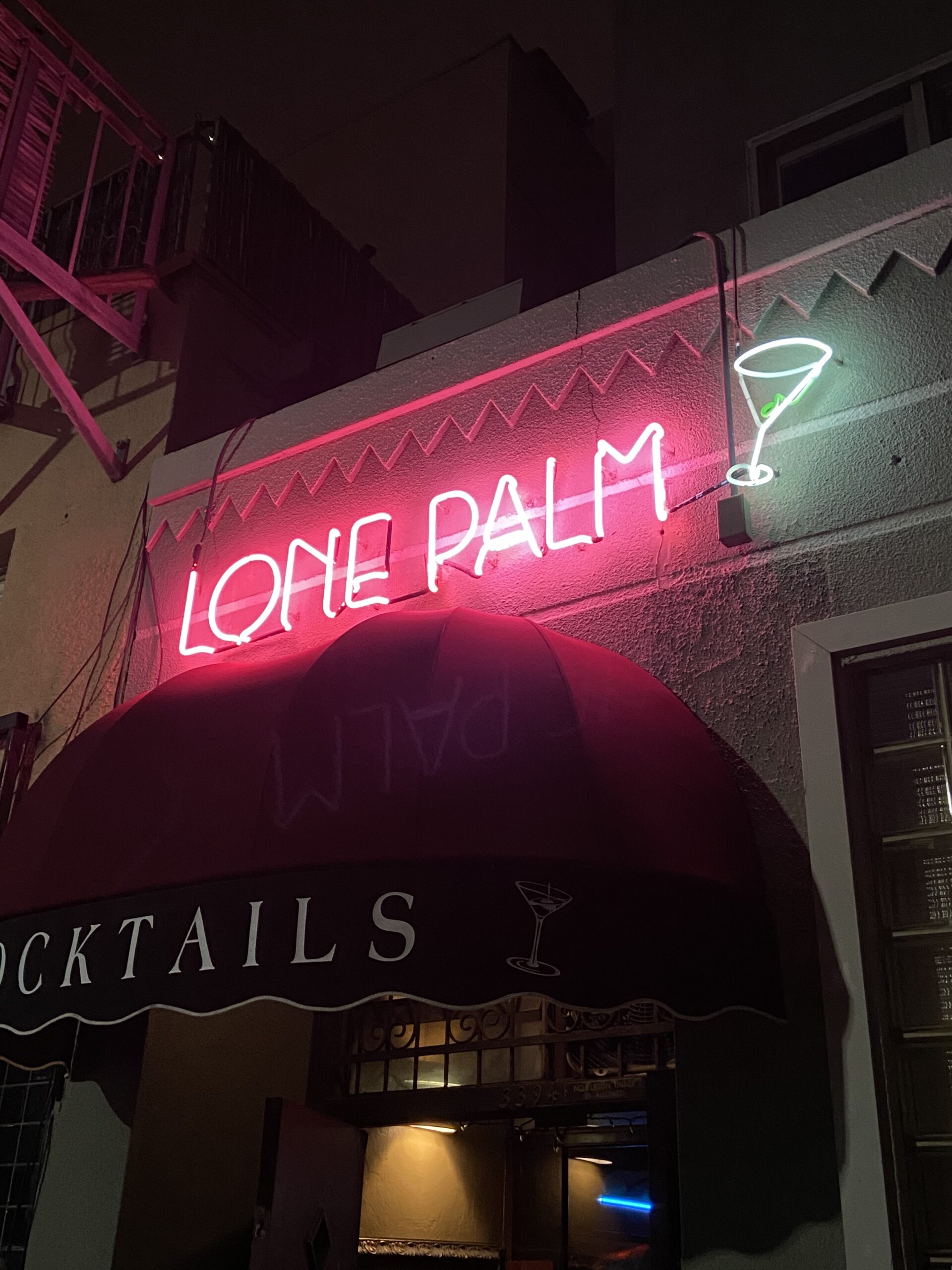 Lone Palm
Walking past the Lone Palm one night and seeing the eponymous palm tree had been chopped down was a bit of a gut punch. But walking by on other days and seeing a QR code poster on the closed door for a GoFundMe campaign gave me hope that one of my favorite bars was very much alive, despite limited hours. When I recently saw the new palm in the planter on the sidewalk, it brought my mental exercise in community full circle.
I remember going to Lone Palm one early evening to get food from Miguel Escobedo's Al Pastor Papi truck and there was a bit of a line (it's real good food.) When my place in line inched past the front door of the bar, I ordered a shot and a beer to drink while I waited for tacos—with an ear-to-ear smile. On another night, I sat on an outside table a little too drunk and very hungry and ate Dutch style fries from the Satay by the Bay Singaporian food truck and it was everything. There's still a daily rotation of food trucks that park in front of Lone Palm, and the white tablecloths are back in the open inside, and you should probably go there.
3394 22nd St, SF. More info.
Valley Tavern
My local Noe spot quickly built a parklet with three private booths equipped with their own TVs. It became a necessary place to watch the 2020 NBA playoff-in-the-bubble when we got sick of being at home all the time. Valley Tavern did takeaway growlers of draft beer throughout the pandemic, and the perfectly-lit multi-tiered patio garden in the back made it seem like I was in some Covid-free dive bar bistro.
4054 24th St, SF. More info.
POST-MORTEM BONUS ROUND: Lucky 13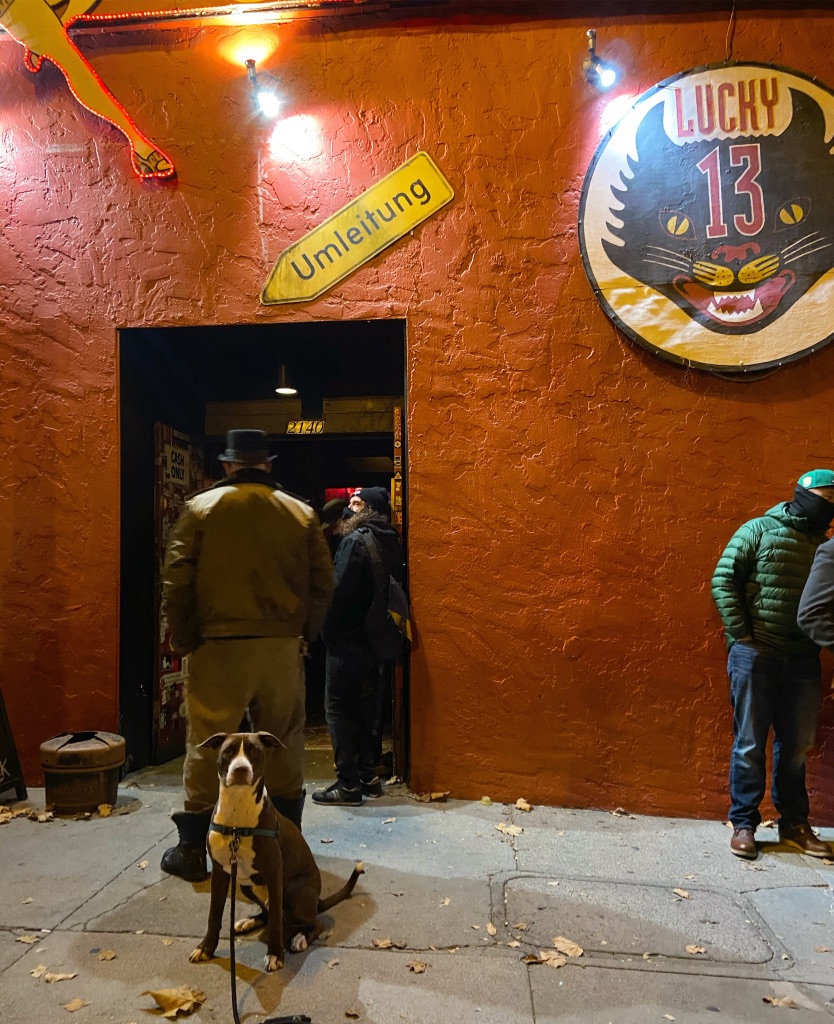 I know, I know, RIP to the greatest one of all. I'll never forget a night in November—just before Lucky 13 announced they were closing—when I went out for drinks with a pair of wily fellow SF media peeps and we had like five rounds on the corner of the outside patio while some lady chain-smoked cigarettes on the opposite corner (like some fucked up game of adult four corners) and we were all so delightfully drunk and oblivious to the ills outside the world. THAT is what a good bar should do: allow you to lose your concept of time and maybe even your mind for a bit as long as you're there. Nowhere was better at that than Lucky 13. Much love.